CHESTER — For Cindy Chinn, showing her work in the Scrap Art Exhibition at the Souq Waqif Art Center in Doha, Qatar, was a dream she didn't know she had.
Chinn, who lives and works in the former school building in Chester, was one of 30 international artists and one of just three American artists invited to participate in the show. There were 10 local Qatari artists participating, as well.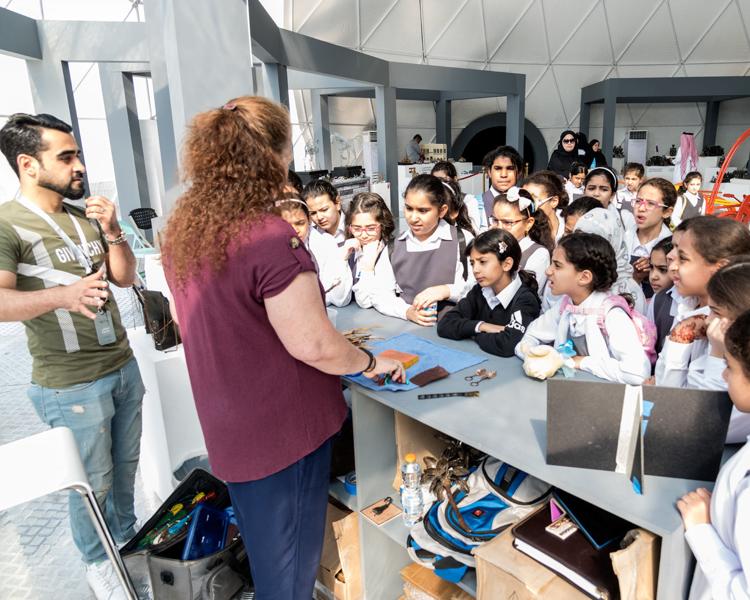 The show was organized by Qatar's Private Engineering Office, which presented it for the benefit of the local population of the small country on the Arabian Peninsula.
Show organizers invited particular artists they wanted, including Chinn.
"I didn't think it was real at all," she said of the invitation. "Here's this country I've never heard of in the Middle East that is inviting me, all expenses paid, to go to this scrap metal show. It just seemed so unreal. A lot of the artists felt that way, almost all of them. Never before has anybody brought together 30 international artists representing 14 countries into one show and paid for everything. Not many countries could afford to do that."
The show ran for two weeks, concluding Nov. 2.
Highlights included a tour of National Museum of Qatar and even a camel-riding session one morning.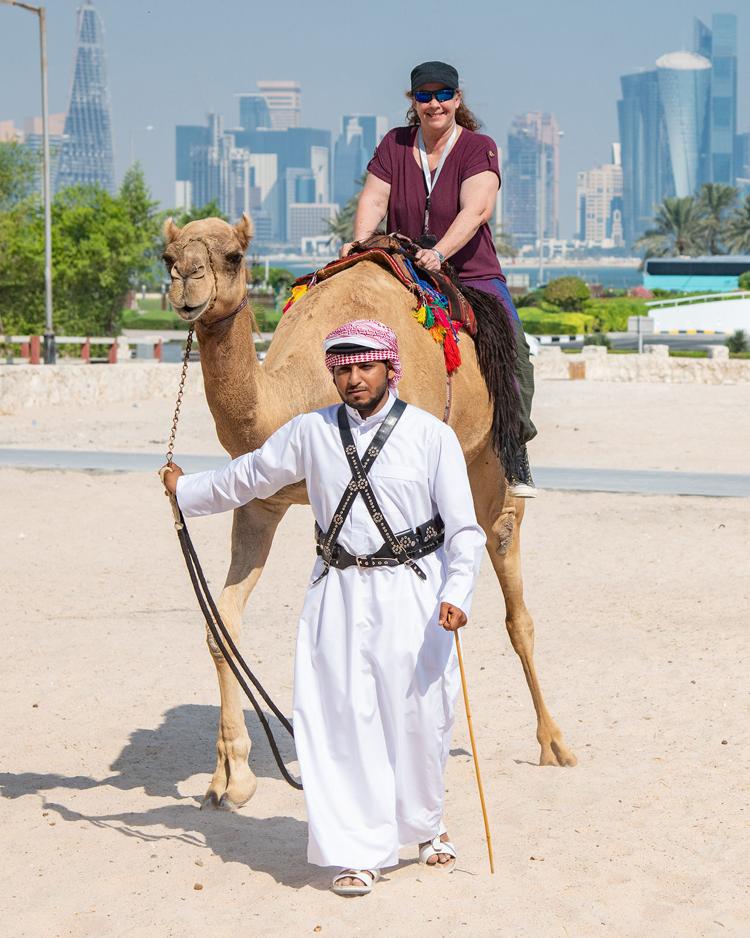 The biggest thrill for Chinn, however, was being able to take a 4-wheel drive vehicle and go dune busting through the desert.
"It was great fun," she said.
Chinn, who works in a variety of media, has transformed the former Chester school building into several different studios. She was honored to represent the small Thayer County community on the world stage.
She's been working with metal for only about three years.
"Not very long," she said.
At first she was awed by the other artists selected for the show.
"I've been watching their work over the years and thinking 'Oh man, that's so cool. I wish I was doing things like that,' " she said. "Then I actually meet them and become friends with them. That was really cool."
Chinn gained confidence, though, as she sold out all of the artwork she took to Qatar.
The show included an exhibition space where pieces were for sale but displayed for the entirety of the show. There was also a bazaar where other pieces could be purchased and taken home immediately.
Chinn traveled with a series she called "Barnyard Portraits" that included three-dimensional animal heads, but gave it a Middle Eastern spin and featured camels, Arabian stallions and oryxes, an antelope-like animal that is the Qatar national animal.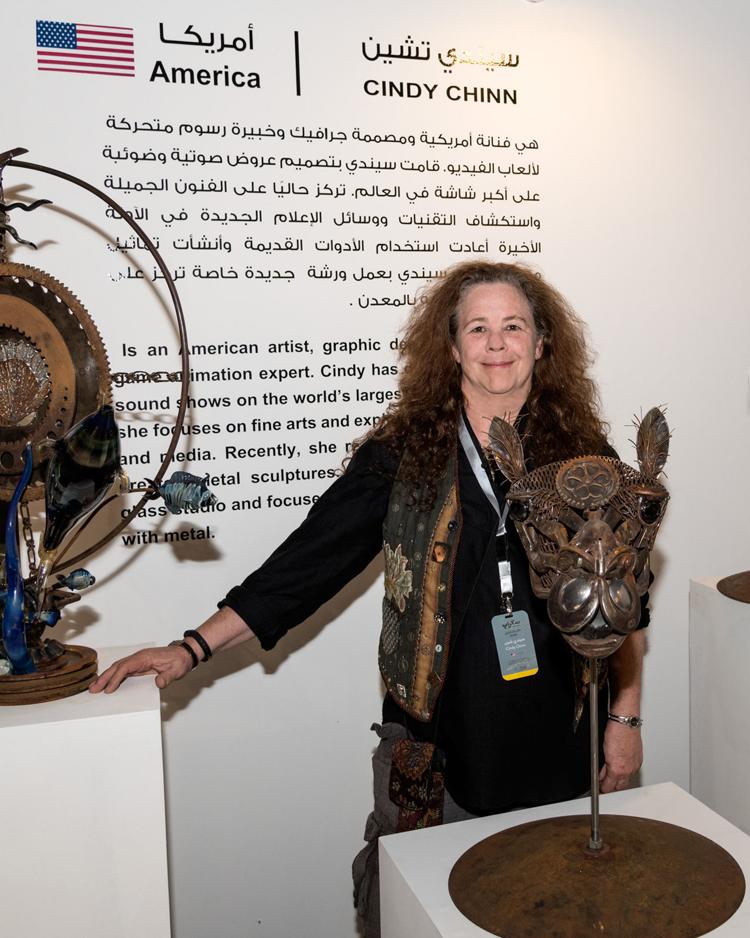 Chinn, who makes art from old handsaws, also brought several saws that featured Middle Eastern scenes such as camels and palm trees.
"I made them for the area, as opposed to taking a bunch of bear saws or tractors," she said. "Almost everything I took was custom for that area, which was very well received. I sold everything I took with me."
She also conducted metal-working demonstrations for visitors to her booth.
According to a survey show organizers conducted of visitors, her work was a clear favorite, Chinn said. She was invited to the metal show next year.
There are also plans to begin offering new exhibitions in other media, including a paper show.
"I thought I'm going to go home and become a paper artist now," she said with a chuckle, "which is not out of the realm of possibility. Since I work in everything else I might as well try paper."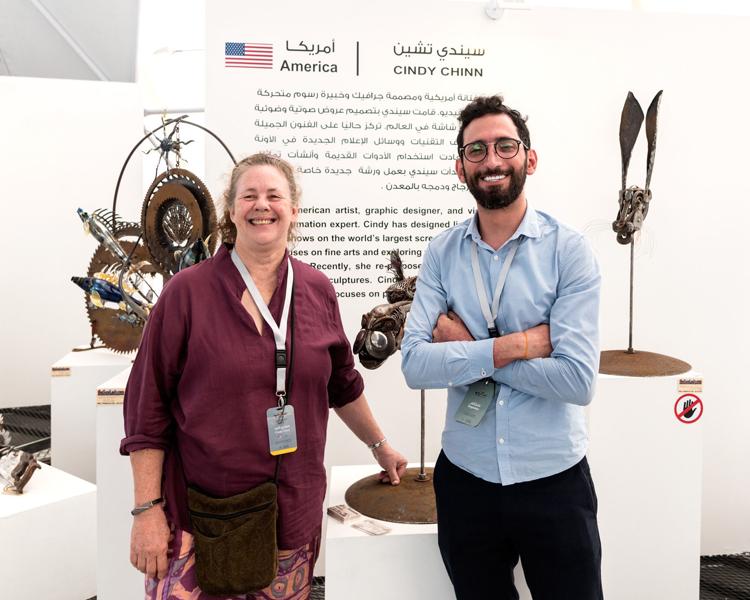 Chinn already makes small sculptures out of pencils and pitched the idea of a pencil sculpture sub-show to organizers, who were receptive to the idea.