GENEVA — As we stop on Memorial Day to honor all the men and women who died serving in the U. S. military, we would like to say, "Thank you for guarding the freedom and peace in this great country of ours. You are not forgotten."
There's a special feeling in many hearts, as this year marks the 75th anniversary of the end of World War ll, which resulted in millions of military casualties, but with some of its veterans, and others who served on the home front, still alive today.
The Lincoln Star newspaper shown in the photo with this story takes one back to that war era — April 13, 1945. Discovering such an artifact by pure accident, as I did among my late parents' belongings, can cause one to gasp, for the front page alone measures 17 ½ inches by 22 inches and the photos of President Franklin D. Roosevelt and Vice President Harry S. Truman are each 5 ½ by 7 ½ inches — a dramatic size capable of grabbing one's attention.
Reading on, one sadly learns the top news of that day: That the 32nd president of the United States, Franklin D. Roosevelt, in his fourth term of presidency, has passed away in the midst of the seemingly endless war, and that Vice President Harry S. Truman is stepping up to his command.
The war would end 119 days later.
World War ll, fought from 1939-1945 and known as the deadliest war in history, resulted in six years of conflict, 66 countries involved with about 60 million casualties, and a $2 trillion price tag.
Due to unsolved problems of World War l, the rise of dictatorships and the desire of Germany, Italy and Japan to possess more territory, the war began on Sept. 1, 1939, with Germany's invasion of Poland; thus, the European Theater (war zone) surfaced. Then, with the Japanese bombing of Pearl Harbor in the Hawaiian Islands on Dec. 7, 1941, Roosevelt declared war on Japan, opening the Pacific Theater.
Young people enlisted, women went to work in factories converted to war production, and air bases were built. It is said that people on the home front were as important as the men and women in combat, with many historians believing the tremendous war production was the major key to the Allied victory.
Seventy-five years ago this month of May: In the European Theater, German troops in Italy surrendered; Berlin surrendered to Russian troops; and on May 7, 1945, Germany surrendered to the Allies. In the Pacific Theater, U.S. Marines were battling on Iwo Jima and Okinawa islands. To follow would be the dropping of atomic bombs on the Japanese cities of Hiroshima on Aug. 6 and Nagasaki on Aug. 9, bringing the war officially to an end on Sept. 2, 1945 — three years, eight months and 22 days after Japan bombed Pearl Harbor.
Maurice W. Costello, 93, originally of Fairbury and now of Ohiowa, enlisted in the U.S. Army Air Corps in 1942, received basic training at Whitefield, Texas, attained the rank of sergeant, was discharged in 1948, and then served in the Reserves from 1948-52.
Costello worked with medical supply in England and France and said those supply kits were "his piece of the war." In England he was stationed with the Eighth and Ninth Air Force where they were in charge of supplying medical kits to the B-17 and B-24 bombers. Then in France he'd fly medical kits to troops and to the Free French, as the United States partnered with them in the war. After the European Theater surrender, Costello was sent to Germany to help transfer thousands and thousands of troops back to the U.S., some needing medical attention first.
Costello said he thought the war would last longer, for things were not going well in Japan and Germany, but was glad it was over. Everyone was so very happy that it was — even the Germans, for they had run out of everything.
"We had had enough, didn't need any more and just wanted to go home," Costello said.
Costello felt Roosevelt and Truman were good leaders for the war.
"They did the best they could considering what they had to deal with. Truman had served in World War I, so he had valuable experience."
Costello said the worst part of the war, for him, was seeing all the wounded people he had indirect contact with — people transferred through the medical department, where they would patch people up.
Costello said the stress of the war really didn't bother him.
"We all had a job and were really busy doing it, so we didn't have time to think about stress," Costello said. "The war was like a big picture. Everyone painted their own little piece to make it work."
He was glad to get home where everything still looked the same and all fell into place for him.
"Everybody wanted to simply get back to the states, marry their girlfriend and go to school," Costello said. "It was so great to see Mom and Dad (LeRoy W. Costello, a 1st lieutenant in the U.S. Army Corps of Engineers, who had been called to duty in Africa seven days after Pearl Harbor's attack) and my three cousins who had also served. We all made it home alive, and it was quite the reunion."
Costello is very grateful for all the women who pitched in on the home front and believe they were the reason the Allies won the war.
"They built airplanes, ships, tanks, trucks, ammunition, bombs, planted Victory Gardens for the food supply, ran their husbands' businesses, farms, did everything else that was needed, and they prayed," Costello said.
Costello summed up their success by saying, "We had the support of the women and the Lord. We all gave our maximum effort. No one sloughed off."
As we celebrate this monumental year in the history of World War ll, we are grateful to all the veterans and everyone else who was able to convert all the darkness of those days into a shining victory.
Your story is truly inspirational, and we thank you, salute and applaud all of you who, magnificently, earned the title you did: "The Greatest Generation."
And we will never forget you.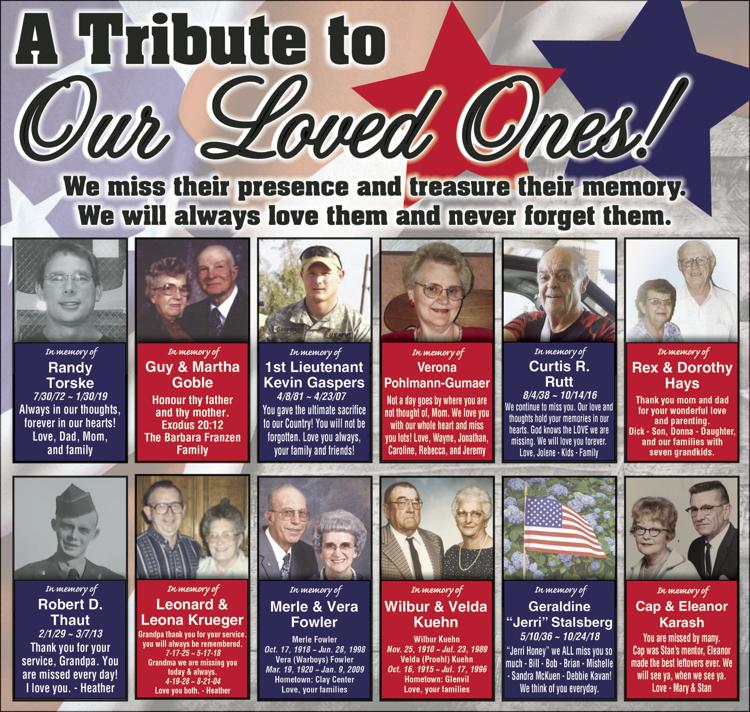 Dianne Girmus, a Tribune news correspondent, writes from her home in Geneva.