Attendees of the 10th annual Hastings Cultural Festival at Hastings College's Kiewit Gym got a taste of how the other half lives in countries around the globe Sunday afternoon.
Capping a week-long series of events in Hastings, the festival showcases and celebrates people of various nationalities living within the community, bringing together residents of diverse backgrounds to build community through food, games, music and dance from around the world. Offerings included several sampling of mainstay meals and desserts — prepared in many instances by people hailing from or with ties to the various countries represented — which included El Salvador, Colombia, Vietnam, China, Bahamas, Spain, Mexico, Ghana, Panama, Czech Republic and Guatemala.
Several students from the college shared some of their personal cultural experiences from the stage, while dance troops and other entertainers dressed in festive ethnic costumes spun and swirled onstage in time to music from their respective cultures.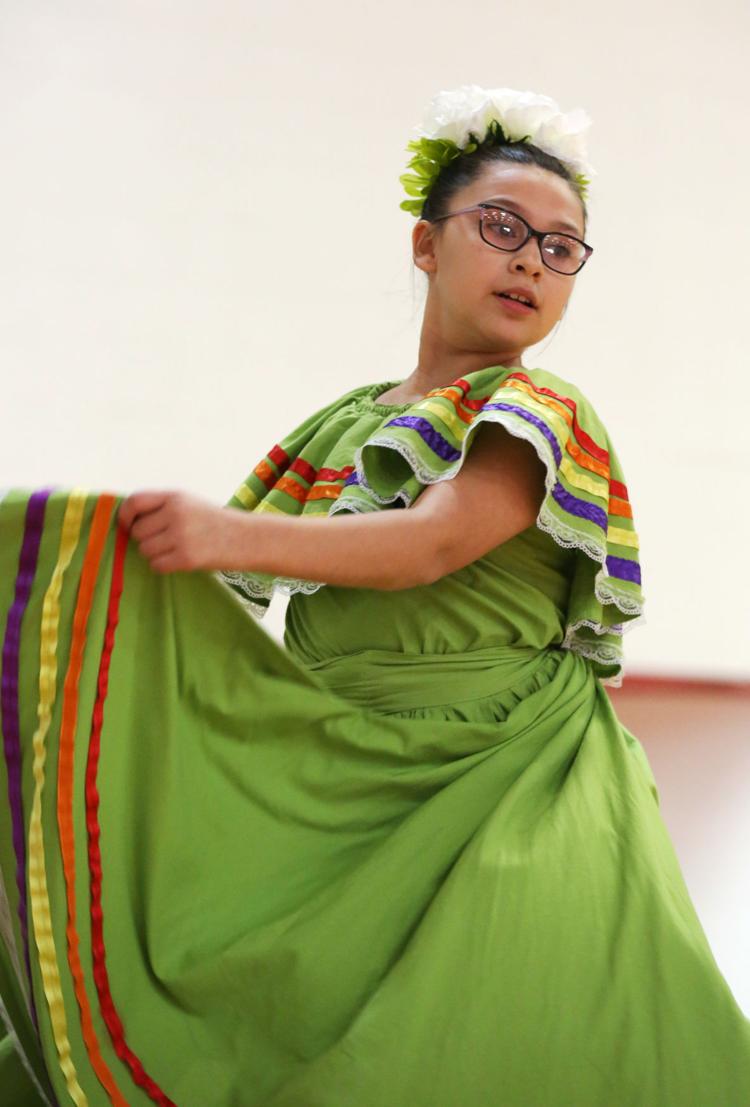 Jordanna McCauley, 20, of Trenton is a sophomore majoring in accounting and communications at Hastings College. As part of her intercultural communications class project, she co-hosted a table with classmates showcasing the popular Mexican game Loteria, a variation on bingo that uses playing cards instead of balls.
"It's such a good thing for the community to have something like this," she said. "Culture is such an important thing, especially in America, since we are a melting pot. It's something nice as a community to become that melting pot and embrace the culture that is in our community."
The friendly atmosphere permeating the event typified the spirt of acceptance she's come to appreciate here in Hastings, McCauley said. With cellphone cameras busily capturing the dancers onstage and adults batting balloons about with their children, the vibe was undeniably festive.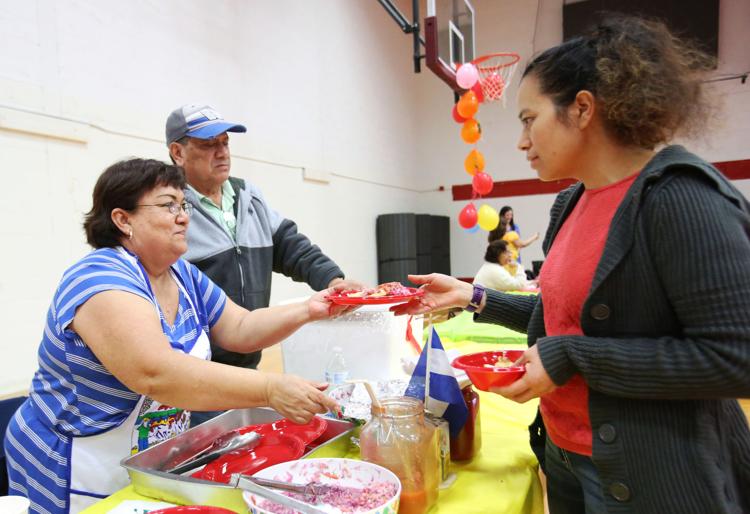 "The community of Hastings is so great, so I'm not surprised that it's so welcoming," she said. "I hope that when somebody does come here and witness an event like this they take away how important culture is to our community and our country and all over the world."
For Adam Jacobs, 34, of Hastings, food was the primary motivator driving him to attend the event with his wife, Eleanor Reeds, a professor at HC. A researcher at ancestory.com, he made the rounds to various food tables to sample what he described as delectable offerings.
"I'd heard other people talking about it and they said it was a big event with lots of delicious food from all over the world with our great international community that lives here in town, so I was on board," he said. "I've been to most of them (tables) by now and I am very full and it was delicious!
"Everyone here brought their 'A' game and it was lovely of them to share their culinary culture with everyone else here in town. It's been very good. Hastings is a more diverse place than we sometimes think it is and has a lot more to offer than we sometimes think. It's nice to see people here from Vietnam, China, the Bahamas, and all these places here in town who are kind enough to share a little of themselves with the rest of us."
Jo Springer, 32, of Hastings is director of SASA Crisis Center. She spent much of the afternoon engaging others in conversation, along with her daughter, Syerra, 10.
"This is a fantastic event," she said. "The food is aways so good, and there are so many different people from so many different places. I've also been impressed by the spoken word pieces by the Hastings College students and the delicious foods.
"The Chinese food table was incredible! I also had a really great Mexican drink with corn in it. I don't know what it was called but it was tasty!"
She said she sees the event as a true asset to the community, one that helps dispel the superficial prejudices that often keep people from fully embracing one another's differences.
"It helps provide an increased understanding of diversity as a strength that makes our community better," she said.
For Syeerra, it was the French macaroon treats that made her afternoon sweeter, she said.
"It's fun," she said of the event. "Everything!"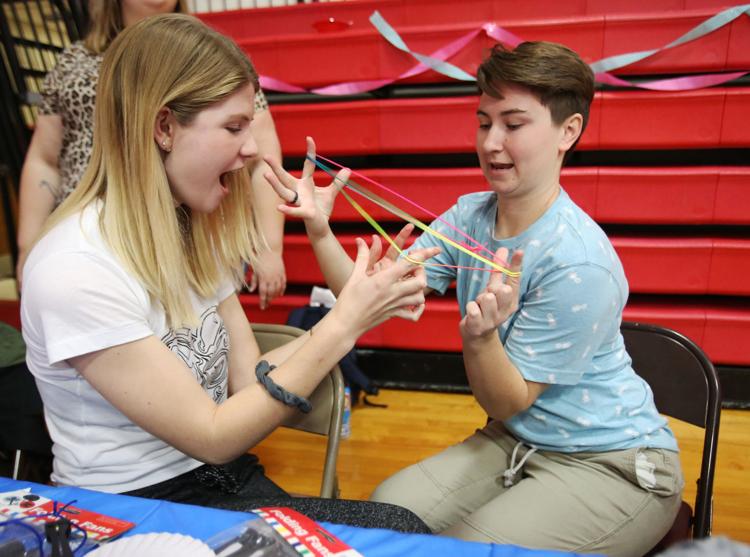 Steven Dunham, 25, is a community living coordinator on campus who served as emcee for the event. He said that while food and entertainment likely drove people to the event, it was more likely the interactions between them that left the most lasting impressions of the day.
"It's food and celebration, but along with that celebration is you get to meet people from different cultures, put names to faces, and enjoy more of a community gathering social event," he said. "Each year it gets more organized and more people come."
As a man of Filipino, French Canadian and Irish heritage, the Oklahoma City native said that events such as the festival that promote diversity invite attendees to explore some of their lesser-known roots and offer better understanding toofthe various cultures that may permeate their respective gene pools.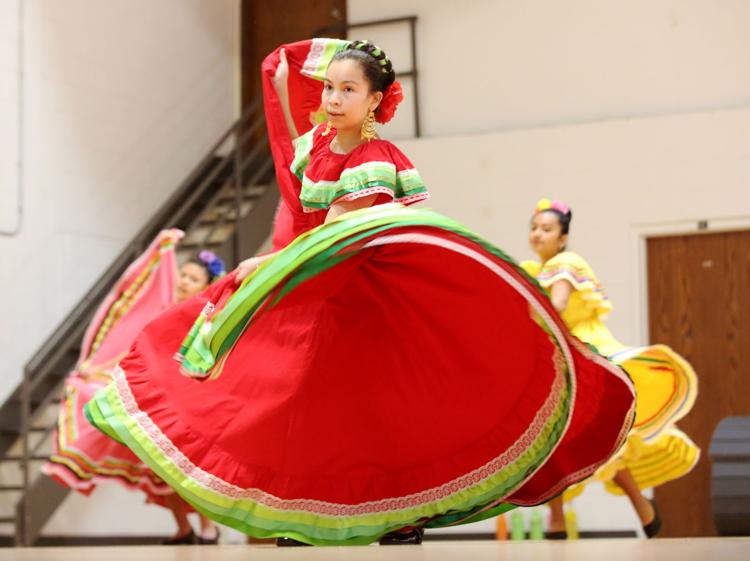 "I've always been in touch with my Filipino side," he said. "So to me it's about celebrating the culture that I already have and then learning about others that I can maybe relate to myself. Hopefully people here will see how cool it is to learn about other people's cultures and dig into themselves a little bit and discover their own culture."
Beverly Denman is a retired educator who serves on the board of Raices de mi Pueblo, a Latin dance school in Hastings. Her participation included introducing dances performed by students representing the Mexican states of Jalisco, Chiapas and Veracruz. With Czech blood on her mother's side of the family, she brings a truly multi-cultural perspective to the festival each year.
"We're enjoying sharing the culture and the food and just getting to know people," she said. "It's special when it's kids (dancing). We just hope everybody has a good time, enjoys all the food and music and entertainment and comes again next year."