SUTTON — Less than a week ago, Sutton and Fillmore Central went to battle in the Southern Nebraska Conference tournament, with the Panthers reigning supreme with a 54-45 win.
Just six days later, the two teams met again on Friday in both squads' final game of the regular season, and everything was much different this time around.
The Fillies played with a tenacious defense on Friday, and a big 24-0 run in the second quarter propelled Sutton to a 55-40 victory in the rematch.
"I think the difference from when we played them Saturday and (Tuesday) was our defensive intensity," said Sutton head coach Josh Rapp. "When we went on that winning streak in January, we played solid defense, and, for some reason, when we went through the conference tournament (last week), we didn't have that same intensity. Really, this week was all working on our defense, focusing our defense and getting that intensity back."
Facing the same opponent twice in six days provides a unique challenge when preparing for the games. But the Fillies and Panthers are going to make it three games between the two in a matter of 10 days. Sutton and Fillmore Central are opponents in the semifinals of the Class C-2, Subdistrict 8 tournament on Tuesday.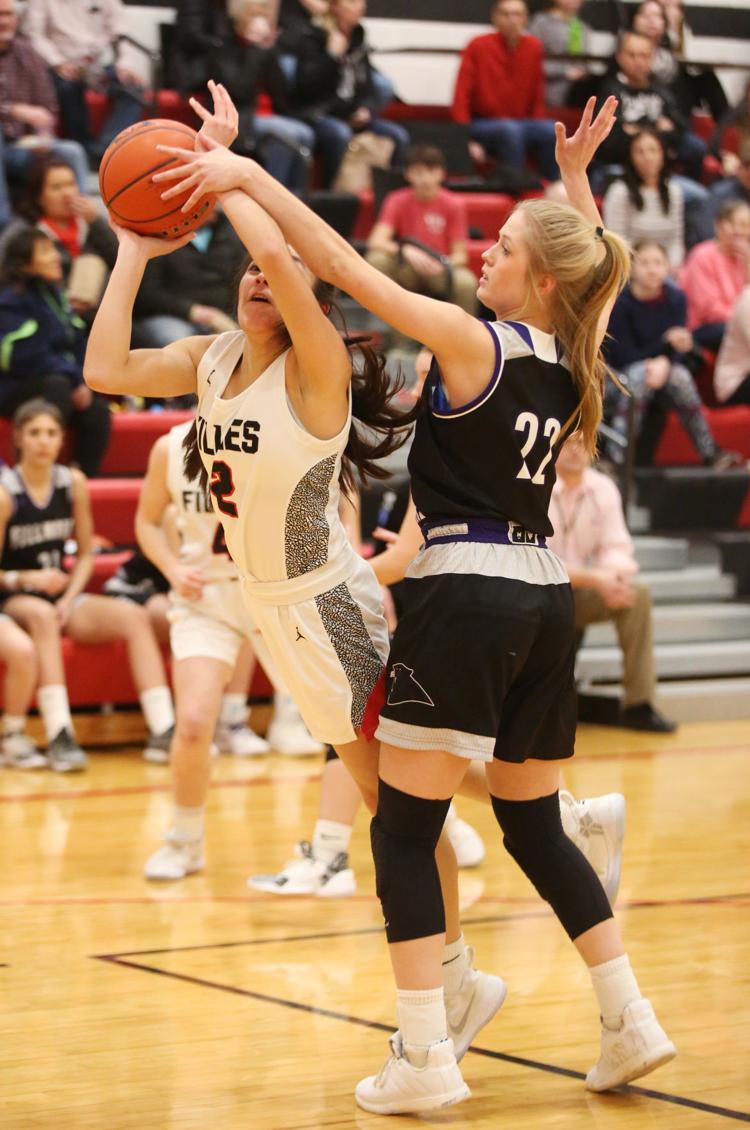 "No coach, no matter what the matchup is wants to be in that situation," the Sutton coach said. "It's tough on the girls too, getting ready for the same team and doing the same things… The biggest thing is we can't relax. We have to keep focusing and prepare, even though it's for the same team, and fine tune some things we could have done better."
"They're a really good team, and we're a really good team and now we're going to play for a third time. It's going to be kind of a chess match to see who can find ways to improve," said Fillmore Central head coach Shad Eberhardt.
Eberhardt said his team needs to find some consistency on the offensive end after the Panthers struggled to score in the first half of Friday's contest. After falling behind 5-0, Fillmore Central got a pair of 3-pointers from Lexi Theis to take the lead. The Panthers eventually led 8-7 before Sutton went on a crucial run.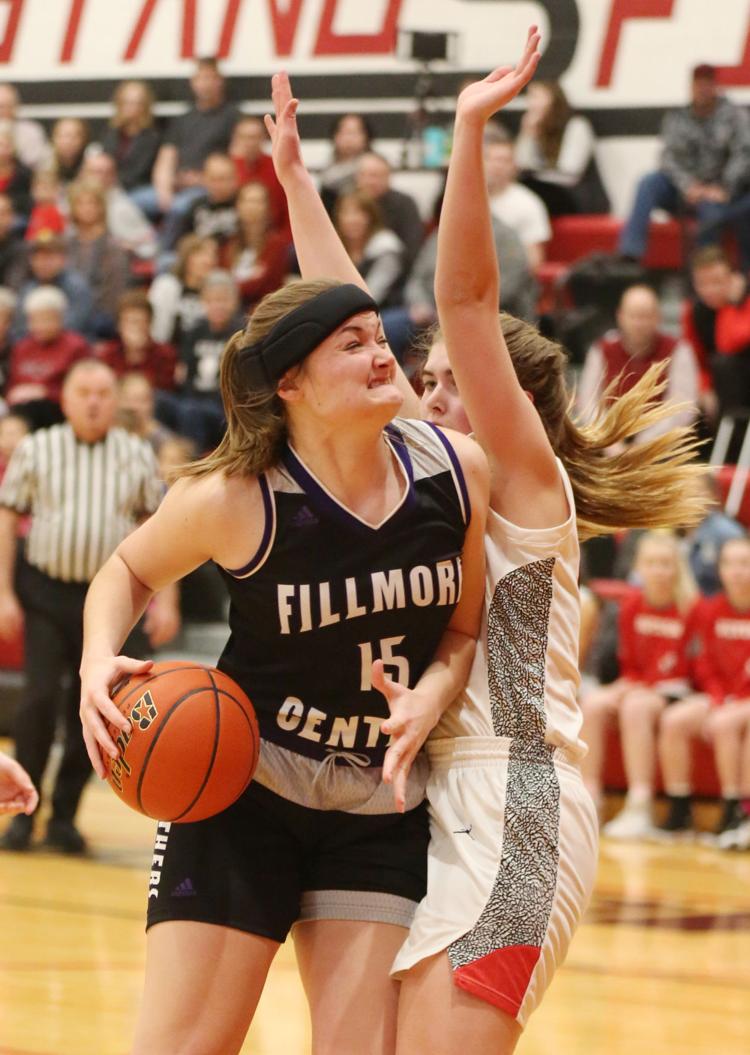 The Fillies defense kept Fillmore Central scoreless for the next 7 minutes, 48 seconds, and the offense poured in 24 unanswered points to jump ahead 31-8.
"It gave us huge momentum going into the half," Rapp said. "It was a solid defensive effort; we were making things tough on them. And then offensively we were doing a ton of good things. We were setting good screens and had good ball movement, and we had girls knocking down shots."
Kylie Baumert led Sutton with eight points during the run, while Xytlaly Bautista splashed a two 3-pointers for six of her 11 points. During the run, Sutton was a perfect 8-for-8 from the free-throw line.
The Fillies took a 32-14 lead into the halftime break. But, despite the run, Eberhardt said the Panthers still felt like they were in the game.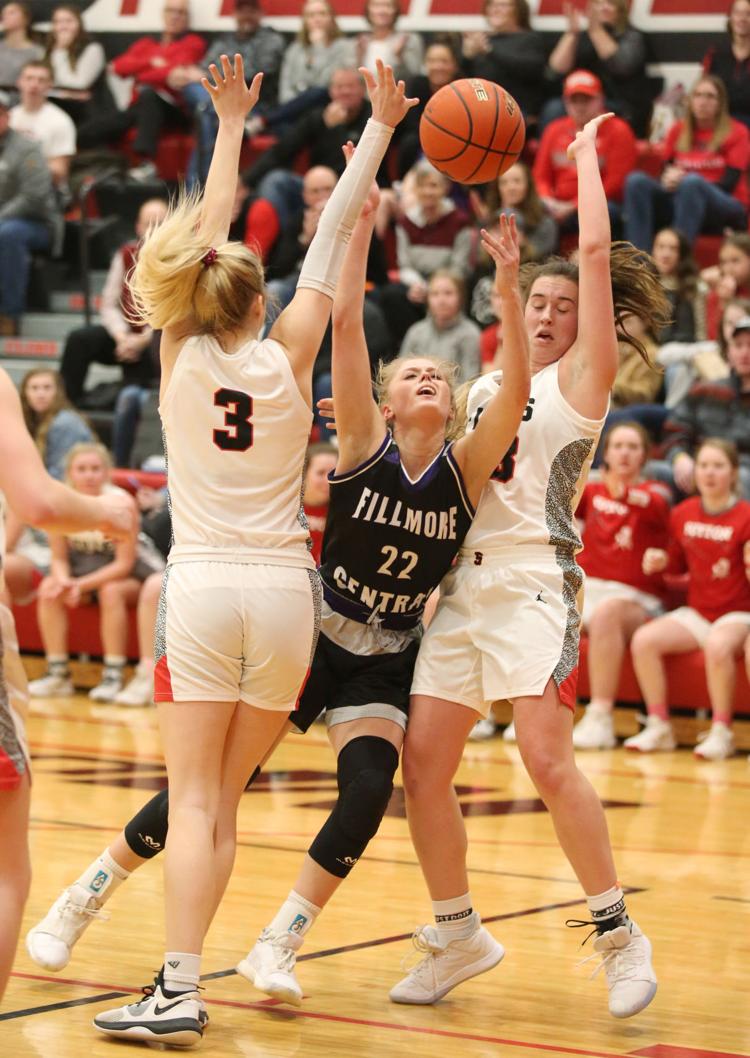 "We knew we'd still have a chance to get back in it if we just put our head down. I told them you can't get it all back in one possession, you have to take it one at a time. I thought at times they did a good job and chipped away a few points, but then we'd give two or three back," said Eberhardt.
Fillmore Central was much better on offense in the third quarter, making five of its eight attempts from the field for 13 points. Unfortunately for the Panthers, Sutton kept pace, tallying 13 points of its own.
The Fillies spent most of the fourth quarter at the free-throw line. Sutton made just 52.1 percent of its foul shots in the second half, but it got to the line 23 times, sinking 12 shots. That was enough to keep Fillmore Central at bay, holding on for a 55-40 victory.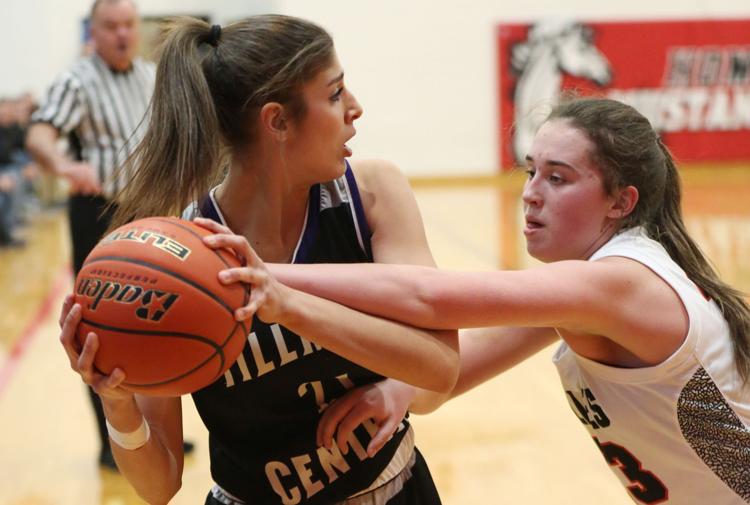 "We didn't run our stuff quite as well as we did last time. Give credit to (Sutton), they did some nice things defensively; but, we were kind of out of sync all night, settling for shots we don't always settle for. We never really got comfortable offensively."
Baumert was a big factor in Sutton's win. She led all scorers with 21 points, finishing 13-for-19 from the charity stripe. She also dominated the glass, hauling in a game-high 15 rebounds.
"She's been huge on the boards for us all year. She does a great job of hunting down the ball and getting her hands on a bunch of rebounds. She really battles inside," Rapp said. "She's just a Warrior for us, and she battles for 32 minutes every night."
Kate Griess added 15 points for the Fillies, going 6-for-8 from the free-throw line. Bautista also reached double figures, scoring 11 points.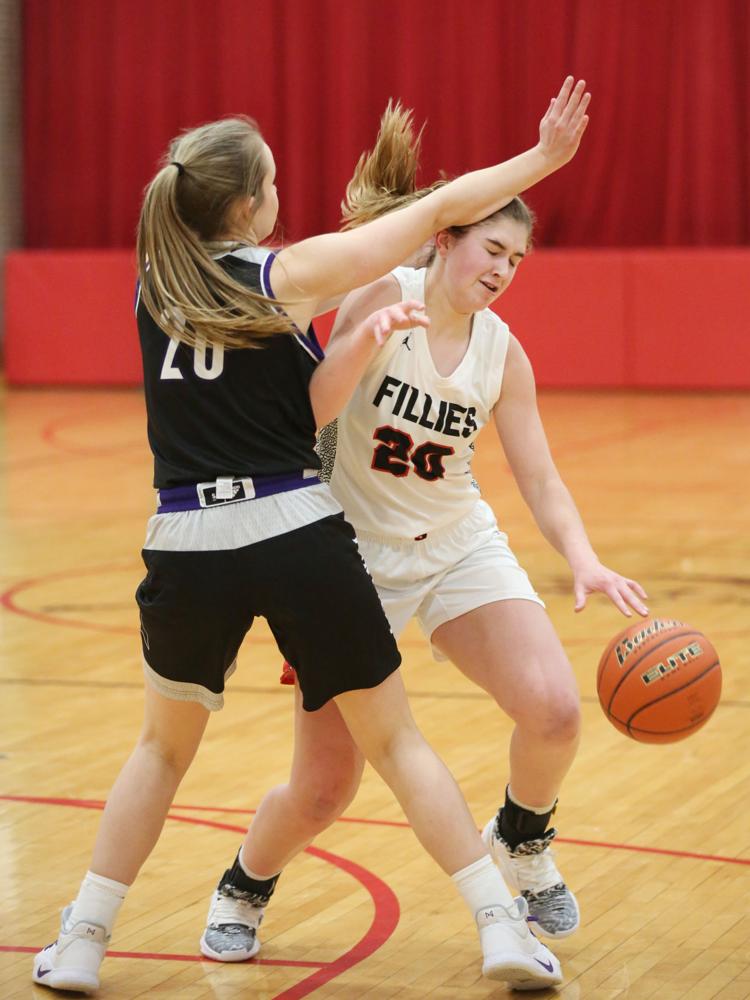 Jackie Schelkopf led Fillmore Central with 11 points, while Theis added 10 points. The Panthers were out-rebounded 36-27 in the game.
Sutton is the third seed in Tuesday's subdistrict semifinals while Fillmore Central is No. 2. Both teams are near the cutoff for a potential wildcard spot, so they'd like to not have to worry about it and just win the subdistrict tournament.
The winner of Tuesday's game will advance to the finals, where it will face whoever emerges out of No. 5 Sandy Creek, No. 4 Thayer Central, and No. 1 Superior. The Wildcats are a combined 3-0 vs. Sutton and Fillmore Central.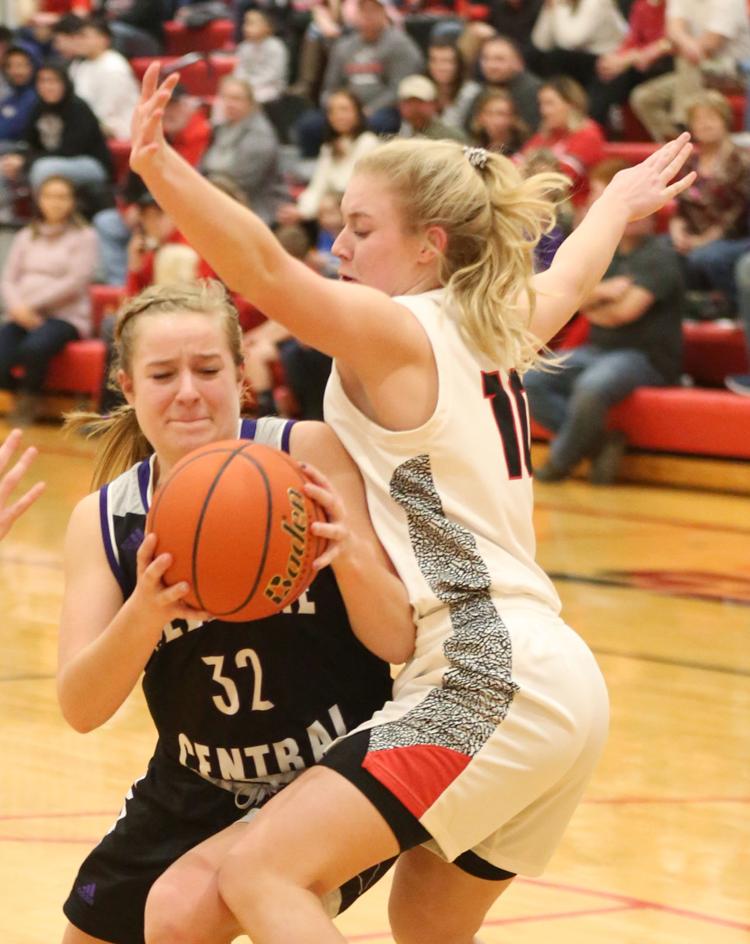 "We talked about wanting to get out to a fast start and talked about our overall defensive pressure, trying to get into some passing lanes and create some offense with our defense," said Sutton head coach Jon Ladehoff. "We just tried to be mentally focused and ready to go at the start."
"It was a tough matchup," added Panthers' head coach Jordan High. "We just struggled to stay patient with the ball and wait for guys to get open. Their physicality got to us, and they shot well. You could tell they were confident. That's a really good team."
Jacob Haight led Sutton with 10 points in the opening frame. The Mustangs were 8-for-15 from the floor in the first, while Isaiah Lauby had the only made field goal of the first quarter for Fillmore Central.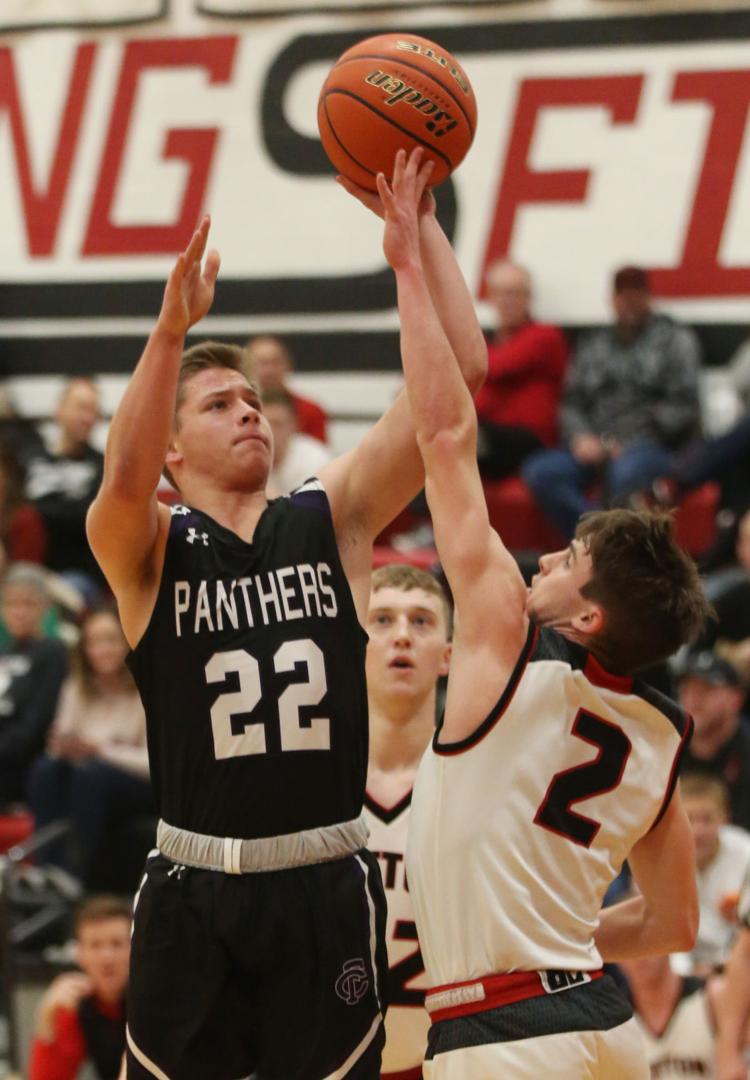 The lead only continued to grow in the second, as the Mustangs poured in 18 more points and held Fillmore Central to just four. Sutton went into halftime with a 39-7 advantage and outscored the Panthers 23-15 in the second half.
In all, Sutton had eight scorers, seven of which tallied six or more points. Haight scored 13 points in the game while Cade Wiseman added 12. Colton Haight and Tyler Baldwin each had eight points.
Brock Tatro led Fillmore Central with seven points, and Lauby totaled six. The Panthers finished the game 8-for-26 from the floor.
The Panthers will travel to Hebron to play Thayer Central on Feb. 21 for their regular season finale. High is expecting a good game between the two teams and hopes his squad can gain a little momentum heading into the postseason.
The Mustangs will go into their final game of the regular season — a road contest against Superior on Feb. 21 — riding a 14 game win streak. Ladehoff said his team will use the next week to work on itself while also taking quick looks at its future subdistrict opponents, which include Superior. All-in-all, Ladehoff is happy with where his team is at, as the postseason draws near.
"We've always talked about it's at this point when you have to make sure you're doing the little things correctly," he said. "As we are in the stretch run, you have to do those little things well to get ready for districts and, hopefully, beyond."
Fillmore Central (2-19)......3 4 9 6 — 22
Sutton (19-2)............21 18 13 10 — 62
FC (22)
De Maciel 2, Brock Tatro 7, Izayah Morris 2, Parker Uldrich 3, Keegan Theobald 2, Isaiah Lauby 6
Sutton (62)
Cade Wiseman 12, Quenton Jones 7, Colton Haight 8, William Burns 1, Jacob Haight 13, Jackson Anderson 6, Eli Skalka 7, Tyler Baldwin 8