Unbelievable.
That's how the St. Cecilia coach described the excitement of the Bluehawks' 21-20 overtime victory against Raymond Central Friday.
"It's unbelievable to be a part of something like this," said STC coach Cody Jackson. "I've never seen anything like it. We came out and played with heart until the very end. To go in and play a game like this, have this kind of competition and to come out on top, it is unbelievable."
It was also an unforgettable win for the Bluehawks who found themselves in a dog fight over at Duncan Field. The victory came at a good time, as St. Cecilia had been struggling on offense the past few games, unable to put up more than 14 points.
Micah Heil scored on a wide running play for STC's overtime touchdown from four yards out. Jacob Brouillette kicked the extra point that proved to be the game winner. Heil's run to the outside might have caught the Mustangs off guard because Heil almost always totes the pigskin up the gut.
"We thought we had an opportunity to take it wide a little bit. It worked out for us," Jackson said.
The Mustangs answered on their overtime possession with a five-yard pass to Travis Nelson in the corner of the end zone against tight coverage. Raymond Central decided to go for two and the win. But the Bluehawk defense broke up a pass, and the celebration began.
"It was two teams that wanted to win a football game. Two teams that were going to grind it out," Jackson said. "We have a lot of respect for Raymond Central and the fight that they put up."
Raymond Central took the contest into overtime after trailing 14-6. The Mustangs scored on a six yard pass then converted on the double extra-point pass with 5:50 left in regulation.
Plenty of time remained in the fourth quarter for either team to eke out a win. But the defenses dug in their heels.
The Mustangs' game-tying touchdown came three minutes after Alex Burns' nine-yard TD pass from quarterback Isaiah Swanson. Burns showed good concentration because the pass bounced off a linebacker's shoulder. Burns quickly snatched the pass that suddenly was up for grabs. Brouillette's extra-point kick put St. Cecilia up 14-6.
The game's most electrifying play came late in the third quarter.
That's when Tate Schmidt burst off tackle and raced untouched for an 86-yard touchdown gallop. Brouilette added the extra point and St. Cecilia edged ahead 7-6 .
Jackson said Schmidt deserved to garner a big play like that.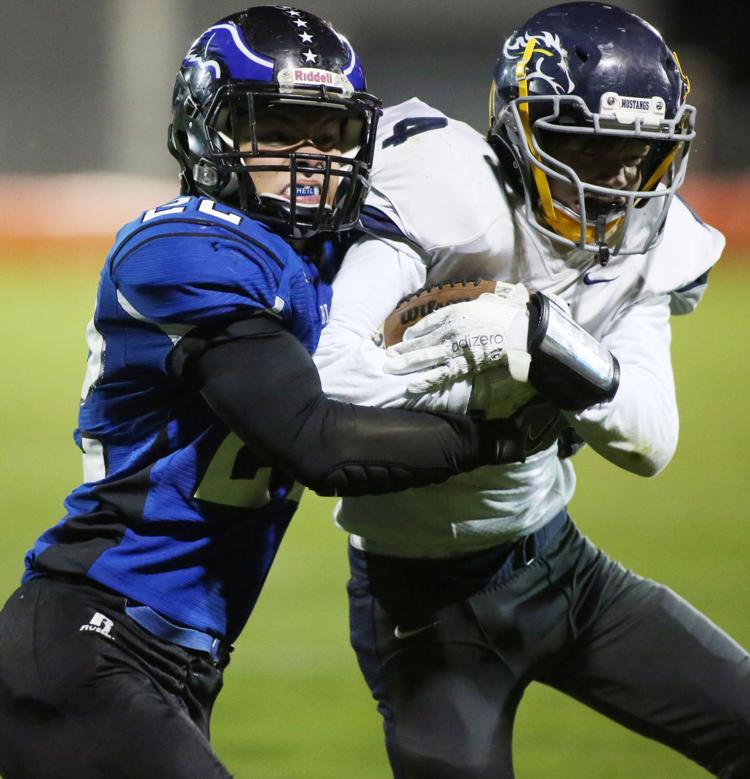 "Tate is one of those kids who is grinding for every single yard he's got this season. It was about dang time that he got to break one," Jackson said. "I couldn't be happier for the kid because he works his butt off. And our line, it all starts and ends with them. That was the difference. Our guys stepped up big time."
Schmidt closed with a team-high 103 running yards. Heil totaled 49 yards.
The first half was a classic defensive battle being played out between the 40-yard lines.
Neither team scored in the first quarter in which the teams traded three-and-outs and got involved in a punting festival.
St. Cecilia's offense featured mostly running plays in the first half, with Heil getting the lions' share of the carries. But the Bluehawks could penetrate into Mustang territory only twice and fell behind 6-0 at halftime.
STC totaled only 49 total yards in the first half. Raymond Central fared a little better, accumulating 98 first-half yards.
The Bluehawks displayed a ball-hawking defense by getting three fumble recoveries. STC's defense gobbled up its first fumble early in the second quarter to thwart a Mustang threat at the St. Cecilia 15 yard line.
Garrett Parr got a fumble recovery early in the third quarter, and George Arthur pounced on another loose ball late in the third period.
RC (2-5)....................0 6 0 8 6 — 20
STC (4-3)...................0 0 7 7 7 —21
RC — Conner Kreikemeier 4 run (run failed)
STC — Tate Schmidt 86 run (Jacob Broullette kick)
STC — Alex Burns 9 pass from Isaiah Swanson (Brouillette lick)
RC — Logan Bryce 6 pass from Kreikemeier (Bryce pass from Kreikemeier)
STC — Micah Heil 4 run (Brouillette kick)
RC — Travis Nelson 5 pass from Kreikemeier (pass failed)
RC STC
Rushes-yards 44-202 35-138
Passing yards 97 100
Comp-Att-Int 7-17-0 7-20-3
Total yards 299 238
RUSHING — RC Mason Kreikemeier 4-24, Conner Kreikemeier 20-120, Bryce 5-16, Nelson 5-13, Alan Walla 9-36, Andrew Otto 1-(-7). STC Gus Driscoll 4 (-16), Swanson 1-2, Heil 22-49, Schmidt 8-103.
PASSING — RC C. Kreikemeier 7-17-0 97. STC Driscoll 3-13-2 37. Swanson 4-7-1 63.
RECEIVING — RC Nelson 5-85, Mitchell Allbrecht 1-10, Bryce 1-2. STC Anthony Sabatka 3-30, Burns 4-70.