Going into the season, Johnson Imperial Homes head coach Blake Marquardt knew his team was going to have to do some growing as the year progressed. And while there is still some room for improvement, the Braves have answered the challenge in this young season, going into Tuesday's doubleheader with a record of 7-2.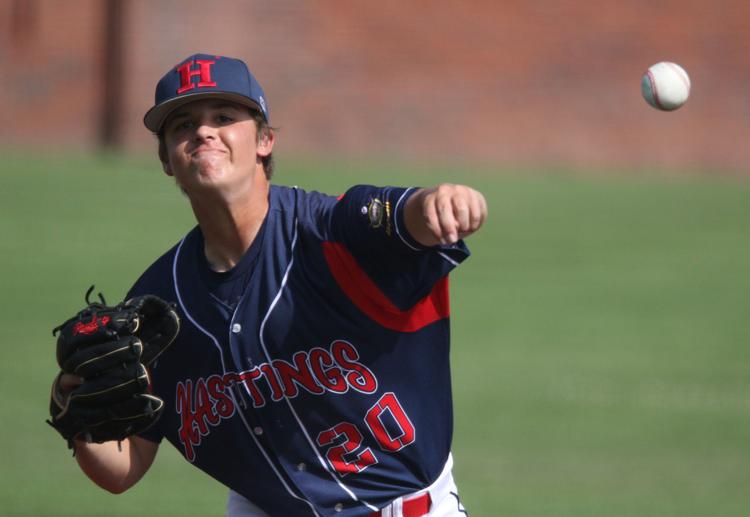 "I'm actually really happy with where the guys are at in terms of wins and loss records," Marquardt said. "They've beaten some really good teams. I think they've still got a long way to go to be a really solid team. As far as executing small things — hustling down the line, understanding first and thirds, running balls in the gap.
"I think it's going to be a challenge moving forward, but I think this group will be up to it. They've got a lot to learn in the next couple of weeks before we hit the end of the season."
Tuesday's twin bill with Grand Island Five Points Bank showed both the talent on this JIH roster and the need for growth. The Braves dominated the opening game of the doubleheader thanks to a terrific pitching performance and an effective offensive game plan. The result was a 4-1 win. But JIH turned around and dropped the nightcap 13-1.
In the opener, Creighton Jacobitz tossed 5 1/3 scoreless innings, allowing just five hits and striking out three.
"We had Jacobitz go game one, and he's just a solid pitcher," Marquardt said. "He's even tougher because he's from the left side. He's got three pitches, he's a young guy, and he's just dominated for us on the mound since day one. He's kind of been the guy we go to when we feel we have a tough opponent."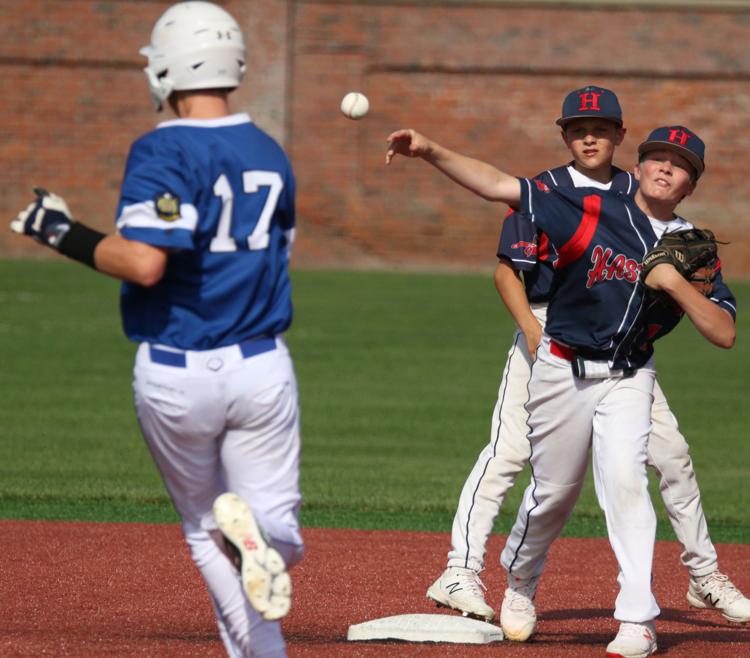 Jacobitz let just three runners get past first base, including two in the first inning.
But he worked out of the jam without any damage done. And the Hastings offense rewarded him. JIH poured in two runs in the first and another in the third, and it did so with its small ball style of play that has worked over the years for Marquardt.
"We traditionally like to do a lot of those things, put pressure on the defenses. We executed. We came off with a little more eagerness in game one," he said.
A sacrifice fly and a wild pitch plated the first two runs of the game and gave Hastings a 2-0 lead. The Braves laid down two bunts in the third inning, the second being a squeeze bunt from Thomas Hoffman that scored Braden Rutt.
Elijah Johnson drove in the other JIH run in the sixth inning.
Grand Island finally got on the scoreboard in the seventh inning, when Markus Miller gave up a run before end the game with runners on second and third.
As good of a start as Hastings got off to in game one, it was that unfortunate in game two.
The first six GI hitters reached safely thanks to four hits, a walk and an error, and just like that the Braves were down 4-0 before ever having an at bat.
"I think the first inning got away from us," the JIH coach said. "The first at bat was an 0-2 pitch that got put down the middle...and then we had an error and walked the third batter. Not the way you want to start a game.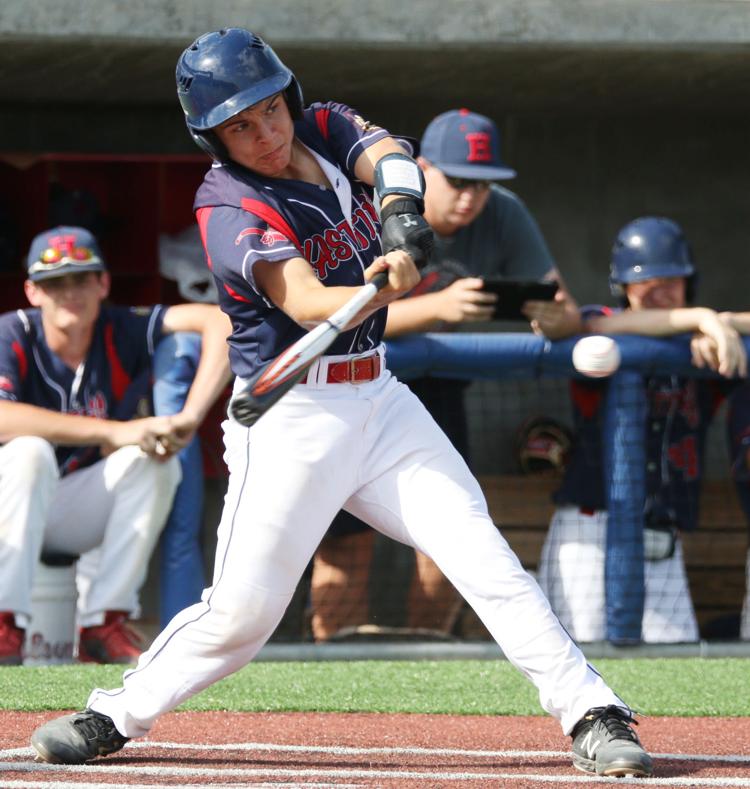 "If you could have somehow scratch that for one run instead of four...then it's a different ball game. Then it's 1-1 going into the fifth or maybe 2-1 and it's a different ball game. The, all of a sudden we get to the sixth and start falling apart. Again, it goes to walks. When you don't force a team to put the ball in play it's pretty easy for them."
Hastings scored in the bottom of the first to make it 4-1 and only allowed one more run over the next four innings. But disaster struck again in the sixth, when Grand Island poured on eight runs, fueled by three walks, three hit-by-pitches, and three singles.
Kayleb Sauer had two hits for Hastings in the nightcap.
Johnson Imperial Homes will be back in action Wednesday, when it hosts a Overton in a doubleheader at 5:30 p.m.
Game one
Grand Island.....000 000 1 — 1 7 2
Hastings (8-2)..201 001 x — 4 3 1
W — Creighton Jacobitz. L — Tyler Fay. S — Markus Miller.
2B — GI, Cole Sweky.
Game two
Grand Island....400 108 — 13 12 1
Hastings (8-3).....100 000 — 1 6 1
W — Tycen Nelson. L — Thomas Hoffman.
2B — GI, Cohen Evans, Kaden Kusella, Kevin Ramos; H, Jaxen Gangwish.
Five Points Bank
GRAND ISLAND — The senior legion Five Points Bank team notched a pair of wins over rival Grand Island on Tuesday at Ryder Park. Hastings won 4-3 and 2-0.
In the opener, Gabe Conant's RBI single plated the go-ahead run in the seventh inning, lift Hastings to the one-run victory.
Jacob Shaw added a double, while Mike Boeve, Laif Hultine, and Brayden Mackey all drove in a run. Jake Schroeder struck out six batters in his 5 1/3 innings of work and allowed three runs. Conant pitched the final 1 2/3 innings and earned the win on the mound.
In the nightcap, Hultine tossed five shutout innings and struck out five en route to the victory.
Mason Brumbaugh and JT Cafferty both had an RBI today, while one of Brumbaugh's two hits was a double.
Hastings will stay on the road Wednesday, when it travels to Norfolk for a doubleheader, beginning at 4 p.m.