Only one day after dropping a tough dual against a Northwestern squad receiving votes in the NAIA top 25 poll, the Hastings College wrestling team bounced back with an exciting day at the Cusatis Open at Hastings High School.
Eighteen teams and hundreds of wrestlers battled on the mat on Saturday, and the Broncos came away with four medalists in the tournament, tying their best performance in at least six years. HC wrapped up action with a silver medalist, two bronze finishers and a fourth-place performance.
"Those guys battled hard (Saturday)," said HC head coach Tyson Springer. "It was night and day different compared to the way we looked (Friday) — we looked a little flat in the dual against Northwestern. They came out (Saturday) and really stepped up...It was great to see them step up and keep that momentum going all day long.
"Those guys are battling, and that gets contagious. When you start winning and battling, other guys feed off that."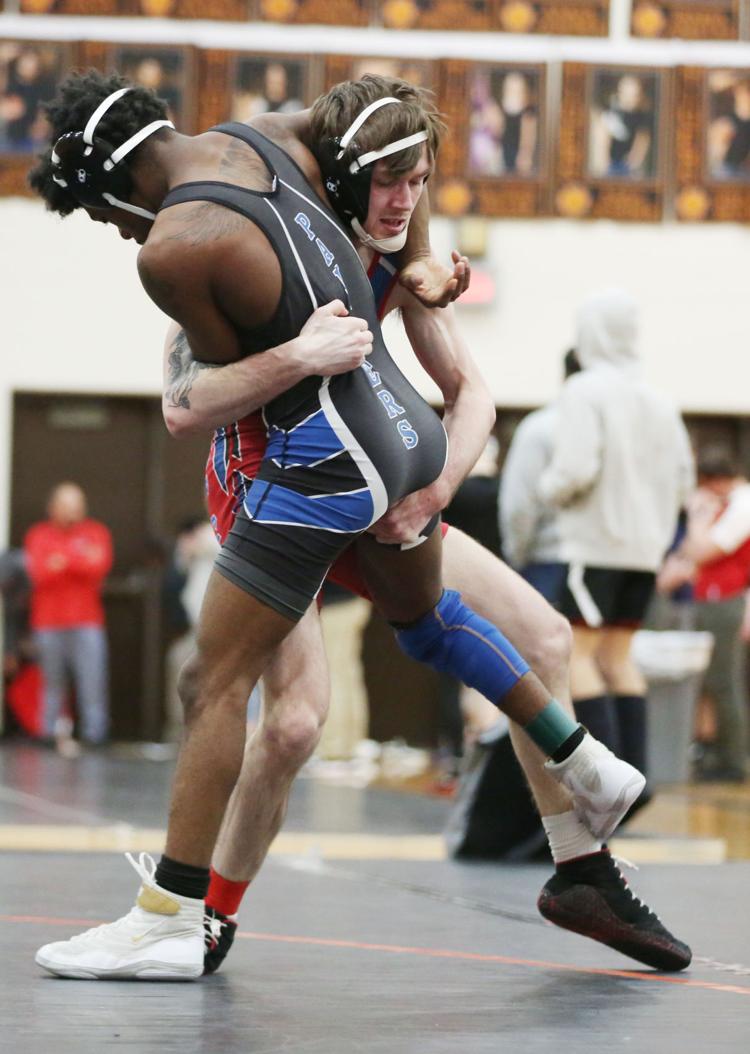 Hastings 125-pounder Kobe Paczosa-Hall claimed HC's top finish after he took second in his weight class. He cruised to the final with three pins before dropping the championship match to Jackson Nielsen of the University of Nebraska-Kearney.
Paczosa-Hall has had limited time on the mat because he's redshirting this year, leaving him only tournaments like Saturday's Open to compete in. But even with the limited time and the knowledge that he will not be competing for a trip to nationals, Springer has been pleased with the way Paczosa-Hall's attitude this year.
"This is the third or fourth tournament he's been in this year, and he's been consistent all year long," Springer said. "It's tough to do when you're redshirting because you're not with the team as much — we can still travel him with the team, which is good... but you're still redshirting. You're not competing for that spot, you're not scoring points, so it's a tough mentality. But he's done a great job and hopefully it leads to a great year for his senior year."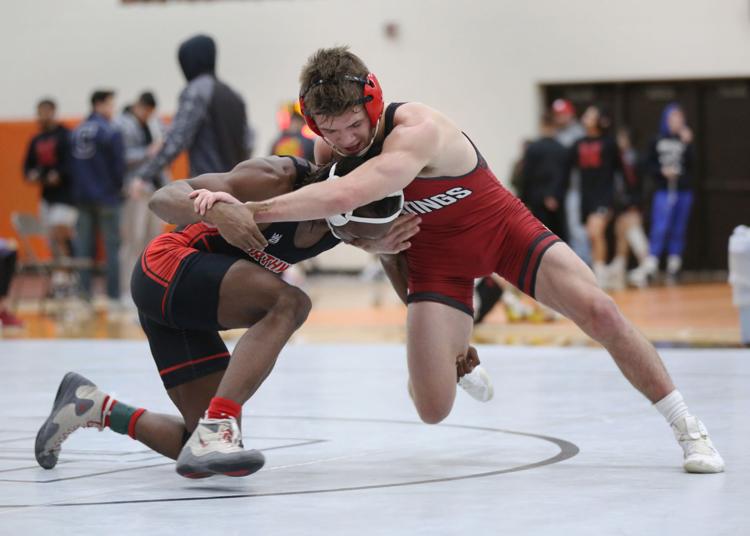 The Bronco grappler was neck-and-neck with Nielsen in the first two periods and even notched the first four points of the match. Paczosa-Hall led 4-3 after the first, but a late takedown cut sent the UNK 125-pounder into the third period with an 8-5 advantage. Paczosa-Hall was still in the match at 10-7, until a takedown with 35 seconds left led to a four-point nearfall. Nielsen ended the match with an 18-9 win to claim first place.
Hastings College's Thomas Stevenson and Anthony Espinoza both finished in third place in their respective weight classes, but they both took very different routes to get there.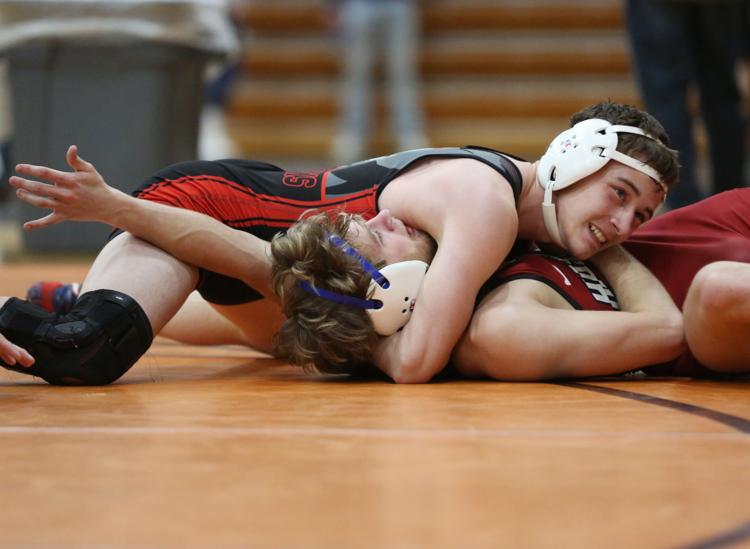 In the 157-pound bracket, Stevenson lost the first match of the day in a 7-4 decision to Northeastern Junior College's Sebastian Robles. But Stevenson won the next five matches of the day, capturing third place with a second-period pin in a rematch with Robles.
"Tommy Stevenson, who's redshirting, took third again. The last time he did the same thing, lost his first match and then came all the way back," the Broncos' coach said.
Espinoza, who recorded one of Hastings' three wins in Friday's dual against Northwestern, won his first two matches of the day to advance to the 165-pound semifinals, where he lost to eventual champion Johnny Blankenship from the University of Nebraska. But Espinoza bounced back with a pair of major decisions in the consolation semifinals and the third-place match.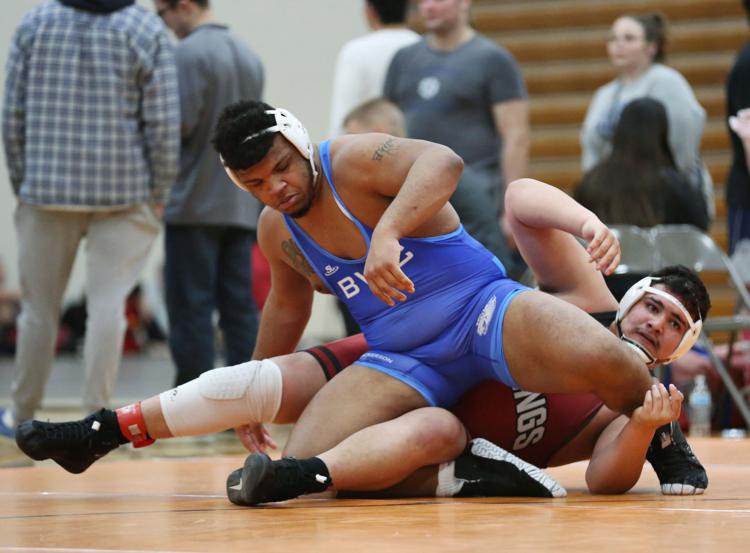 "(Espinoza) has wrestled great," Springer said. "(Friday) he got a win and then he was just great (Saturday)."
Shaun Van der Torre showed true grit, as he battled his way to a fourth-place finish. The HC 174-pounder lost a close 4-3 decision in the semifinals to Jacari Deal of Northwest Kansas Technical College. And in the third-place match, Van der Torre took a 7-6 lead over Northeastern Junior College's Breason Lewis in the third period, but a reversal and another late takedown paved the way to a pin for Lewis.
The Broncos had other positive performances. Edrich Nortje (141) and Daniel Gonzalez (285) both tallied three wins on the day, while Trystan Berry (149) and Carter Pursley (165) had two apiece.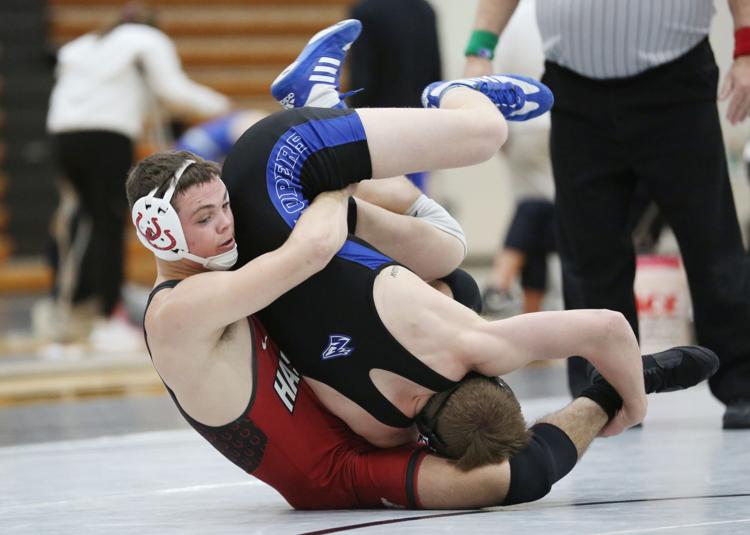 Nortje just barely missed out on advancing to the finals, when he lost a tight 7-6 decision thanks to a takedown with 58 seconds remaining in the third period. He then suffered another crushing defeat in the consolation semifinals as two takedowns in the final minute gave Jaime Mullins (Dickinson State, N.D.) a 12-11 win.
Despite the tough losses, Springer liked what he saw from Nortje, who is wrestling up a weight class than he's used to.
"He's a 133-pounder wrestling at 141, so he's not as big as those guys. He thinks he's as big as those guys, but he's not," Springer said with a smile. "This is a great start for him."
Hastings College has a big tournament coming up on Friday, when it will start day one of the Missouri Valley invite. Springer said a lot could be revealed about the Broncos in that meet.
"It's the toughest tournament we go to, besides our national tournament. I think last year, 40-some percent of the kids that placed there placed at the national tournament," Springer said. "I don't know how many we'll take...but some of those guys that are on the bubble or ranked, this next weekend will put them where they need to be or show them where they have to get to."
Current Midland Warrior and former Red Cloud/Blue Hill Dylan Buschow went 1-2 in the tournament. He won his first match via pin but then lost in the quarterfinals 10-4 and then in the consolation bracket 7-1.
Hastings College results
125 — 2, Kobe Paczosa-Hall (3-1); Konner Alejandro (0-2)
133 — Max Stevens (1-2); Jake Abeyta (0-2)
141 — Edrich Nortje (3-2); Riley Dement (0-2)
149 — Trystan Berry (2-2); Austin Mitchell (0-2); Trenton Eldridge (1-2)
157 — 3, Thomas Stevenson (5-1)
165 — 3, Anthony Espinoza (4-1); Carter Pursley (2-2)
174 — 4, Shaun Van der Torre (3-2); Jayden Miller (1-2)
184 — Joesph Felix (1-2)
285 — Nate Connelly (1-2); Daniel Gonzalez (3-2); Gunner Gardner (0-2); Marco Valdivia (1-2); Angelo Damian (1-2)