This summer was certainly one to remember for the Five Points Bank American Legion baseball team. The Chiefs won 35 games, captured their first area title in 19 years, qualified for the state tournament, and — most impressively — hosted the Mid-South Regional and advanced to the final day of competition before being eliminated from the tournament.
Top-to-bottom the FPB squad was lined with talented players, all of which did their part to contribute to the season's success. But one of the driving forces that made the Five Points Bank team maintain a high level of play in the field, on the mound, and at the plate was Josh Brooks, who was named this year's Shorty Meyer Award winner as the team's most valuable player.
"Consistency is probably the best term to describe Josh Brooks' play," said Five Points Bank head coach Kevin Asher. "At the plate, throughout the entire season he didn't have any areas where he would have a major slump or get hot for just a week or so. He was definitely our guy that our kids knew was going to come up with that key at bat.
"It was just nice to know that he was going to get the job done… He had a lot of at bats where he was moving runners, and sometimes those go unnoticed. That's kind of how his game is, he goes unnoticed but then at the end of the day he's the one guy that probably made our team go."
This season, Brooks led the teams in runs batted in, with 37, and was second on the team with 53 hits. He was also a valuable asset on the mound, especially late in the year.
Brooks graduated from Hastings High in 2017, but his birthdate made him eligible to play for Five Points this season as a "legion baby." A lot of the time, legion babies are coming back from playing their first year of collegiate baseball, but Brooks is not playing baseball in college, but rather playing the trumpet for the University of Nebraska marching band — which only makes his production this summer all the more impressive.
He wasn't coming off a spring season with live at bats in collegiate competition, but that doesn't mean he wasn't hard at work all offseason.
"That's part of his professionalism. He would come back in April every weekend and work out with us, and he said he was doing some throwing and hitting on his own in Lincoln to prepare for the season. So, we knew how much it meant for him, as far as his last go around with baseball. That's probably why he was so well respected on our team," Asher said.
Brooks hit in various places throughout the lineup this season, including leadoff and in the three hole. That versatility also found its way to the mound, where he led the team in saves (seven) and was third in both wins (four) and innings pitched (38).
Brooks finished the year with a 2.40 ERA and struck out 31 batters. He often pitched to contact and was the team's best in terms of getting on top of hitters early, throwing first-pitch strikes 68 percent of the time.
"We knew going into this season, pitching-wise, he was going to be the guy we relied on the most in a lot of different situations," Asher said. "We loved the fact that he could close games for us with his side, 3/4 delivery. We also knew that as we went deeper into the season that we would need to use him in more of a starter role and stretch him out a little bit.
"He just continued to be his same old self. He threw a ton of strikes and had the ability to win a game for us late or get us going early."
Brooks isn't the most outspoken player, but he certainly garners the team's respect by how hard he works. And his teammates try to emulate that attitude. Brooks even goes all-out shagging fly balls during batting practice, so much so that the team says he has an Alex Gordon mentality when it comes to practice. Gordon is a former Husker and current outfielder for the Kansas City Royals, known for his hustle and disregard for his body in order to make the play.
"You just knew the kids respected the way he approached the game," the FPB coach said. "He had a very business-like approach all the way through, and it kind of rubbed off on the other guys. Josh is kind of one of the softest spoken guys we have, but he was just as intense of a competitor as we had. And our guys knew that just on the way he approached every thing."
Earl Applebee Award
When Five Points Bank fans arrived at the ballpark to watch their team play, there were two constants they could bank on almost every game — Ashton Valentine was patrolling the outfield in centerfield, and he was hitting at or near the top of the lineup.
Valentine is this year's Earl Applebee Hustle Award winner, thanks to that ever-churning motor he put on display game in and game out.
"When you have Ashton Valentines on your team you know you're going to get gamers," Asher said. "They show up, they make plays, they play as hard as any player that we've had. Whether it's trying to beat out a base hit, diving in an alley, trying to bring the ball in, they're going to give you 100 percent every day. They want to play every day and don't want any days off.
"He's just the epitome of Mr. Hustle and a guy that is a grinder on the baseball field. He doesn't have a perfect swing or have a great arm, but he does all the little things that you want. He's a winner."
Valentine covered a ton of ground in centerfield, which is a huge asset when playing in the spacious outfield grass of Duncan Field. While visiting fans began to cheer after one of their hitters smacks a line drive to the outfield, the Chiefs' faithful were often confident Valentine was going to get under the ball and make the out. And more often than not, he did.
Another valued commodity of Valentine's was his leadership. Players take notice when a teammate is giving 100 percent regardless of the situation. And if they weren't going as hard as he was, Valentine would let them know it.
"The fact is that Ashton's leadership was a little more vocal than Josh's. They both led by example, and Ashton was not afraid to make sure that, at the end of practice, the off the field stuff was taken care of because he wanted to win and wanted to compete at a high level. He's just one of those guys that day in and day out you have to have if you're going to be successful," Asher said.
Ron Hofeldt Teammate Award
While every player had their own form of adversity to deal with this season, it's how a player deals with that adversity that can make a positive or negative impact on the team. Mike Boeve's near-season-long rib injury was emotionally and physically taxing, but he never brought a negative attitude to the ballpark.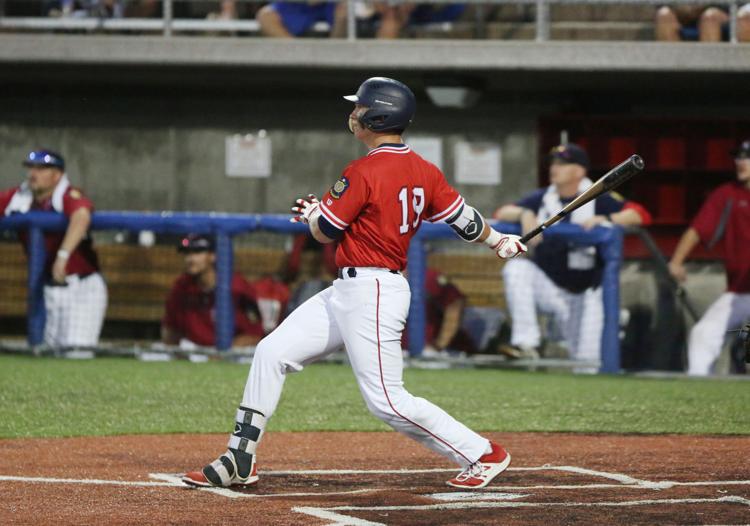 As hard as it was to go through almost the entire summer season, being forced to watch your team compete from the bench, Boeve still had as positive of an impact to the Chiefs as anyone.
"His presence just at practice every day gave us a sense that one of our top players is going to be there and he's preparing as hard as he could even though he couldn't give us game-time experience or game time at that point," the FPB coach said. "He just kept working extremely hard, encouraging his teammates, not worrying about himself and looking for sympathy or anything. He was there just to try and make his team better and make himself better if he did get that opportunity. And once he got that opportunity he made the most of it in the last 10 games he played.
"If anybody endured a tough season but put the team first, it was Mike."
Boeve did not play until the area tournament, missing the first 39 games, but his impact in the lineup was felt immediately. In his 11 games back, Boeve hit for a .457 clip and had the highest slugging percentage (1.262) of anyone on the team with more than one at bat. He tallied 16 hits and drove in 10 runs while drawing five walks — three of which came in the Regional tournament, as even the teams outside of Nebraska knew to pitch around him when they could.
Asher said one of the biggest reasons Boeve was able to come off an injury like that and still be successful was because how involved with the team the slugger was when he was injured.
"The biggest thing about Mike is his preparation and his mentality of knowing what needs to get done," Asher said. "He definitely got bigger and stronger over the year, and when we inserted him into the lineup it put other guys in position we anticipated throughout the entire season. He made our lineup that much more dangerous and gave everybody else a little more different pitches than they were going to see."