With mold and mildew and a crumbling infrastructure all caused by exposure to the elements, the Hastings City Building may have outlived its usefulness.
Marty Stange, environmental director for the city of Hastings, shared a presentation during the Hastings City Council work session on Monday detailing the City Building's condition as well as outlining possible solutions.
Stange, who has long been a Hastings Utilities employee, had his office moved recently to the City Building at 220 N. Hastings Ave., as part of the city's continued reorganization.
"In coming down here he picked up on a number of things about city hall that, unfortunately, reflect in a lot of deferred maintenance that has occurred over the years here," City Administrator Dave Ptak said. "This isn't something that happened overnight, but it is a situation that we're maybe having to deal with some of the situations that maybe should've been taken care of in the past."
For example, the 57-year-old building's asbestos insulation is starting to break down.
Stange said the blown-on asbestos in the City Building is the most dangerous kind of asbestos, but is the easiest to remove by scraping it away. The surface then needs to be retextured or repainted.
"This asbestos is not going to get any better," he said. "It's going to continue to deteriorate in there."
Stange estimated the cost to renovate the City Building would be at least $1 million.
Within that estimate, though, are some costs Stange admitted probably have been penciled in too low; for instance, $53,816 to seal the Development Services vault area in the southwest corner of the building.
That amount doesn't include fixing a structural repair.
The sealing is so expensive because there is concrete pavement along the outside of the building.
"You're going to have to expose that," he said. "You're going to have to make it wide enough to get people down in there to try to seal it. If you do that you're wasting your money until you get that movement of the foundation stopped."
With all the work required to make the City Building safe again by removing asbestos, mold and mildew, and fixing structural damages, Stange said city officials will have to take a hard look at how much life is left in the building.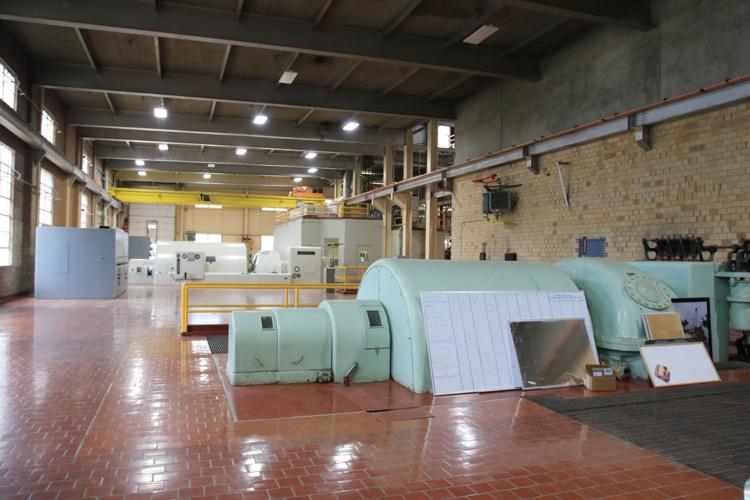 The City Building began life in 1963 as First National Bank. The city bought it in 1984 from Norwest for $1.5 million.
"You already have a damaged building; you're never really going to bring it back to its original, new condition," he said. "You'd have to look, 'Can I get 15 years out of it? Twenty years out of it? Fifty years out of it?' You'll have to look at those costs."
Another option would be to move city offices to a different location.
Stange estimated the cost to build a new office building, at $300 per square foot, would be $3 million to $3.5 million — not including land acquisition.
One option Stange discussed that was popular with council members and Mayor Corey Stutte was moving city operations to the old boiler and turbine area of the North Denver Station, 1228 N. Denver Ave. This would place city and utility operations under the same roof. Stange estimated that move would cost about $250 per square foot, $2.5 million to $3 million, and take nine months to a year to complete.
Stange said he thought the move would enhance communication between city departments.
"I think this would be a great opportunity for us to further that (reorganization) if we moved up to North Denver Station," Stutte said. "There are no good options with something like this kind of a situation, but I think it's a good opportunity for us to evaluate that. I think it's a good opportunity for us to talk about it. We've got a really strong downtown that would be happy to step up and figure out what to do with the (City Building) property."
Stange and city officials talked about potentially preserving some of the large equipment in the North Denver Station turbine and boiler area, to give the space a museum-like quality.
Ptak said one option to finance whatever option city officials choose would be the use of a facilities corporation.
The facilities corporation would issue debt to make the improvements that would be necessary and lease the property back to the city over a period of time, amortizing the debt. By the time the debt was paid, the city would be the owner of the improvements within the facility.
Ptak said he's been party to such an arrangement on at least three occasions.
"They work slick because they don't involve direct taxes," he said. "It does not require a vote of the people, which makes it easier to put together."
Stange included many photos in his presentation depicting the City Building's shortcomings.
"This is a lot of information," Ptak said. "When Marty first shared all this information with you I wondered why we ever had him come down to city hall, but I'm glad he did because this is something that … the pictures don't do it justice."
Stange's presentation is available at cityofhastings.org.