Adams County's first positive case of the novel coronavirus disease, COVID-19, is one of the adult sponsors who recently returned from a Hastings College student trip to Europe, authorities said during a news conference Thursday morning.
With the woman's permission, Susan Meeske, executive vice president of enrollment and student engagement at Hastings College, identified Jessica Allen-Pickett as the first patient with a confirmed diagnosis of COVID-19 in Adams County and the South Heartland District Health Department service area, which includes Adams, Webster, Clay and Nuckolls counties.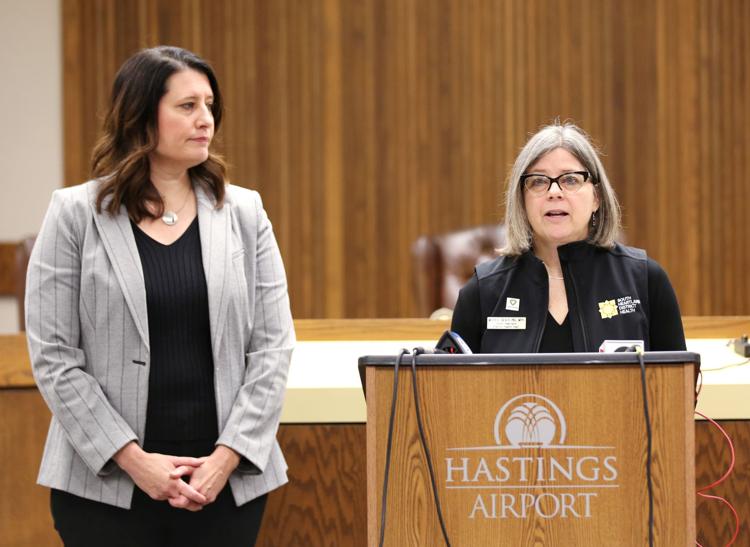 Allen-Pickett, an assistant professor of teacher education at the college, chaperoned the journey of 106 students, instructors and chaperones to France, England, Ireland and Spain as part of the HC 2.0 new-look curriculum. During the two-week trip, the novel coronavirus disease continued to spread and was declared to be a pandemic by the World Health Organization on March 11.
Meeske said France and Spain were listed as level 3 travel advisory countries by the U.S. Centers for Disease Control and Prevention on March 12, the same day the HC group returned to the United States. The students and adults who had been in France and Spain were advised to comply with the CDC's recommendation for 14 days of self-quarantine upon their return home.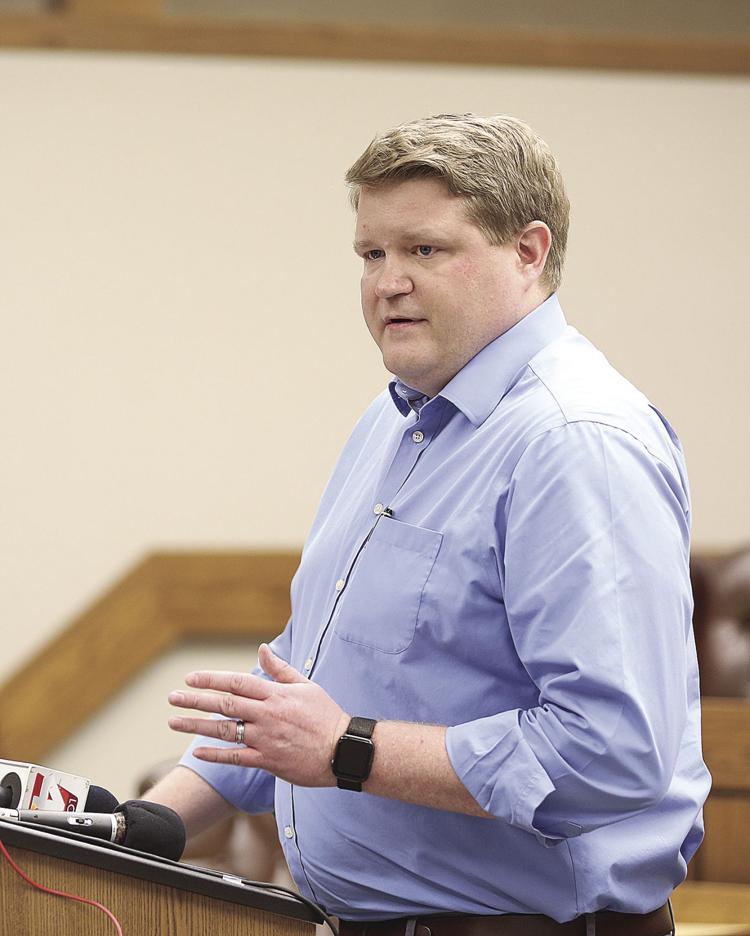 Most of the students returned to their permanent residences for spring break, though Meeske said 11 remain on campus, also in self-quarantine. Allen-Pickett went into self-quarantine at home, isolating herself even from her own family.
"She and her family took the recommendation seriously," Meeske said.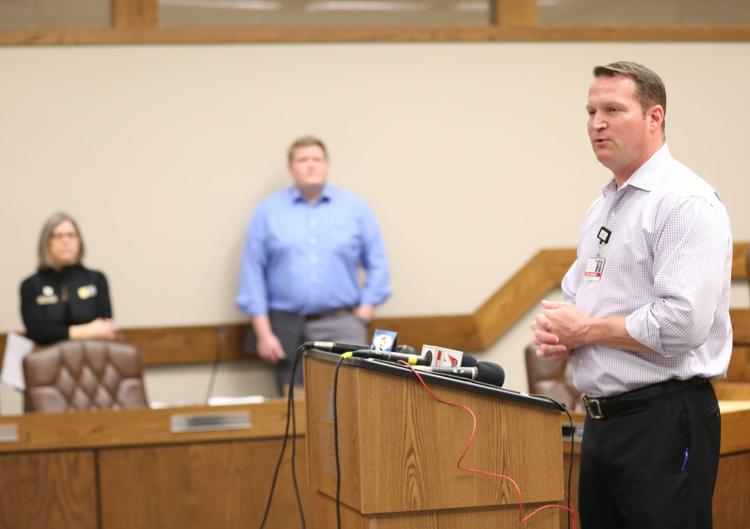 Michele Bever, executive director of South Heartland District Health Department, said Allen-Pickett was one of five people who have been tested in the district's four-county area. Three other tests were negative for the disease and results for the other one remain pending. She said the health department began tracking the students and staff involved in trip after their return, but only conduct tests as symptoms arise.
Bever said Allen-Pickett developed symptoms four days ago, including a mild cough, fever and muscle aches. The health department is taking steps to identify people who have been in close contact with the woman to monitor them for symptoms as well.
Meeske said the woman's symptoms remain mild and she is in good spirits. She is continuing to self-isolate at home.
And Bever said that's the way the health department plans to tackle the problem in the community. Preventing the virus from spreading needs to be the focus of the community and practicing social distancing will help. She explained the current guidelines from the U.S. Centers for Disease Control and Prevention recommend people stay 6 feet apart and limit groups in the same room to 10 people.
"We are encouraging everyone to do your part," she said.
Though the death rate of the coronavirus is about 3%, Bever said, the main concern with the disease is for the elderly population. For example, the death rate for people 85 and older is 10-27%, causing health officials to be concerned with the safety of older adults and people with underlying health conditions.
While comparisons have been made to the H1N1 (swine flu) pandemic in 2009, Bever said, familiarity with influenza helped prevent steps like social distancing to be necessary. As a form of influenza, H1Ni was more familiar to scientists, and a vaccine was able to developed more quickly.
"This is a coronavirus, so we really don't know how this will play out," she said.
The health department has been working with various agencies and businesses to make preparations for an increase in patients.
Eric Barber, president and CEO of Mary Lanning Healthcare, said the hospital has started limiting visitors to the hospital and is screening visitors as they enter. The hospital has postponed elective procedures and is stockpiling supplies that may be needed with an influx of patients with the disease.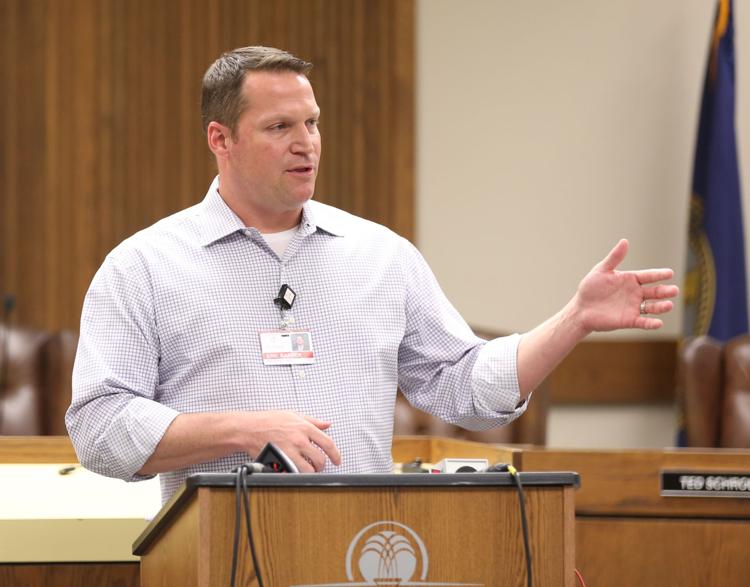 "We're doing everything we can to be prepared," he said.
Ron Pughes, director of Adams County Emergency Management, said he has been working with local firefighters and police to outfit emergency responders to be protected as they continue providing essential services to the community.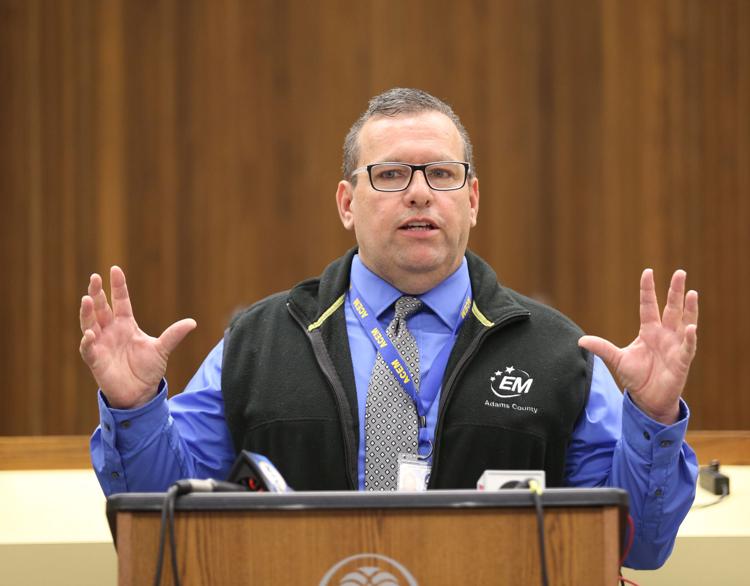 "We must ensure their safety," he said. "We thank them for their service."
Mayor Corey Stutte said the city of Hastings has faced challenges in the past and will emerge victorious if the citizens heed the warnings of health officials and start taking the pandemic seriously. City services will remain open, though limiting access to city hall is part of the effort to stop the spread of the disease.
"Hastings is open for business, but it might just look different for a while," he said.
For up-to-date information from the health department, visit southheartlandhealth.org. The Nebraska Department of Health and Human Services has opened a statewide coronavirus information line to help answer questions: 402-552-6645.