A Hastings clergyman is spearheading an effort to keep those who are self-quarantined fed during the coming weeks as the novel coronavirus disease, or COVID-19, threatens to affect the community.
The Rev. Andy Springer, director of spiritual ministries for the Good Samaritan Society-Hastings Village, is working with at least five area churches to provide meals to anyone who is self-quarantined or is particularly susceptible to the novel coronavirus, which most severely sickens elderly and immune-compromised individuals.
Participating churches to date locally include First Presbyterian, St. Mark's Episcopal Pro-Cathedral, Faith Lutheran, First Christian and First Congregational United Church of Christ.
Meals such as casseroles already have been prepared by members of these congregations, with additional churches expected to join in the outreach effort at some point.
"What we're wanting to respond to is people who are quarantined, sick, alone or unable to get out," Springer said. "There are several churches in the area that already are doing this for their own members, but we wanted to ramp this up and make it communitywide.
"My heart is for those people who aren't connected to a church. People who are part of Good Sam or a local church are going to be well taken care of, but that only makes up about 20-30% of our community. My hope is that neighbors and family members will be in contact with their neighbors and reach out to me if they have people they know who could benefit from meals being brought to them."
Springer said the meals will be provided on an honor-system basis to anyone who requests them. Each meal is expected to provide about four days worth of food per individual, with additional meals available for the asking.
"We're primarily for those elderly or with health conditions, although anyone who needs this, we're certainly welcome to receiving their calls, as well," he said.
Depending on the need, Springer said, he may be requesting meals from the community in the coming weeks to help supplement the casseroles, soups and other meals already available to those who need them.
For the time being, he will rely on the generosity of participating church members to prepare and deliver meals to meet the needs of the community as they arise.
"I have no doubt that Hastings residents will respond with exceeding grace," he said. "I absolutely think the churches will step up. The church certainly has a history of coming through in times of crisis, especially sickness, and I expect no less from our churches now."
Springer said that referrals may play a big role in determining how many people are served through the program, as many Nebraskans tend to shy away from asking for assistance in times of need.
"I think that when neighbors and family and friends look out for those who need it that we can help serve them," he said. "Sometimes it's hard to call for ourselves."
To request a meal for a family or individual, call Springer at 402-460-3246.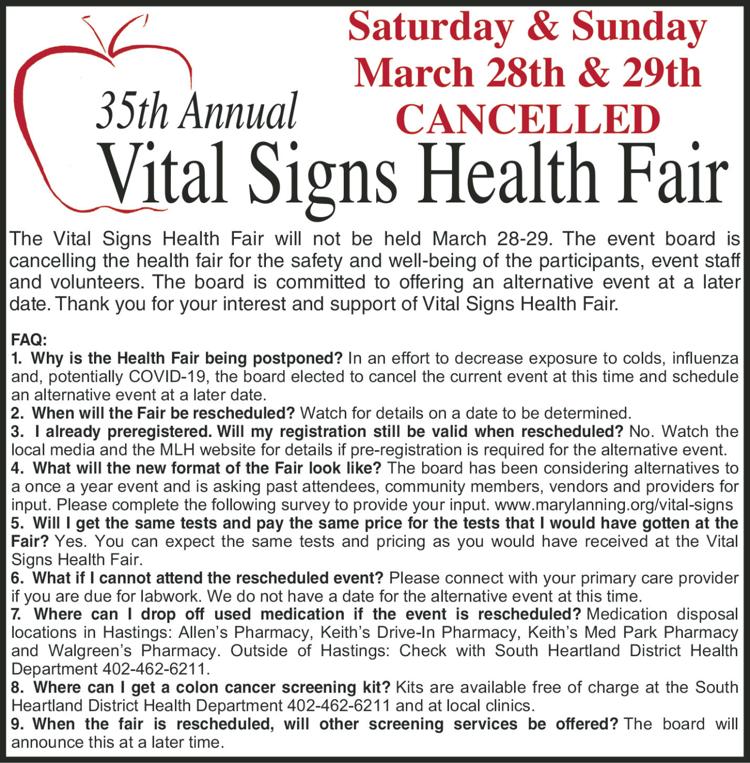 -