Dealing with the threat of the novel coronavirus disease, COVID-19, local alcohol purveyors have had to quickly change their business models, offering new services like delivery and off-sale purchases.
"We obviously had to make a big shift rather quickly," said Anthony May, one of the founders of Steeple Brewing Co. "We've been telling folks we're very lucky because we've been preparing for beer and pizza delivery for several weeks or months. It was something that was always on the plan for Wave's people. We just had to accelerate the timeline and flip the switch in a couple days."
Gov. Pete Ricketts issued an executive order March 26 allowing restaurants and bars to provide mixed drinks and other alcoholic beverages with lids for takeout and delivery.
Jamey Hamburger, the owner of Odyssey restaurant in downtown Hastings, said that has been a "nice added perk" to food takeout and delivery, especially on Friday and Saturday.
"We did some craft cocktails," he said. "We did a couple of glasses of wine and stuff like that, but mainly it's been food for us. It's another add-on value kind of thing we could do thanks to the governor. It certainly doesn't make up for other lost revenue, but it's a step in the right direction, and we appreciate that."
Steeple Brewing Co. and Wave Pizza, which share a space in downtown Hastings, still allow alcohol pick-up as well as delivery.
"If we were doing just beer, or just liquor, I don't know how well it'd go, but the fact that people can call one place and get both (beer and pizza) delivered, just about every order consists of both, honestly," May said.
Steeple and Wave also started offering delivery nights in small towns surrounding Hastings.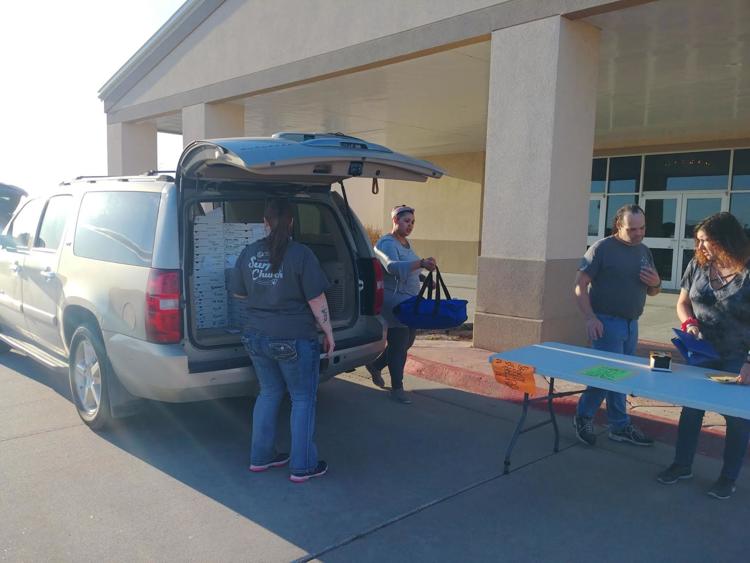 Customers call in beer and pizza orders during the afternoon. Staff members then deliver all of the orders to a central location.
Delivery locations have included Doniphan, Minden, Sutton, Westbrook/Juniata, Blue Hill, Clay Center and Idlewilde.
"Those have been huge," May said. "I think (Monday) we took about 150 pizzas and 15 gallons of beer down to Blue Hill."
Wave-Steeple employees arrive at the chosen location with dozens of previously ordered pizzas that are intended to still spend time in the customer's oven, as well as 32-ounce crowlers.
Steeple had been running short of crowlers and now also offers plastic 64-ounce growlers for delivery.
"The first reaction to these community ones was so big, we did 280-300 pizzas in three days, and we started running low on ingredients because we didn't anticipate that," May said.
Alcohol has been in high demand in the retail sector.
Erik Buderus, south central Nebraska sales representative for the Republic National Distributing Co., said there was a "pretty good" run on alcohol.
Low-end half-gallon liquor containers were especially popular.
Distributors are running out of some items because of where they come from, such as Italian wines.
"Since that initial run it's kind of been everything across the board," he said. "People, they wanted to make sure they had something or wanted to make sure grandpa had his whiskey or his vodka, something like that. Now it seems to be anything and everything, all price points and all varieties across the board."
Buderus said the small, 50-milliliter, airplane-use bottles have been popular in bars and restaurants offering take-out orders.
Alcohol sales have been deemed essential, which Buderus attributes as an act of equality for food vendors in general.
If the state were to shut down liquor stores while allowing grocery stores to continue to sell alcohol, it would create an unfair business advantage.
If liquor was deemed not essential and liquor aisles were closed in grocery stores, the logic would be to keep the delivery vendors and trucks off the road.
Buderus said if that was the case, the same argument could be made for the soda, chip, cookie and cracker vendors who also stock the stores.
"Is any one of these deemed more or less essential than the others?" he said.
He is only physically going to a handful of his nearly 200 accounts. The rest of the accounts he is servicing by phone or email.
After initially limiting attendance in its taproom, First Street Brewing Co., also in downtown Hastings, switched on Saturday to online and phone sales for pick-up or delivery.
"We'll just stick with that until this all blows over," said Jessi Hoeft, who owns and operates First Street Brewing with her husband, Nathan.
In addition to beer, First Street also has an expanded offering of Ensign kombucha with four varieties on tap instead of two as it normally does. Ensign is the non-alcoholic wing of First Street's umbrella company No Coast Brewing.
"We've been able to change our business model quite quickly," Hoeft said.
First Street has scheduled a beer run Saturday at Red Bird Bakery in Doniphan.
The new business model allows monetary transaction to be done online.
"Then there's less contact there and it's helping keep us protected a little more with less people coming into our facility, so we can keep it clean and stay healthy, so we can continue to deliver beer and kombucha through this whole thing," she said.
Business has slowed despite their adapting to social distancing requirements, Hoeft said.
"We still have our regular customers that are ordering online, so that's nice," she said. "There's been some opportunities to try something new, but it's definitely not even close to what our regular sales are like on a weekend."
Still, she said she believes craft beer is a good place to be right now in Nebraska.
Customers were especially generous on March 27, she said, purchasing gift cards. That was part of a matching initiative established by Lincoln-based American Beer Equipment to match all brewery gift card purchases at Nebraska Craft Brewers Guild brewer members up to $10,000.
Gift card sales that day totaled nearly $70,000. So American Beer Equipment bought $10,000 in gift cards to give to health care workers across Nebraska.
"They were very generous, and we had a great response from that," Hoeft said of First Street customers. "We will be here when this all blows over for people to come in and use their gift cards, or they can call in and do a pick-up order."
It was announced recently that Downtown Do the Brew was postponed from April 25 to Oct. 3.
April 25 still is being used as a 24-hour digital celebration of Nebraska craft beer, however, incorporating content such as demonstrations and interviews with brewers.
Hamburger said Odyssey has been busy with food sales.
"Of course, normal dining room versus this new takeout sales, it's very different," he said.
Odyssey customers call to place the order from an online menu that is updated minute by minute.
"Literally I've changed 10 things on there today," Hamburger said Tuesday afternoon.
The governor's executive order calls for mixed drinks to be served with lids. Odyssey has stressed to customers that while drinks can be ordered for takeout and delivery, open container laws still are in effect.
"What we decided to do was err on the side of more caution," Hamburger said.
That includes placing a sticker over the straw hole, and being emphatic with pick-up customers that the drink goes on the floor of the back seat.
The drink isn't supposed to be within arm's reach of the driver.
Restaurants across Hastings are checking identification at the point of pick-up and delivery.
Hoeft was thankful for the relaxed laws.
"Now we need to, as a society and as adults, treat them with respect," she said.