Thinking inside the box turned out to be the best way for United Harvest board members to address the ministry's coronavirus concerns facing its monthly food distribution event Saturday at First Presbyterian Church's PEACE Center.
A joint ministry between First Presbyterian and First United Methodist churches, the monthly event provides food boxes filled with various kinds of staple and perishable food items earmarked for families in need.
This month, United Harvest board members had to do some quick thinking to keep the ministry on track. The usual procession of people and waiting room crammed with people awaiting their turn in the food line wasn't conducive to health department recommendations concerning ways to stop the spread of the novel coronavirus disease, or COVID-19.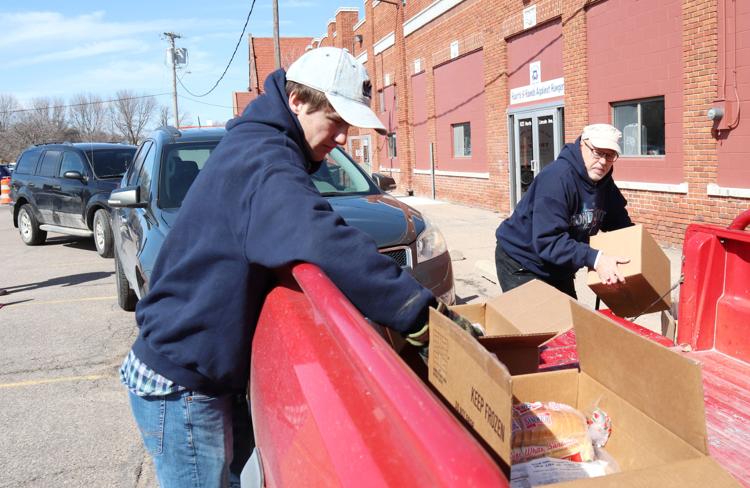 After meeting Tuesday night to discuss options, board members decided on a plan that kept those families and individuals receiving food boxes in their cars rather than inside the building in close proximity with one another. Boxes pre-packed on Wednesday and Thursday with canned goods and other non-perishable items were supplemented with a Saturday morning delivery from Food Bank of the Heartland in Omaha that included chicken breasts, pork fillets, dairy products and bread.
The response from visitors was nearly overwhelming, as families lined up for blocks on end to park at the PEACE Center to receive the food offerings delivered to their car trunks by volunteers. When all was doled out, a record 601 families were served, with leftovers totaling just enough food for an additional three families.
"It was an incredible success," said the Rev. Gregory Allen-Pickett, pastor of First Presbyterian Church, later on Saturday. "We had the highest number we ever distributed to, which we think probably has something to do with what's going on right now. Rather than having our neighbors get out of their cars, we set it up so they just stayed in their vehicles and were delivered the food in their cars."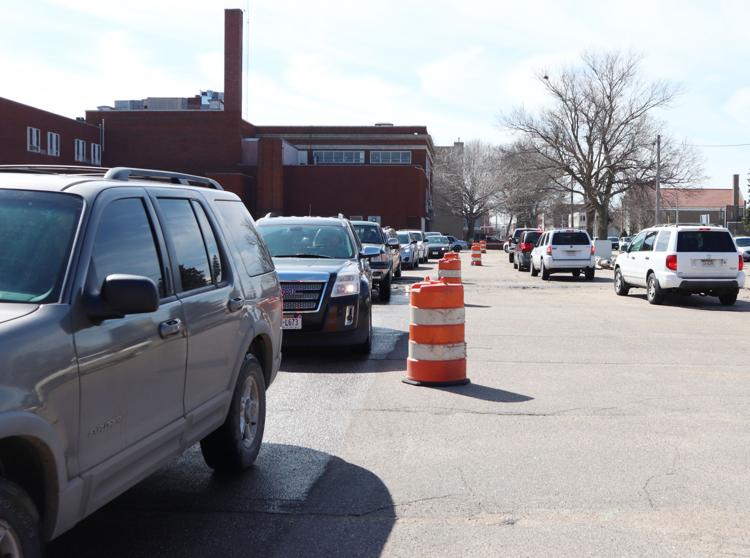 Already, Allen-Pickett and United Harvest board are thinking ahead to next month's distribution plans, should the virus still be considered a health risk. Based on Saturday's success, it appears the new method of delivery will be implemented at least once more if needed.
"We will continue to learn each time we do this," he said. "We will attempt to continue this as long as we possibly can and are really blessed that this ministry is a blessing to our community."
Leah Ratzlaff sat in on Tuesday's United Harvest board meeting and was on hand to help coordinate efforts on Saturday. The experience left her in tears at times, she said.
"It was wonderful," she said. "The board spoke with the (South Heartland District) health department to make sure we were following all of their guidelines and made sure they said it was OK to go ahead. They gave us the go and we decided to try it. There were a lot of tears on my part and some of the others of worry and nervousness of how it would go, but it came with what we needed. It really showed that God can provide.
"We had an amazing group of volunteers for all the positions we needed and still kept a pretty safe ratio. This was the most food we've ever had, but with the situation we're in right now — with a lot of people out of work and kids not getting as much food at schools — we knew there were going to be a lot of hungry people."
Volunteers assembled 2,000 boxes for the distribution, including 1,000 put together Wednesday for the non-perishable items packed Thursday. Each family, regardless of size, received three boxes filled with similar food items.
"Normally the people would get to come through and make a choice on things," Ratzlaff said. "We want them to make that decision of what works for their family, but today everybody got similar items. We're just hoping if they couldn't use it they would pass it on.
"Hearing from some of the recipients, they said they thought it went very smoothly and that they were able to get out of here in record time. The volunteers worked really hard to make adjustments along the way. If we need to continue to do it this way next month if the virus is still causing safety concerns, I think we could get it done. It's just neat to see everybody working together toward the same goal."
Individuals and groups of volunteers are needed each month to help facilitate the distribution program. Ratzlaff said those interested may simply show up but asked that larger groups notify the church ahead of time to ensure their services are used properly. United Harvest is held the third Saturday of every month.
"Come out and volunteer," she said. "It truly fills you up and makes you feel good. There are jobs for all skill levels."
For information, call First Presbyterian at 402-462-5147.