Honking and waving, Hastings Catholic Schools students and their family members cruised past their campuses Thursday afternoon as a way to celebrate Teacher Appreciation Week, social-distancing style.
Participants gathered in the parking lot outside the former Kmart at the Imperial Mall, then headed to St. Michael's Church and School near Seventh Street and Creighton Avenue.
From there, the vehicles headed for St. Cecilia Middle and High School, where faculty and staff members waved back and hollered greetings from the sidewalk near Sixth Street and Kansas Avenue and in the parking lot at the nearby Nevrivy Center (the former YWCA building), where HCS administrative offices are housed.
At St. Michael's, the Very Rev. Jeremy Hazuka, parish pastor, greeted the parade participants outside the church and offered his priestly blessing. At St. Cecilia, blessings were offered outside the Nevrivy Center by the Rev. Thomas Brouillette, chief administrative officer of Hastings Catholic Schools, and the Rev. Adam Sughroue, director of campus ministry.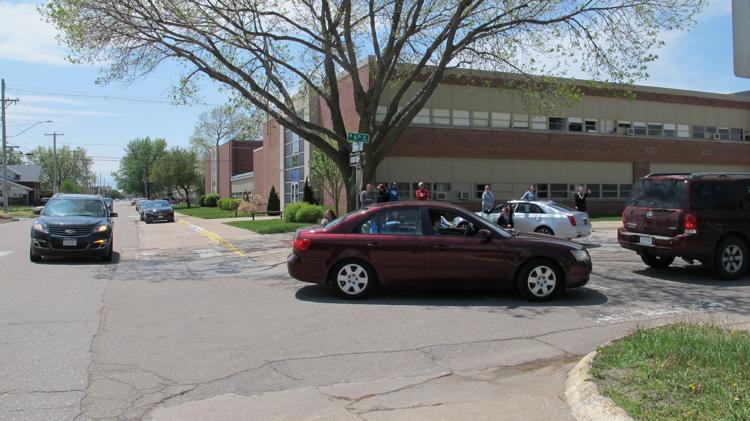 Thursday's event was organized by HCS and the St. Michael's Home & School Association, promoting the HCS aspirational motto: "Be One."
"HCS strives on being one! This cruise is a way that we can #BeOne during these times away from school. We felt that the cruise would be an awesome way to show our teachers how much we truly appreciate them during Teacher Appreciation Week. Our priests will be blessing families in their cars, which is a great way to show our love for Christ while coming together as a Hastings Catholic Schools community," said Monica Munter, mother of St. Michael's students and co-president of the St. Michael's Home & School Association.
The Hastings Catholic Schools system serves the entire community and includes St. Michael's Elementary School and St. Cecilia Middle and High School.
Administrators and teachers were enthused about Thursday's event, coming as it does near the end of a tumultuous academic year disrupted by the novel coronavirus disease, COVID-19, pandemic. Students have been receiving instruction by remote means since mid-March, as is the case at all Hastings area schools.
"I am super excited to see students in person, even if it is from a distance! This will be a great way for faculty and staff to reconnect with students, even if it is briefly," said Carrie Rasmussen, St. Michael's principal, in the news release announcing the event.
Sandy VanCura, who is completing a memorable final year as St. Cecilia principal before heading into retirement, echoed those sentiments ahead of Thursday's event.
"We are hoping to see a lot of our students and families and Thursday," VanCura said. "We miss our kids."