Making the most of a turbulent time, the Hastings High School Show Choir got the chance to film a music video in lieu of a normal season of performances.
Usually, the show choir will prepare a show to be performed in front of a live audience. The group then travels and participates in competitions in several venues. That plan was scuttled for this year when music directors across Nebraska decided to not host competitions due to the novel coronavirus disease, COVID-19, pandemic.
But Christian Yost, who became the new director of vocal music at Hastings High School in June, proposed an alternate idea.
Yost has a background in film production and decided to try making a music video to replace the competitive show choir season.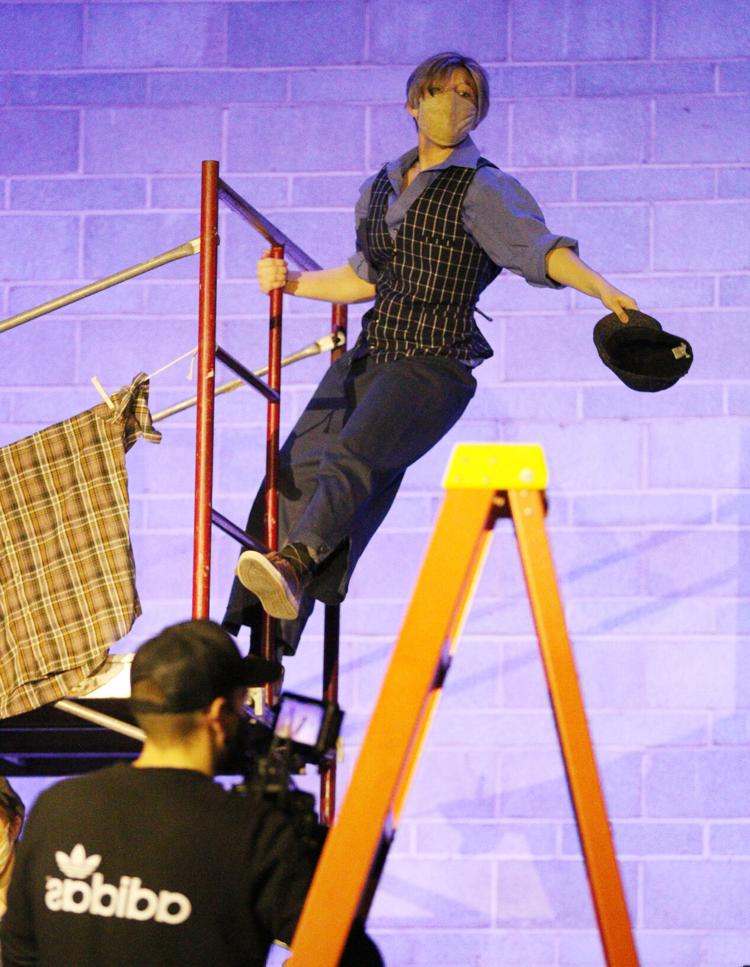 Ella Collins, a junior in her third year with the choir, said she was excited about the idea and pleased with how it turned out.
"I feel really lucky because a lot of kids don't have the opportunity to do something like this," she said. "I'm grateful we have a teacher who is willing to fight for us."
Yost searched for musical numbers that were arranged and could be learned quickly and found a medley based on "Newsies," a 1992 musical that was later adapted for stage performance on Broadway.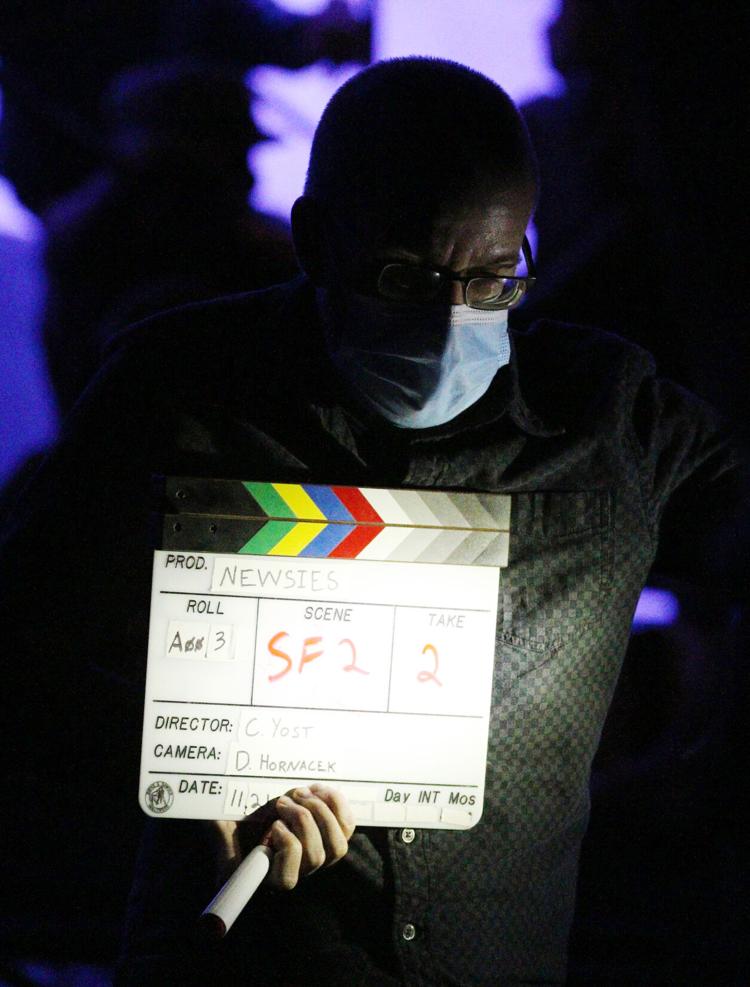 To give students the full experience of being involved in a film production, Yost hired a choreographer to work with students and a video crew from Omaha to film and edit the project.
"I figured if we're going to do this, let's do it right," he said. "I wanted to give them that experience."
Mindee Rowan served as rehearsal accompanist while the group recorded music for the video. There were 33 singers and dancers involved, along with two stage managers.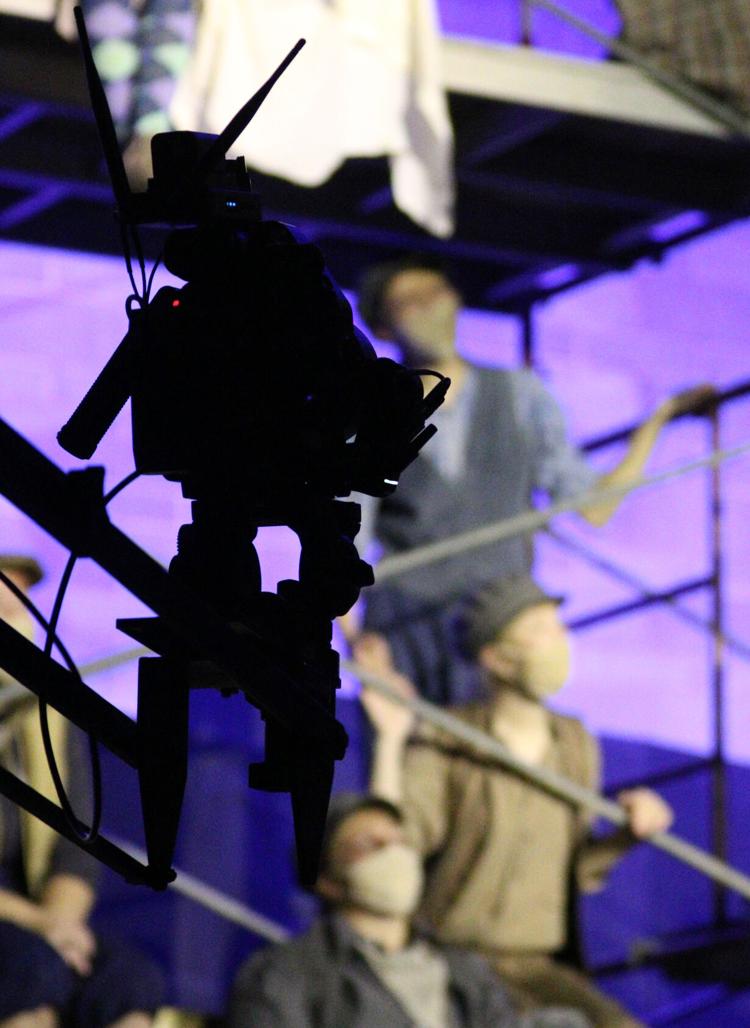 Stevie Mack, a choreographer originally from Wichita, Kansas, came to Hastings in October to teach students the whole medley in two days. On Nov. 20, she returned to check on their progress.
She also was on hand to help students adapt to any changes in choreography needed during the shoot.
"This type of filming is so different," she said. "Even today, we're still changing things. Normally, kids don't get this experience. It's an awesome opportunity for them."
D.J. Hornacek of Omaha serves as director of photography and editor for the production company. He was contacted in August and started working with Yost to develop a series of shot lists that would be needed for the filming on Nov. 20 and 21.
Hornacek and a group of other videographers used four cameras on some shoots to capture a variety of angles, much like what would be done in a professional production.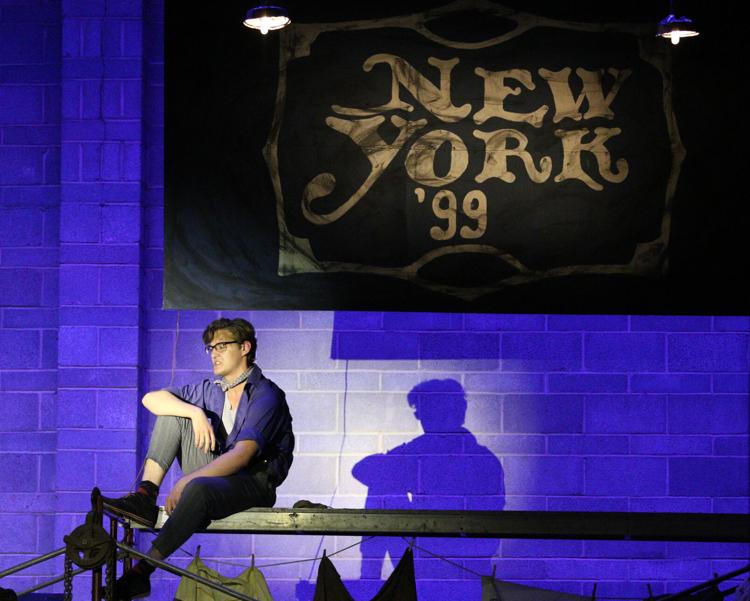 "We wanted to create a cinema experience for the kids," he said. "We wanted to give them that."
During production, students wore face coverings given their proximity on stage.
Yost said they tried to use masks similar to those found in history. "Newsies" is set in 1899, just two decades prior to the Spanish flu pandemic that started in 1918.
"Masks were a thing then," he said "People wore them to get through that pandemic. We looked back into history and tried to find masks that resembled that."
Filming occurred at the Hastings Senior High School auditorium on Nov. 20 and 21. Hornacek now will edit the footage into a music video that will be released on YouTube under a page set up for Hastings High Vocal Music.
Yost said he was pleased that students were on board with the idea and excited to see how they've stepped up to make the production a success.
"These kids are making this production what it is," he said. "I'm just giving them the tools."
Given the ever-changing list of restrictions and health guidelines, Yost said, he wasn't sure if they would be allowed to continue meeting all the way through the process. They didn't advertise what they were doing because they weren't sure it would happen. He said many things could have stopped them from completing the video, and they didn't want to promise something that couldn't be guaranteed.
"Anything you can do is just a major blessing," he said. "We're lucky enough to be able to do what we need to be doing."
Even without advertising, word of mouth has gotten around the community and Yost has heard anticipation from people about the finished product.
"The community is excited, too," he said. "The community needs music. I keep telling the kids this is going to give hope to people."
Not only is the production bringing hope to the community, it's also lifting up the students involved.
Taygon Shaw, a senior who decided to join the choir this year because she thought it would be fun, said being involved in the musical performance has been uplifting.
"We're very privileged to be able to do this," she said. "It makes my soul happy."