While many local churchgoers welcomed the news that Nebraska Gov. Pete Ricketts has allowed public religious services to resume effective this week, decisions vary from one congregation to another about the right time to reopen sanctuaries for in-person worship.
For example, because the relaxation of restrictions on public worship took effect Monday, Hastings' two Catholic churches already are open for publicly attended weekday Masses and are planning for Sunday Masses this weekend. Some other Hastings churches are planning to open their doors this weekend, as well.
Meanwhile, some local faith groups will wait at least one more week to open for in-person Sunday worship, and some will stick with remote services only through the end of May. And the Episcopal Diocese of Nebraska announced this week that it has extended its moratorium on public worship statewide all the way through June 28.
Part of the problem is that even with in-person worship allowed, state safety guidelines include numerous social distancing measures that must be carefully observed. And because many local congregations count senior citizens among their most faithful members, the prospect of reopening still poses safety worries as new cases of the novel coronavirus disease, COVID-19, continue to be reported locally.
Lifehouse Church is among the local faith groups that will return to live services this Sunday.
Brett Mackey, pastor at Lifehouse Church, said leaders there strongly encourage anyone who is sick or at higher risk from the disease to stay at home and watch online. Meanwhile, chairs in the sanctuary have been situated to distance family groups from one another. The church is taking reservations for seats online to ensure there will be enough seating available.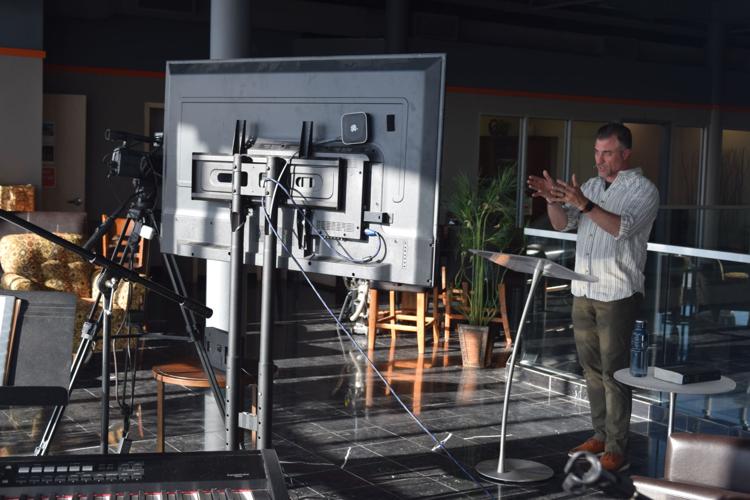 "We're doing everything we can to keep people safe," he said. "I think most people will be responsible."
The church will reopen with three phases in mind. The first phase will only allow about half of the capacity of the church, with chairs situated in smaller groups for families and spread out. The second phase would continue to see limited social distancing and continued cancellation of nursery and early childhood groups. The third phase would allow the church to return to normal operations.
Mackey said it's important for the congregation to be able to return given the social aspect of church for some people.
"I think that's what church is all about," he said. "It's a way for us to share our struggles and triumphs with one another."
The Rev. Joel Remmers, pastor of First St. Paul's Lutheran Church, said his church isn't returning to live services on Sunday.
The church council will meet on Tuesday to discuss the matter and decide the best way to move forward, and in the meantime will continue offering services streaming online.
Remmers said not being able to meet in person has reduced the effectiveness of some ministerial efforts. Groups have been meeting online through video conferencing, but it isn't the same as meeting people in person.
Given the fear and anxiety some are feeling in the pandemic crisis, Remmers said, staying connected with the church can help.
"You're supposed to be able to draw strength from faith," he said. "It's important that people remain connected to their faith.
The Evangelical Free Church of Hastings is planning on having live services for the first time on on May 17.
Worship services will be at the normal times, 8:15 a.m. and 11 a.m., following all guidelines outlined by the health department.
Church leaders will set up the sanctuary to accommodate the 6-foot distancing rule and allow people to spread out appropriately.
Anyone at high risk or who is sick is asked to not attend. Masks will be available at the door for anyone wishing to use one.
The Evangelical Free Church will continue to stream services online. The church will continue its 9 a.m. Sunday School Zoom meeting as well as a 10 a.m. streamed service.
At the two Catholic churches in Hastings, St. Cecilia and St. Michael's, the first publicly attended Sunday Masses are planned for this weekend.
Both parishes are part of the Diocese of Lincoln, which encompasses all of Nebraska south of the Platte River. Archbishop George Lucas of Omaha, the diocese's temporary apostolic administrator, issued a dispensation to all Catholics in the diocese in mid-March, excusing them from attending Mass on Sundays due to the pandemic. That dispensation remains in place for now, meaning Catholics may use their own discretion in deciding when it is safe and prudent to return to church. Masses in both churches will continue to be streamed live on Facebook.
(Catholic Church teaching holds that under ordinary circumstances, Catholics who are not ill or infirm are required to attend Mass for Sundays and several "holy days of obligation" throughout the year, and willful neglect of that duty is sinful.)
In collaboration with state officials, the Diocese of Lincoln has developed health and safety guidelines for those who do choose to attend services. These include family members sitting together; keeping every other pew roped off to allow more space between family groups; and omitting the Sign of Peace, which normally involves shaking hands.
Those attending Mass are asked to do so in their home parish, and to place any offering envelopes into the collection basket as they leave or enter, since the basket won't be passed. Also, those coming to the altar for Holy Communion are instructed to form a single-file line rather than coming up the aisle by twos as usual, and to keep the spacing in line at 6 feet.
All gatherings before and after services remain prohibited, even around such events as funerals and weddings. And the sick, the elderly, and those with underlying health conditions are among those encouraged not to attend services for now.
The Episcopal Church Diocese of Nebraska is building more time into reopening its churches for publicly attended services.
In a link posted to the Facebook page for St. Mark's Episcopal Pro-Cathedral in Hastings, the diocesan bishop the Right Rev. Scott Barker, announced that the diocese's present moratorium on gathering for public worship has been extended through June 28.
"This date is based on projections and recommendations from The Institute for Health Metrics and Evaluation, an independent population health resource center at the University of Washington," Barker said in a statement. "The celebration of funerals and weddings is discouraged at this time. In exceptional pastoral circumstances, private ceremonies of not more than 10 persons with appropriate physical distancing and sanitation may be held."
Barker said publicly attended services are likely to begin again in some communities in early July, and that decisions about when to resume will be made location by location.
He said church leaders should plan to continue virtual worship offerings indefinitely, given the likelihood that new breakouts in local communities will lead to suspension of public worship again in the future and that many parishioners may not feel safe returning to church on a given Sunday.
Peace Lutheran Church will have its first publicly attended Divine Service this Sunday, but those wishing to attend were asked to contact the church office since seating will be limited. Livestreaming of services will continue.
At First Presbyterian Church, the Rev. Greg Allen-Pickett, senior pastor, wrote in the church newsletter this week that the Session — a church governance board — had voted unanimously on Monday to extend the suspension of in-person worship and meetings through May 31.
While other local congregations may decide differently, Allen-Pickett said, waiting a few more weeks seems wisest at First Presbyterian.
"For our particular church family, given the demographic makeup of our congregation and the layout of our church building, Session has made this decision for the health and safety of all of our members and staff," Allen-Pickett wrote.
Services will remain available via livestream and a live radio broadcast.
Hastings Berean Bible Church tentatively has decided to wait until May 31 to reopen for public services.
In talking through the decision during a livestreamed church service on May 3, board member Adam Jacobus said the church's leadership team determined the guidelines for reopening announced by the governor are a little too impersonal for how Hastings Berean Bible Church operates on a normal basis.
"It's a file-in, file-out type of thing, and we are not a filing church, necessarily, that way," Jacobus said. "We want to come together. We want to stand until somebody flickers the light and says 'You don't have to go home, you just can't stay here any more.' "
Hastings Berean Bible Church is communicating with other local churches, looking at their decision-making processes, as well.