Despite social distancing restrictions limiting Memorial Day services across the nation, local musicians found a way to honor fallen soldiers on Monday.
Volunteer trumpeters played taps in Parkview Cemetery on Monday, every hour on the hour from 8 a.m. to 5 p.m., on the Veterans Memorial Circle near the cemetery entrance, where the annual program normally is held.
Taps is instantly recognizable as the somber 24-note bugle call played at American military funerals and ceremonies.
"It's amazing," said Louie Eckhardt, band director and assistant music professor at Hastings College. "Taps is only 24 notes, but they are very meaningful. It's our honor and duty to be able to do that."
He heard the annual Memorial Day service at Parkview Cemetery was canceled due to the novel coronavirus disease, COVID-19, pandemic, but still wanted to do something to honor veterans who paid the ultimate price.
"I just thought it would be respectful for folks out at the cemetery," he said.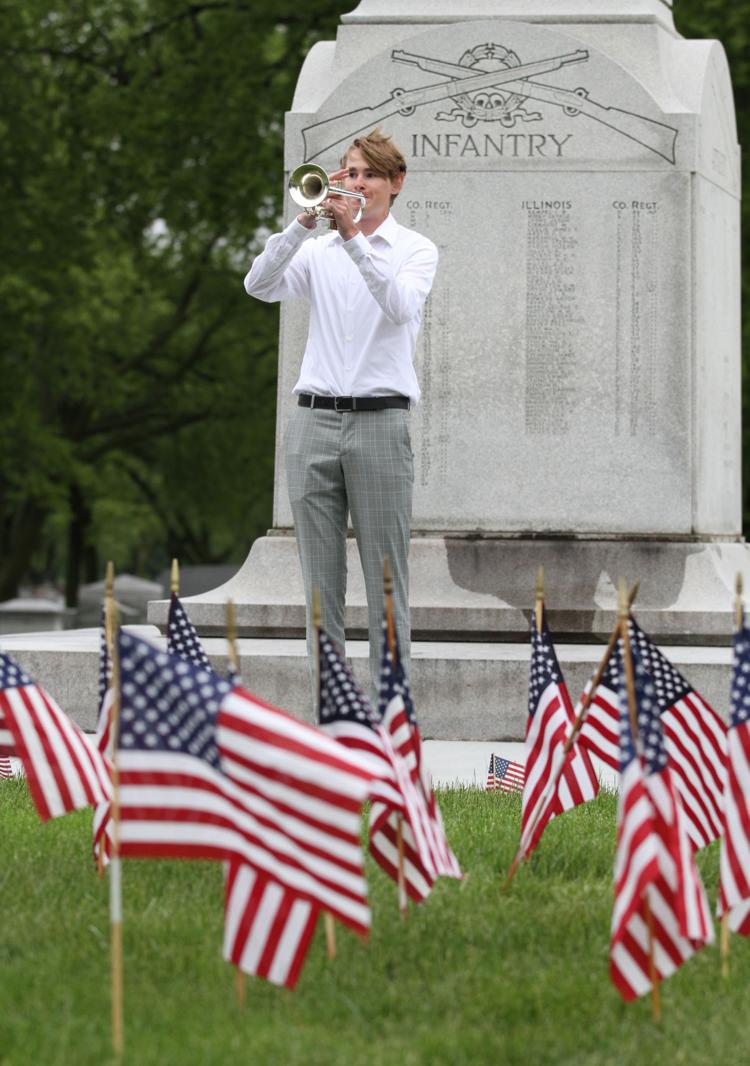 Eckhardt is a Hastings native and used to play taps for the annual Memorial Day service as a high school student. He initially volunteered to go out and play taps himself, but then thought others may want to join.
He teamed up with Erin Beave, band director at Hastings High School, to contact trumpet players around the area to coordinate a schedule of musicians to play every hour through the day to honor the fallen.
"They all felt very strongly that they wanted to honor the veterans," Eckhardt said. "It was very easy to fill the time slots."
At 3 p.m., Eckhardt and Beave, a member of the 43rd Army Band with the Nebraska National Guard, played taps and its echo to join in Taps Across America.
Conceived by CBS News "On the Road" correspondent Steve Hartman and retired Air Force bugler Jari Villanueva, Taps Across America invited musicians across the country to play taps at 3 p.m. with a bugle, horn, trumpet or ukulele.
The significance of 3 p.m. is that it coincides with the National Moment of Remembrance, an annual event that asks Americans, wherever they are at 3 p.m. local time on Memorial Day, to pause for one minute to remember those who have died in military service to the United States. The Moment of Remembrance was first proclaimed in May 2000 for Memorial Day that year, and was put in law by Congress in December 2000.
Eckhardt said playing taps to honor veterans is just one way people can help make a difference in the wake of the novel coronavirus disease outbreak.
"There are so many ways people can serve and volunteer for the community," he said. "Some may seem insignificant, but it really may be important to somebody. Hopefully we can all make it a little better."