RED CLOUD — Due to a small graduating class, Red Cloud High School was able to hold a graduation ceremony for its senior class while observing social distancing guidelines Saturday at the high school.
Nine seniors in the school's 2020 graduating class walked 6 feet apart during the processional as they made their way to an outdoor stage composed of a pair of flatbed trailers. Seats were positioned 6 feet apart.
Besides the nine students, Superintendent Brian Hof was the only other person allowed outside a vehicle during the ceremony, keeping the school within the 10-person gathering limit.
Hof said there were a number of restrictions that were needed to stay within the directed health measures recently implemented in the area. Hof worked with the South Heartland District Health Department to make sure the school followed the guidelines during the ceremony. The health department also offered ideas and suggestions to keep the ceremony safe.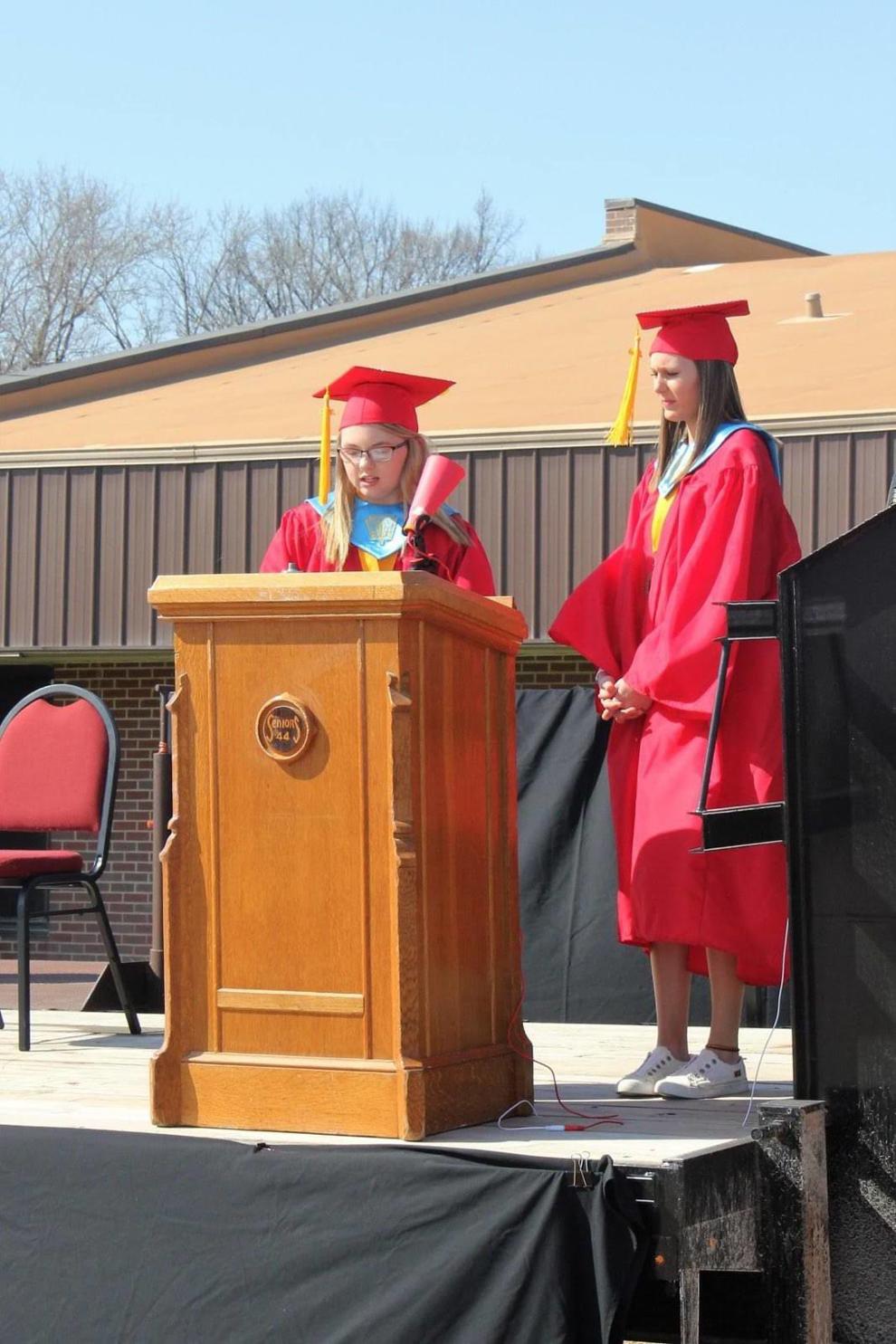 "We'd like to have them have their ceremony," he said. "This is as close to graduation as we can do under the circumstances. It's really restrictive, but at the same time, it's the best we can do with what we've got right now."
Since the seniors and Hof made up the 10-person limit, spectators were required to stay in their vehicles with the windows closed. Spectators were limited to four people per student, seated in one or two vehicles. In addition to a speaker system set up at the podium, the school used microbroadcasting to allow spectators in their vehicles to tune into an FM frequency to listen.
While parents couldn't leave their vehicles to take photos, Hof said, one of the parents took photos of each graduate receiving his or her diploma to share with the other parents.
For extended family members and friends, the ceremony was streamed and archived on Facebook.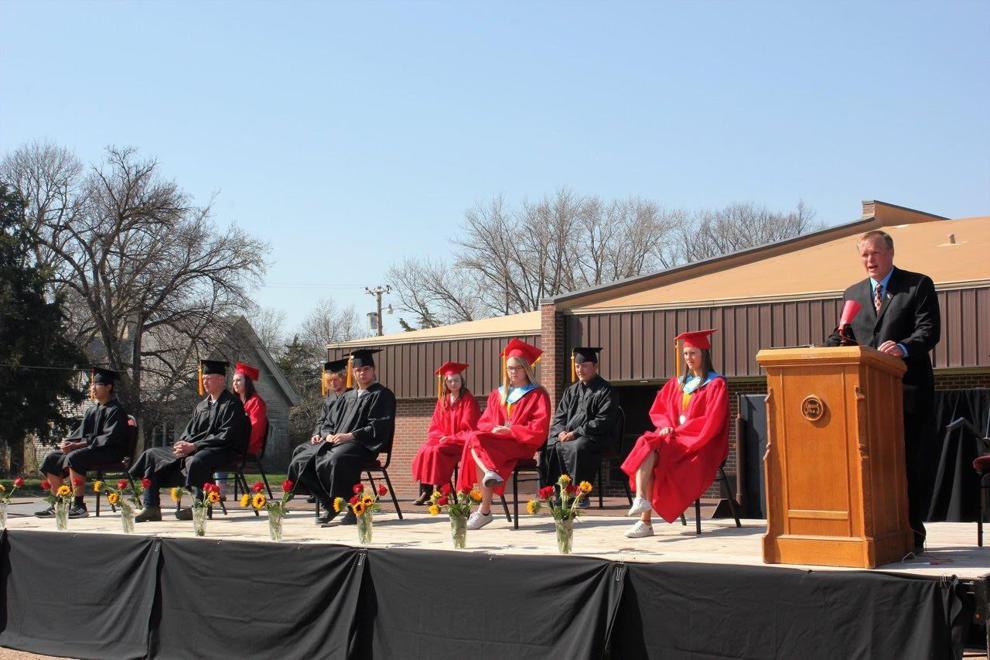 Graduates didn't receive their actual diplomas at the ceremony. They will be sent out in May upon completion of the school year.
Valedictorian Michaela Chiplaski and salutatorian Jordan Brown teamed up for the class speech.
"This is a big step for the rest of our lives," Chiplaski said. "We've worked so hard to get to this day."
Recognizing the importance of the ceremony, Hof said the school community felt blessed to be able to have commencement in the midst of the novel coronavirus disease, COVID-19, outbreak. Due to the social distancing required to fight the spread, the senior class has had to miss out on several opportunities during the second half of the year, such as the senior trip and most likely prom.
He said the small class size is what made the ceremony possible. The next smallest class size is 19, which wouldn't have worked with the 10-person limit. They decided to host the ceremony this weekend because it will be more difficult after the disease spreads into the county.
"There's a lot of things they are missing because of this," he said. "Anything we can do would be better than just mailing them their diplomas."