To complete a transition that has been a long time coming, Jerry Bumgardner is working with Daniel Buller to assume leadership over Crossroads Mission Avenue.
Bumgardner, who is Crossroads executive director and turns 65 this week, had been thinking about retirement. That thought was expedited when he and his wife, Diane, sold their home in Hastings two days after it was listed, about five months ago.
They are living in an apartment in Hastings until Bumgardner retires in November 2020 and the couple relocates to Gretna where they own a home. They have a son who lives there, too.
Throughout the next year, Bumgardner will work with Buller as Buller takes over executive director responsibilities, overseeing Crossroads locations in Hastings, Kearney and Grand Island.
Buller, 35, has worked at Crossroads for five years. He had been program director for the Hastings program and currently serves as associate executive director.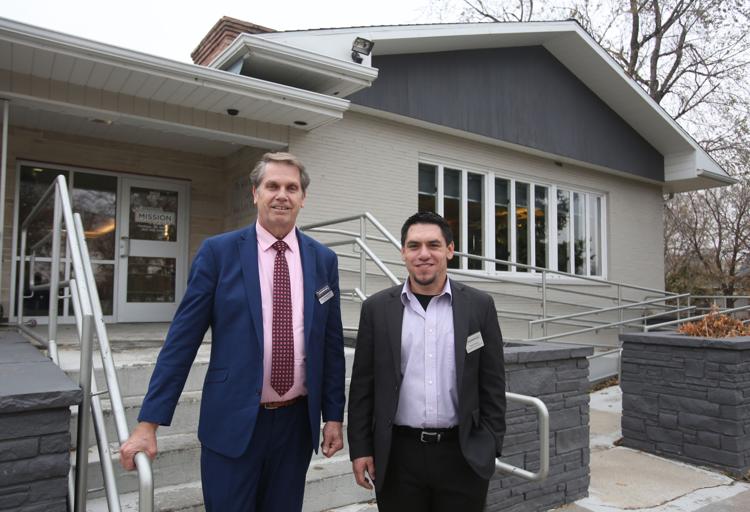 "Jerry and I, it's really been five years of building together," Buller said. "The whole time we didn't have necessarily the end goal of me stepping into that role, but we had the privilege of working together to build the program and to rebuild our staff."
Buller said Crossroads is full of qualified staff who love what they're doing.
Throughout Buller's tenure at Crossroads, leadership within the organization has been evaluating how best to operate so all staff members know what their responsibilities are.
"It runs like a well-oiled machine," he said.
Part of the reason for the long transition is the complexity of the mission.
Promoting from within helps continue a shared vision for Crossroads.
Bumgardner also was program director in Hastings before becoming executive director, about eight years ago.
"I loved doing what Daniel's doing, and Daniel loves what he's doing, but in order for Daniel to continue loving what he's doing it's got to be able to happen the same way he's doing it," Bumgardner said.
Buller said he believes his background with the mission will make for a natural transition.
"It couldn't be any better from my perspective," he said. "It would be very difficult to step into a role and not have any background and not know anything."
Bumgardner also appreciates the continuity that will occur with the transition.
"It's so exciting that when I leave this place I have the peace of knowing what's been started will continue on and I don't have to worry about it," he said.
Buller hopes Bumgardner will remain in contact with Crossroads in retirement.
Both men see it as a privilege to work with the homeless populations within the Tri-Cities.
"We love doing what we're doing, and I believe we know what we're doing and I think we're doing it well — and the reason that is is because it's Christian-based and that's why we're so excited about it," Bumgardner said.
The Hastings City Council granted Crossroads a conditional use permit to allow the shelter to sublet a portion of its building to Mosiac in 2018.
Mosaic, like Crossroads is a faith-based nonprofit, and serves individuals with intellectual disabilities.
Before granting that conditional use permit, members of the Hastings Planning Commission and Hastings City Council heard from neighbors of Crossroads who were frustrated with the shelter.
Since then Buller has worked to open lines of communication with neighbors and has remained in close contact with Don Threewitt, Hastings development services director.
Bumgardner said if the shelter doesn't operate well, it creates a crisis not only within the shelter, but in the wider community, as well.
"I really believe we've gone above and beyond what we could do to make a good neighborhood and for Crossroads to fit in well here," Buller said. "It's not perfect, but we work hard at it, and I think things are a lot better."
Crossroads not only is working within the Tri-Cities, but also is helping establish a homeless shelter in Costa Rica.
Buller's biological brother, Obed Fernandez, spent time in Hastings earlier this year in a leadership position at the Crossroads location in Hastings. Fernandez now is working in Limon, Costa Rica.
"He's trying to start a new organization there," Buller said. "It's Crossroads, but it's like a sister mission."
Crossroads recently changed its name from Crossroads Center Rescue Mission to Crossroads Mission Avenue.
"With a lot of changes, with Jerry's announcement, with Mosiac coming in, with remodeling, we knew it was time to rebrand," Buller said.
He said calling the shelter Crossroads Center didn't define what it does.
"Everybody knows it's a homeless shelter, but by changing the name and it's still Crossroads, adding the word Avenue, we think we're better to able to define and explain to people what we do," he said.
One definition of the word avenue is "a way to approach a problem or making progress toward something."
"We want people to know we're a homeless shelter, but we want the community to get involved, too, in helping to address homelessness," Buller said. "That's the surface of the issue. It really is. There's so much behind what's going on in the lives of people who are finding themselves in this crisis."