SHICKLEY — Unwavering dedication and unmatched resiliency are the cornerstones of the BDS dynasty. The Bruning-Davenport/Shickley football team has been in the state championship game four of the last seven years, and on Friday, the Eagles captured their third state title in six years.
"It takes a lot of work from the kids," said Eagles co-head coach Chris Ardissono. "The kids are the ones that have to make the plays, and I think we had some kids make some big plays...They found a way to dig a little deeper and get it done."
Friday's Class D-2 state champion resembled the way the season has gone for BDS. The Eagles weren't necessarily dominating as they have been in years past, but they never let a deficit keep them down. BDS co-head coach Mark Rotter said his team was trailing in seven of its 12 games this season, but it found a way to win each one, including the state championship — a 36-28 victory over Sandhills/Thedford.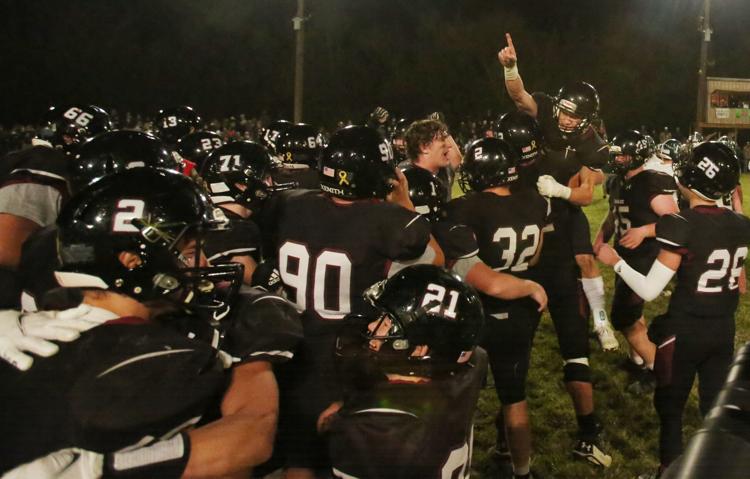 "We have a great group of kids that did a great job. We were not a dominant team...but these kids hung in there and hung in there. (Friday), how many times were we in trouble, but that's just what they've done all year," Rotter said.
The Eagles faced three different deficits in the title game, but they answered each Knight touchdown with one of their own.
After going nearly 10 minutes without either team scoring to open the game, each squad tallied two touchdowns over a span of 8 minutes, 56 seconds, and all four scores were big chunk plays.
The Knights got on the board first with a 55-yard run by Reece Zutavern, but BDs responded with a 30-yard score by Easton Weber. A 56-yard TD on a read option by quarterback Grant Ahlstrom helped Sandhills/Thedford regain a 12-8 lead, but Eagles' running back Dalton Kleinschmidt put his team back in front 14-12 with a 55-yard touchdown run.
"The offensive line has done a heck of a job all year. They make my job easier," Kleinschmidt said. "It's awesome having those guys up front, making things easier."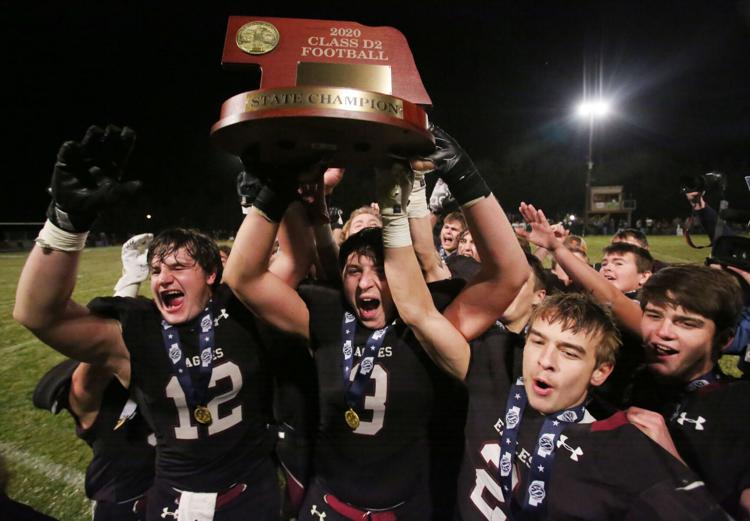 Sandhills/Thedford tacked on one more score before halftime to go into the break with a six-point advantage, 20-14, but the resilient BDS defense dominated the second half.
The Knights pounded the ball on the ground to the tune of 233 yards in the first half. But in the final 24 minutes of the game, the Eagles forced three three-and-outs and held Sandhills/Thedford to just 63 yards rushing.
"I think we just dug a little deeper," Ardissono said. "We just realized, 'Okay, we can play with them.' Everybody said, 'They're going to physically beat you up.' Well, the second half, we matched that. I think we matched their physicality. They're really good, but I think we came out and play all right and made them earn it in the second half."
With the defense controlling the line of scrimmage, the Eagles offense was able to put together scoring drives on three of its four possessions.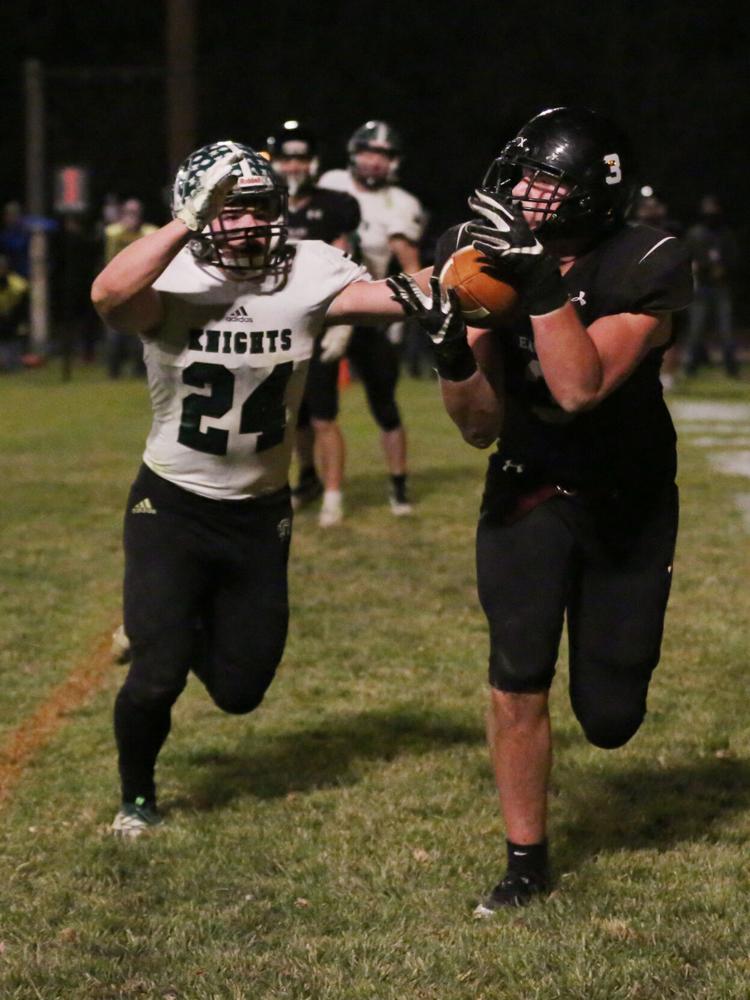 Kleinschmidt tied the game at 20-all on BDS' first drive of the second half, scoring on a 2-yard plunge. He then gave the Eagles a 28-20 lead in the fourth quarter on a 1-yard TD run.
But the play of the game came on a third-and-6 from the BDS 33-yard line. With just under 3 minutes left in the game and a 28-20 lead, the Eagles were trying to get another first down to put the game on ice.
Like the vast majority of people watching the game, the Knights were expecting the Eagles to call a run play, which is why the offensive genius of Rotter worked to perfection. BDS quarterback Dominic Phillipi executed a perfect play-action fake to bring the defense in, and then found Eric Schroeder open outside of the right hash, connecting with him for a 47-yard catch and run touchdown.
"All that went through my mind was catch the ball and run. That's all I could think of. Just watch the ball in and it will be a big play. I figured if I caught that and got a first down we'd have a pretty good chance at (winning), but I just had to focus on the ball and embrace the moment."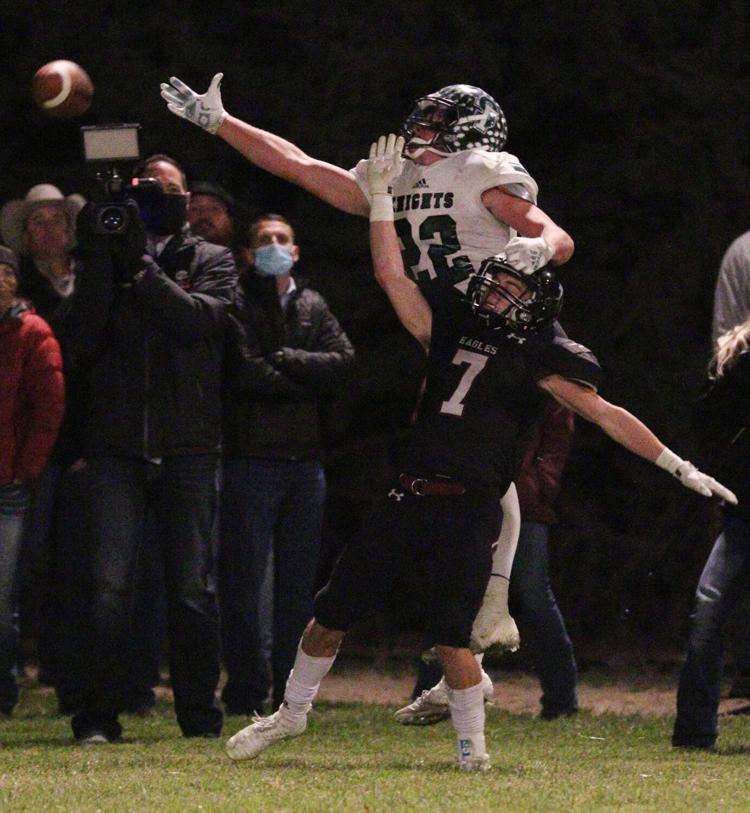 "I saw (Schroeder) wide open," said Phillipi. "It was a good play call, a good play action, good fake, and it was wide open. I was just thinking, 'Do not throw an incompletion here,' to be honest."
"It was our best play with our best players making a play," Rotter said. "We threw it — (Pierce) was in a tough spot because they were going to have to try and stop the run, but it all worked out."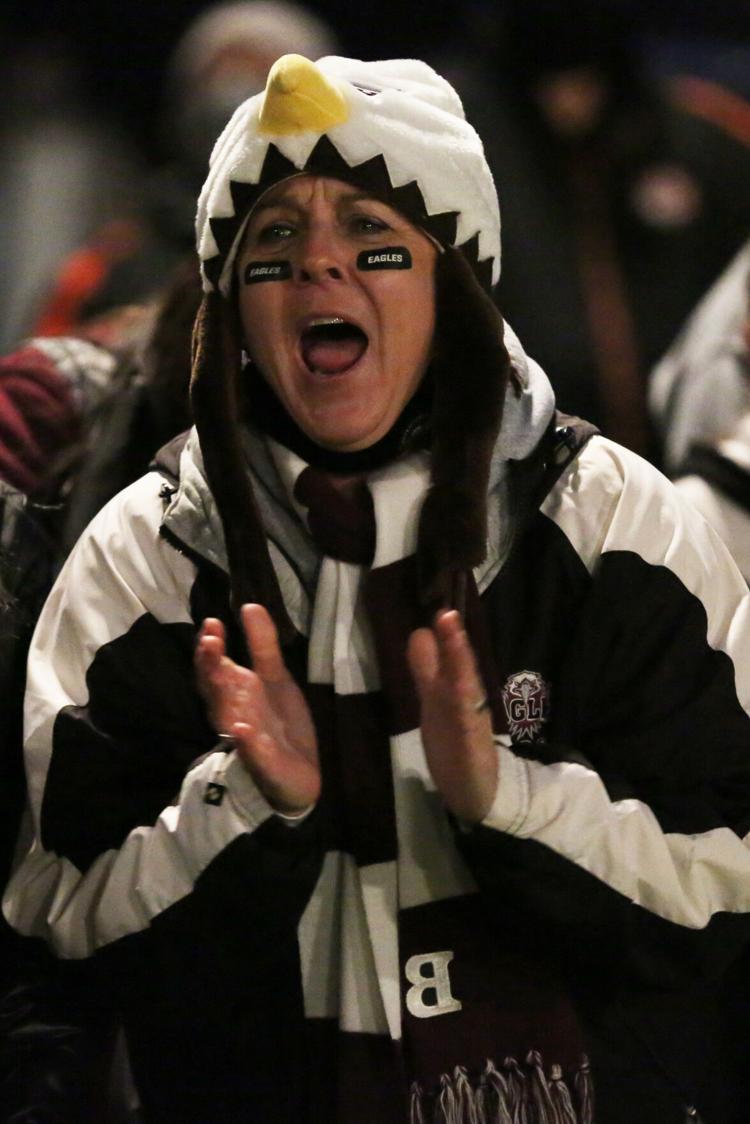 Phillipi said the Eagles knew they couldn't let up, despite having a 16-point advantage with just 2:48 remaining. And he was right. The Knights marched down the field and scored with 1:10 left. Ahlstrom, who was 2-for-9 before the drive, completed 5-of-7 passes for 51 yards, capping the possession with a 5-yard TD pass to Drew McIntosh. But BDS' Jaron Norder, a freshman, recovered the ensuing onside kick, clinching the state title.
"It's awesome that our hard work has finally paid off and that we got another state championship," Kleinschmidt said. "It's awesome that we didn't let down other people that have played for BDS in the past. Obviously they have had a lot of success, and we were able to keep that legacy going."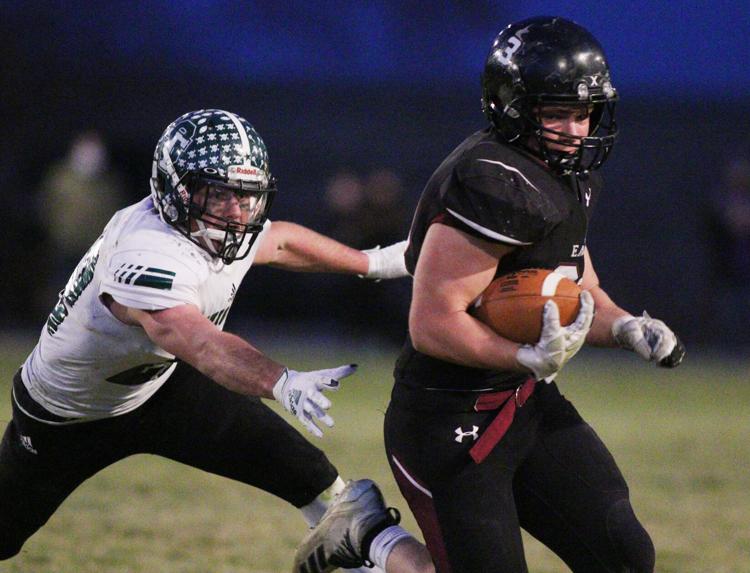 Dane Pokorny tallied 139 yards rushing for the Knights, Zutavern added 96 yards on the ground, and Ahlstrom had 61.
Kleinschmidt paced the Eagles' offense, rushing for 122 yards on 14 carries (8.7 yards per attempt). He also hauled in seven passes for 82 yards. Phillipi totaled 202 yards and a touchdown.
These nine seniors wrap up their careers with a record of 42-2 and two state championships. 🏆🏆 Congrats to the @bds_eagles! pic.twitter.com/w3OEQTU8Yj

— TriblandSports (@TriblandSports) November 21, 2020
Phillipi and Kleinschmidt are two of nine seniors for the Eagles this season. The seniors were just freshmen the last time BDS won the state championship. Over their four years, the Eagles have lost just two games, both in the playoffs.
"(Winning two championships,) that's every kid's dream, isn't it," Ardissono said. "Those guys, they went through four years and only lost two games. Four years and only lost two games — that's not a bad career, is it?"
Contrary to their previous two championships, the Eagles didn't have too far to go to take home their championship trophy. This year, the state championship games were played at the higher seed's home site rather than the usual site of Memorial Stadium in Lincoln. After all the uncertainty that there would even be a fall season, Ardissono said it didn't matter that BDS wasn't able to play at the home of the Huskers; the Eagles were just happy to have the chance to play for a title.
"It wouldn't have mattered where we played; we were just happy we got to play," he said.
S/T (12-1)................6 14 0 8 — 28
BDS (12-0).............0 14 6 16 — 36
S/T — 55 run by Reece Zutavern (try failed)
BDS — 30 run by Easton Weber (Dominic Phillipi run)
S/T — 56 run Grant Ahlstrom (try failed)
BDS — 55 run by Dalton (try failed)
S/T — 2 run Ahlstrom (Dane Pokorny run)
BDS — 2 run Kleinschmidt (try failed)
BDS — 1 run Kleinschmidt (Phillipi to Eric Schroeder)
BDS — 47 pass from Phillipi to Schroeder (Phillipi to Elijah Noel)
S/T — 5 pass from Ahlstrom to Drew McIntosh (Pokorny run)
Rushing — S/T, Reece Zutavern 9-96, Dane Pokorny 28-139, Grant Ahlstrom 4-61; BDS, Dalton Kleinschmidt 14-122, Easton Weber 11-69, Dominic Phillipi 16-54.
Passing — S/T, Ahlstrom 7-16-0 54; BDS, Phillipi 12-16-0 148, Tyler Grote 0-1-0 0.
Receiving — S/T, Matthew Daily 2-9, Pokorny 2-9, Drew McIntosh 2-9, Zutavern 1-27; BDS, Kleinschmidt 7-82, Weber 3-21, Eric Schroeder 2-45.