Students may no longer be taking the classroom hamster home to learn responsibility. Instead, they may be taking a robot to learn code at home.
That's what students would have liked as they asked Terry Julian, technology facilitator at Hastings Public Schools, to let them take Cozmo, a small robot with emotive LED eyes, home.
Cozmo the robot came out to Hour of Code at Hastings Public Schools Tuesday night.
Hour of Code is an event put on by Code.org to introduce kids to coding and is part of Computer Science Education Week. About 25 people at the HPS Hour of Code joined more than 800 million people globally, according to Code.org.
Julian started hosting Hour of Code at HPS in 2015 to get students interested in computer science. Julian said coding helps students develop analytical thinking and creativity, adding that it is also a highly marketable skill.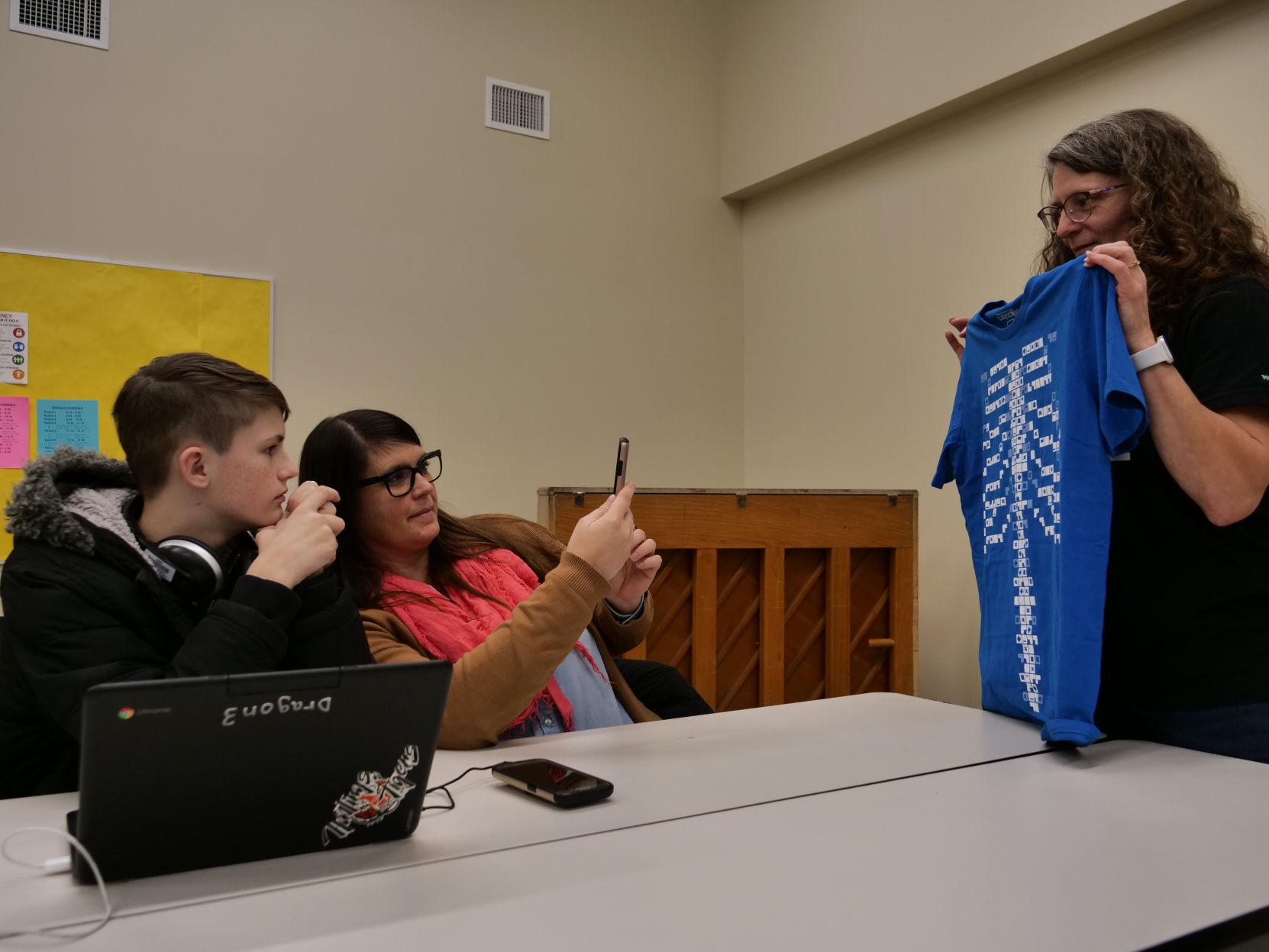 "I just want to expose them to it. Right now it's not in our curriculum," she said.
The majority of students and parents worked on activities through the Hour of Code website. Students did activities to teach a superhero how to fly and fight crime, or create an app to make a landmark tour.
Willa Kleeb, a third-grader, pulled her dad, Scott Kleeb, to the laptop where she had coded a group of animals to dance to the song "Old Town Road."
"She didn't want to come and now she's excited," Scott said.
Most of the coding activities were designed to feel like games, rather than a lesson. Students had to accomplish the goals of the game by learning how to code. Julian said that sense of playing a game gets kids excited about computer science.
"One little girl said, 'I'm going to go home and do this now,' " Julian said. "That's a good feeling."
Scott's other daughter Maya, a sixth-grader, was playing with Cozmo. Maya was trying to program Cozmo to pick up a stack of blocks.
Whenever the stack of blocks collapsed, Cozmo would spin around and make a sound similar to a fire truck. Maya had a little more experience than her younger sister, having been a part of coding club for two years.
Scott said he was happy to see his daughters learn to code. He said the skills they learn in computer science go beyond programming a robot, and help them grow intellectually. The skills from coding could also be used to get a job in computer science.
"That fun can become productive and profitable," Scott said.
Cozmo and Ozobot, another robot at the Hour of Code event, were purchased through Girls Who Code, a club at HPS for students of all genders to learn to code.
Al Kleeb, Maya and Willa's grandfather, was at the Hour of Code event. He recalled when computers were as big as a room and the majority of computer scientists were male. He said he is glad to see girls being actively encouraged to try coding, especially at a young age.
"It's exciting and refreshing. We have all this energy," Al said. "Back then, we were cutting out half the population."
Julian said there are a lot of resources that kids can use at home or at school. She said in 2015, the activities on the Hour of Code website had only a few activities. Now, there are over 100.
"I'm glad that people have taken the time to make these things that the kids can use," she said.
Julian said she considers this year's Hour of Code a success after seeing the students and parent's reaction to it.
"I love to see the excitement. I never know exactly what they're going to think of it but usually people walk away pretty excited," Julian said.