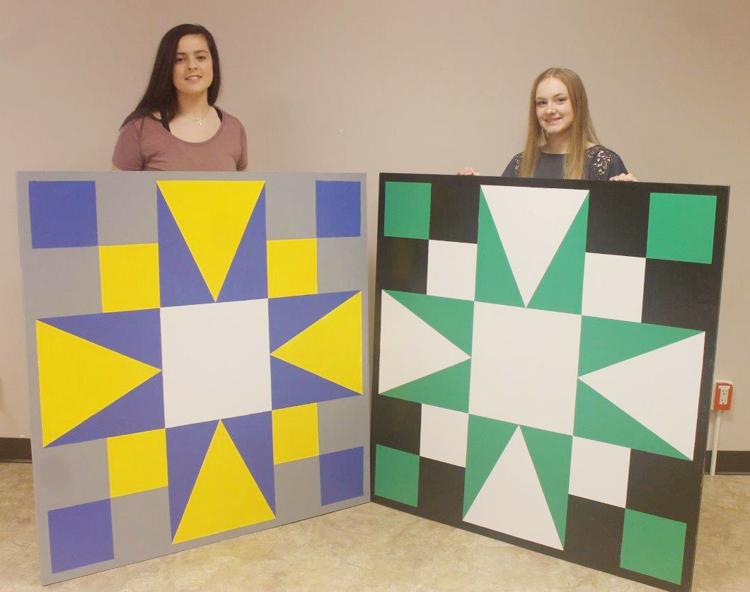 GENEVA — Fillmore County 4-H members who traveled to Washington, D.C., in 2018 for the Citizenship Washington Focus week have enhanced the Fillmore County Fairgrounds with an eye-catching service project.
Sadie Birky and Claire Kimbrough, of the Strang 4-Bar H Club, each created a wooden barn quilt that now adorns the 4-H Show Arena building.
The two quilts represent the organizations that serve the building. The green, white and black one, created by Kimbrough, is for the 4-H organization; and the blue, gray and gold one stands for FFA and was made by Birky.
The Citizenship Washington Focus week is billed as a life-changing week that empowers 4-H'ers to take their leadership skills to the next level for themselves and their communities.
The annual learning experience for teens age 14-19 has been held at the National 4-H Youth Conference Center for more than 50 years. It teaches youth the importance of civic and social responsibilities to become more engaged, proactive citizens and leaders; to exchange ideas, practice respect and form friendships with other 4-H youth from around the United States; and to live in a global economy by improving public speaking, problem-solving and professional skills.
Birky and Kimbrough, both 16, will be juniors in high school and have seven or eight years of 4-H experience.
Along with 4-H member Clint Oldehoeft of Exeter, the girls left Nebraska June 21, 2018, in anticipation of seeing how laws were made. They were gone for nine days.
They visited New York City and Philadelphia three days before their week in Washington began.
Both girls said they enjoyed seeing "The Lion King" on Broadway, the 9/11 Museum and the One World Observatory that included an elevator ride to the top that concluded with a 360-degree view of New York City.
Their days in Washington were packed — beginning at 7 a.m. and most ending at 10:30 p.m. They were a mixture of workshops, committee meetings, tours and special events to attend.
The girls said they had a great time and learned a great deal about the federal government.
"We learned what each branch of government does," Birky said. "And we became aware of how hard the government branches have to work to turn a bill into a law."
A special event planned for them was the opportunity to meet 3rd District U.S. Rep. Adrian Smith, R-Neb., and listen to him speak.
"We got to eat breakfast with Congressman Adrian Smith and we also got photos with him by the Capitol," Kimbrough said.
New opportunities the 4-H'ers got to experience included the chance to do something life-changing, experience summer leadership, learn from 4-H role models, stay at the national home of 4-H, and join a legacy of 4-H citizenship.
A part of the Citizenship Washington Focus experience is doing a required service project due upon returning from the event.
The Fillmore County 4-H Council asked Birky and Kimbrough to paint the barn quilts for their service project, and the two agreed.
The boards, patterns and paint were given to the girls by the 4-H council. The girls had to enlarge the patterns and transfer them onto the 4-foot-square boards. Each organizational emblem was added and placed in the middle of each barn quilt before they were attached to the building.
"It took us two full days and one morning to finish up, as they were primed several times," Birky said.
Kimbrough said it was good to do this particular community service project.
"Lots of people go to the fair, and it's good to see new things, for they get everyone's attention and excites them," Kimbrough said.
The girls' eyes sparkle yet today as they speak with much emotion about their CWF experience. They encourage anyone who has a chance to participate to do so, as they are still talking to friends they made from other states a year ago.
Birky said the contrast from small-town Nebraska to New York City was unbelievable. Washington also had a great impact on her.
"It opened my mind as to what the government does and to how it really works," Birky said. "It was a hands-on experience I will never forget."
While in Washington, the girls were impressed by the "Twilight Tattoo," a re-enactment of how the U. S. came together.