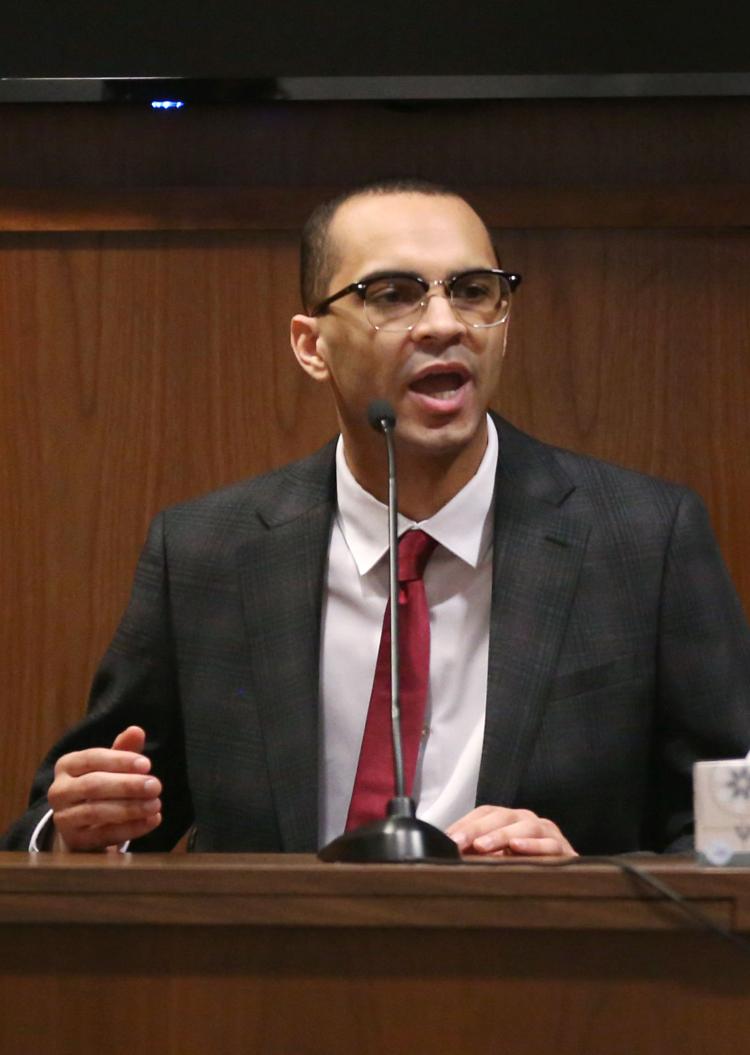 Daniel Harden took the stand in Adams County District Court Thursday to explain his alibi and deny accusations that he was involved in the robbery conspiracy or murder of 19-year-old Jose "Joey" Hansen.
"I did not participate in the robbing or murder of Joey Hansen," Harden said.
Harden admitted that he met up with Deante Mullen on Sept. 10, 2017, the day before Hansen died during a robbery attempt allegedly committed by the Mullen and Harden. He said Katherine Creigh, another co-defendant in the case, also was in the vehicle when Mullen picked him up from his residence at 714 N. Williams Ave.
Harden testified that the reason he wanted to meet up with Mullen was to talk to him about rumors circulating around town about Harden being a snitch.
Harden wanted to let Mullen know that he saw the paperwork surrounding the charges and he wasn't listed. Mullen explained that being identified as a snitch by providing information to law enforcement could get a person in the drug world beaten up or even killed.
Harden said Mullen drove to a trailer park in Hastings and picked up three people he didn't meet until that night — Deonte Hayes, Hayes' girlfriend Serenity Crossfield, and the couple's baby. The group went back to Creigh's residence at 106 N. California Ave., where they started using alcohol, marijuana, cocaine and prescription drugs.
During the gathering, Harden said Hayes was talking about armed robberies he had committed. Then Mullen brought out a rifle-looking firearm from his bedroom and showed it off to the group.
Harden testified there was no discussion of the group planning to rob anyone that night, despite the previous testimony from Mullen, Creigh and Crossfield to the contrary. Hayes testified Tuesday that he couldn't remember much about the night because he had consumed too many drugs.
Harden said that sometime between midnight and 1 a.m., Hayes had gotten sick and threw up. Harden said Hayes then went to lay down in the bedroom where Crossfield and the baby were sleeping.
Shortly after that, Harden said he left the house and walked home.
He estimated it took about 30 minutes to walk home, so he thought he would have gotten home around 1:30 a.m. He said the door to the house, which was subdivided into apartments, was locked so his roommate, Errich Holston, had to let him inside the house.
Harden said he and Holston went upstairs to their apartment, where he saw 14-year-old Laikyn Willison sleeping on the couch. Harden also said Holston's girlfriend was asleep in her bedroom.
Harden said he turned on his PlayStation 4 and noticed the time was 2:15 a.m. He started playing a video game while chatting with Holston, but Holston later fell asleep.
A short time later, Harden testified that Dustie Martin stopped by his apartment to check on her daughter, Laikyn, and smoked marijuana with Harden.
Dustie Martin testified on Wednesday that she had gotten to the apartment between 2:20 and 2:30 a.m. She said she is good friends with Harden and stayed there about a half hour before leaving.
During cross-examination, prosecuting attorney Corey O'Brien asked Martin about her initial statement to police where she said she hadn't seen Harden until around 3-3:30 a.m. Martin testified she didn't think she gave that time to police.
Harden testified that at 3:24 a.m., Laikyn's phone started ringing and the display showed Mullen was calling. Harden said he answered the phone since he didn't own a phone and people often contacted him through other people.
"He didn't say much," Harden said of Mullen's call. "He just urged me to come over."
He said he was tired and didn't want to leave the house, but Mullen was insistent. Harden got a ride from Martin back to Mullen's residence. As he walked up to the house, he said Mullen was in the doorway waiting.
Harden testified Mullen opened the door and beckoned him inside. Inside, Mullen told Harden he 'caught a body,' which Harden took to mean that he killed somebody.
"I was shocked," Harden said. "I didn't know what to think."
Mullen asked if Harden had any money, but Harden told him he didn't. He testified that he believed Mullen wanted to sell him part of a ball of methamphetamine that he had.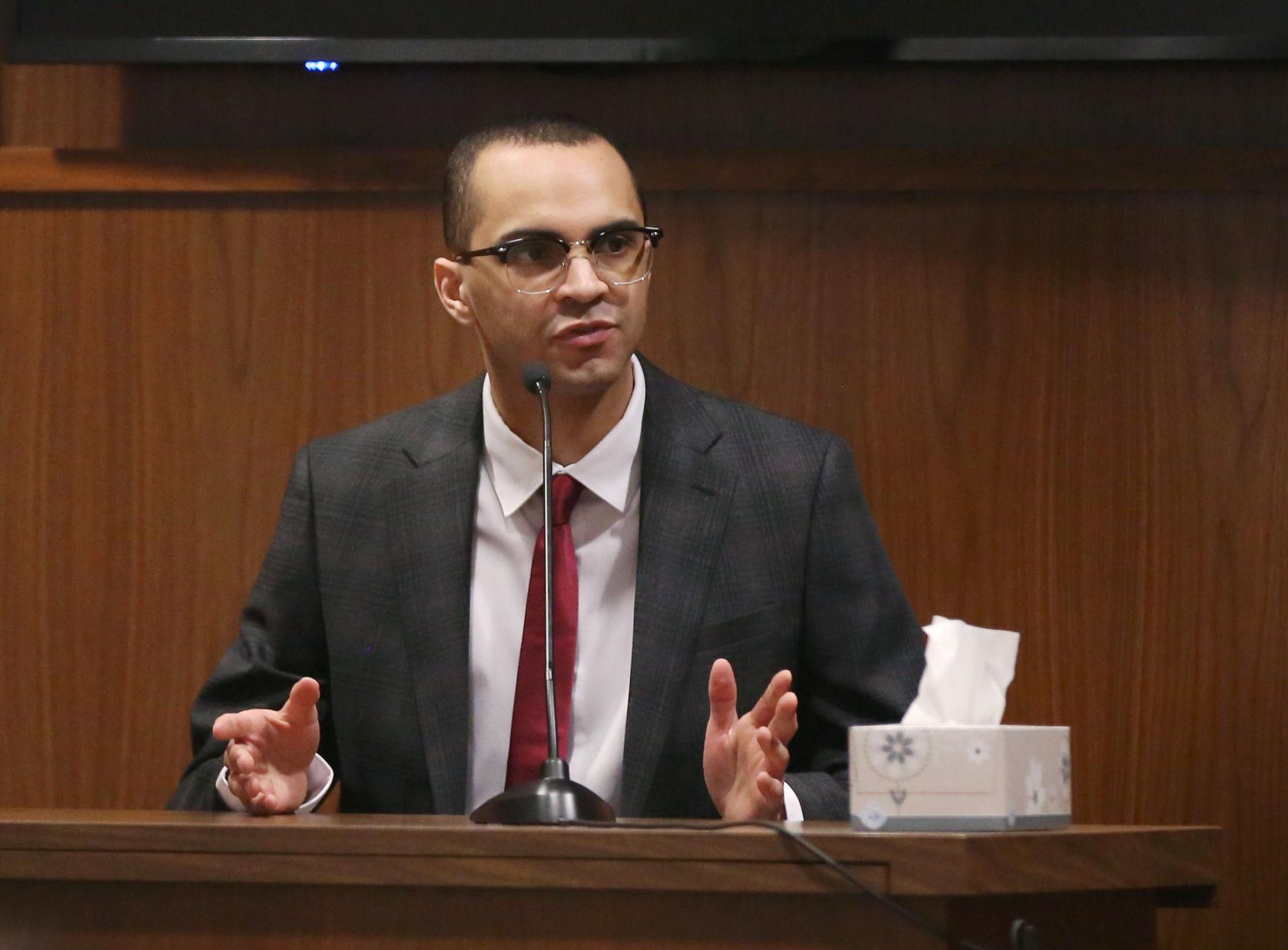 He said Mullen also asked if he was ready to go to Lincoln, which Harden said occasionally happened when Mullen was going to make drug deals and Harden often accompanied him.
Harden said he assumed they would be going to Lincoln at that time, but Mullen ended up driving Harden back to his residence.
The next day, Harden testified that Laikyn came in and asked if he had heard the news. She showed him a news article about a person being found dead in Hastings.
Shortly after, Mullen showed up at his apartment and asked if he was ready to go to Lincoln. Harden said he wasn't really ready but wanted to listen in on any conversations about the shooting. He threw on some new clothes and got into the vehicle. Creigh, Hayes, Crossfield and the baby were also in the vehicle.
Harden said there wasn't any talk of the shooting in the vehicle on the way, but while in Lincoln, he saw Mullen sell the gun he had shown off the previous night to another man.
Later that evening, Mullen and Creigh left. Harden said Creigh later came back and told the group Mullen had been arrested.
Harden said he called Holston and he came to Lincoln to give him a ride home.
Harden he didn't say anything about the Mullen's conversation about the shooting to Holston or the other friend in the vehicle.
"I didn't want to tell anybody what he had told me," Harden said. "It would be snitching."
Similarly, Harden said he didn't want to say anything when Chief Adam Story and Capt. Raelee Van Winkle from the Hastings Police Department came to speak to him in October 2017.
Harden testified Story claimed to have physical evidence and witnesses that implicated him in Hansen's death.
"I knew there was no evidence against me in the shooting of Joey Hansen because I hadn't been there," Harden said. "I didn't want to give them any inkling that I was involved in anything that night."
Even after his arrest for murder, Harden said he was hesitant to speak with police. Story and Van Winkle again interviewed Harden within an hour of his arrest in December 2017.
Harden asked to speak to an attorney, but the officers continued to ask questions. Harden said he didn't trust them because he felt they were lying to him. He also didn't feel offering his alibi would have mattered at that point.
"They seemed adamant that they had the case finished," Harden said. "Anything short of an admission of guilt I don't think they would have listened to."
Harden said he didn't have any problems with Hansen and had no reason to hurt him.
Though he didn't have a job, Harden said he wasn't in need of money from a robbery because he had recently inherited around $11,000 from his grandfather.
He said he thought Creigh and Mullen were friends, but now believes he was mistaken. He said they decided to claim he was the shooter as a way to save themselves from more serious charges.
"I believe they are opportunists looking for an easy way out," Harden said. "I put my trust in the wrong people. I never even suspected they would ever point the finger at me."
During cross-examination by O'Brien, Harden at times became hostile as he continued to proclaim his innocence.
"I did not participate in any conspiracy to rob Joey Hansen," he said.
Harden said that in hindsight, he should have been honest with police, but at the time, he was more concerned about being a snitch.
The defense rested its case Thursday. Any rebuttal evidence by prosecutors and closing statements will be made Friday before the case is submitted to the jury.
Harden is on trial for first-degree murder, use of a firearm to commit a felony, and conspiracy to commit robbery.
First-degree murder is a Class 1A felony punishable by life in prison. Use of a firearm to commit a felony is a Class 1C felony punishable by five to 50 years in prison. Conspiracy to commit robbery is a Class 2 felony punishable by up to 50 years in prison.