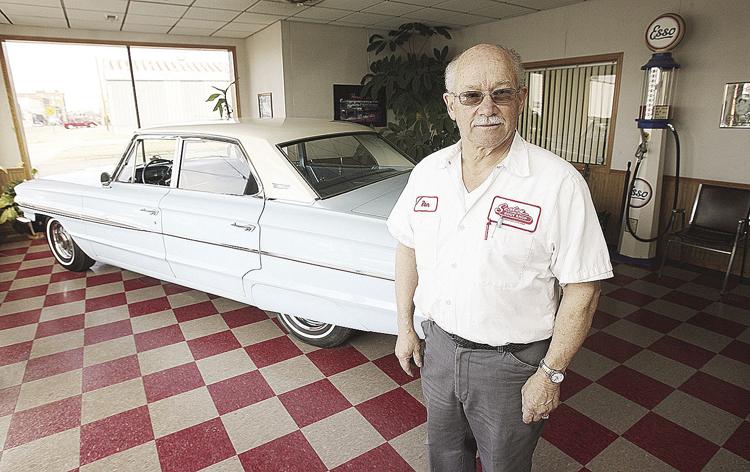 Though deaf from childhood, Ronald "Ron" Sealey had little trouble communicating with others.
Using an infectious smile, slaps on the back, hastily written notes, sign language, and signature "thumbs up" gestures, the founder of Sealey's Body Shop was remembered for his good nature and attention to detail this week by family and friends.
The husband of Emma "Virginia" Sealey and father of four with 13 grandchildren and seven great-grandchildren succumbed to cancer on July 19 at age 76.
"There just aren't very many people in town who don't know who he is," eldest son Nick Sealey of Hastings said. "I can't say everybody liked him, but if you liked him, you loved him. He was one of those guys that always had a smile on his face and talked to everyone."
Services for Sealey are at 10 a.m. Friday at Butler Volland Chapel in Hastings, with visitation from 4-8 p.m. Thursday, with family present from 6-8 p.m. at the funeral home. Burial is at Parkview Cemetery in Hastings.
A mostly self-taught auto body repairman, Sealey worked for Great Plains and Jerry Spady body shops before opening his own shop in 1983. Nick Sealey joined him shortly thereafter at the original location, a three-car garage off East A Street. The following year, he relocated the business to its current address at 201 S. Hastings Ave.
Nick said it didn't take long for Ron to endear himself to the local car community. His meticulous attention to detail made him a popular first choice selection for auto body work among area car business owners, he said.
"So many guys knew him so well," he said. "He just ran things the right way and you knew he was doing everything the right way. They all knew what he said was what he did."
It was Nick who most often acted as a liaison between his father and customers, helping bridge what communication gaps may have existed as a result of Ron's having lost his hearing at age 2 to what is now believed to have been meningitis. In most instances, however, he was perfectly capable of carrying on conversations through signing and note-passing.
"Every now and then customers would bypass him and come to me and say, 'I need to talk to your dad about something and I can't talk to him.' " he said. " 'Well sure you can,' I'd tell them. "You know how to read and write, right?' You could communicate with the man. Even though he couldn't hear a damn word you said, he could communicate with anybody."
Ron's calm demeanor exhibited when problem solving is something Nick strives to emulate to this day, he said. Stubborn as he may have been, his ability to troubleshoot problems was truly inspirational, he said.
"He could be impatient about stuff, but when he was trying to show you how to do something, he never lost his patience," he said. "I was about as mechanically-minded as this desk, hand-wise, and he taught me everything. You just learned.
"One of the biggest things he taught me was that there is always a solution to everything. You may not be able to do it the way you want to do it, but there will be a way to do it. You may have to bite the bullet and put on your big boy pants, but there's a way to solve the problem. And it didn't matter how you screwed up, he was going to be there for you."
Grandson Zachary Sealey of Hastings has been part of the family business for more than six years. Though he holds a tech degree in body shop work, he said there is little he knows about auto body repair that he didn't pick up from his grandfather.
"When the guy who was straightening frames (at Sealey's) quit, it was just 'Here you go,' " he said. "I basically knew zero about it so I had to rely on Grandpa. The amount of knowledge and ability he had that he was able to pass on to all of us just helped every one of us in so many ways. I'll never be able to do some of the stuff he could. No way."
Sealey's supportive nature extended to include attending as many of his grandchildren's sporting events as possible. Zachary said he remembers his grandfather's presence at his youth baseball and football games through high school.
"He was always there for everything," he said. "If there was a game, he was there. Win or lose, he would give you a hug and tell you you did a good job."
Gessford Machine Shop owner George Anderson befriended Ronald when he purchased Gessford across from Sealey's business in 1991. The two men became longtime friends, sharing a mutual interest in classic Ford automobiles.
"He was a great neighbor, fine man, and fine neighbor," Anderson said. "Ron would always come over and watch my boys building cars. In 1995, he helped me paint a car that I built and it was a joy working with him.
"We saw each other almost every day. Often times he would just sneak out of his business and come over to our shop. He loved to keep an eye on things in the neighborhood."
The preciseness of Sealey's work was easy to spot when looking upon his many projects, Anderson said. The family business seemed to run like clockwork, he said
"He was very proud of his business and family," he said. "I was envious that he had his sons, grandson and wife there and they all worked so well together. And man, he was good at doing what he was doing!
"I'll never forget him. Every time I walk out and look over there he'll be there. And that's OK."
Car dealership owners Greg and Scott Spady were both complimentary of Sealey and his contributions to the community. Both noted his work ethic while employed at their dealership was second to none.
"Ron was always a friendly person," Greg said. "I always enjoyed writing notes back and forth to him. He would always bring cars into the shop to get things worked on and always made it a point to stop by my office and say hi.
"He really raised his kids to be great individuals and they will continue to run a great shop because of the training he gave them. He's had the leading body shop in town and that's going to continue.
"I remember my dad always said to me that we needed to hire about five more guys like Ron because he always came to work and never bothered anybody. He just kept busy and was a perfectionist. It showed in all of his body work."
Scott said he will remember Sealey most for his upbeat disposition and love of cars.
"I always liked running into him," he said. "He would always come up to you and shake your hand with a smile on his face. Everybody loved him. The town is going to miss him.
"He was a car man and I'd see him at different shows and events because he loved cars like I do. He liked all that stuff, being around it. He's going to be missed in the car family for sure."
Jackson's Car Corner founder Alton Jackson said Sealey was well respected in the car community, both for his body expertise and delightful disposition. The two were friends for roughly half a decade.
"He was one of the most talented people I ever met, and one of the nicest people I ever met," he said. "There are a lot of people that if they had the impairment he had would have sat around and been on the system. He just would never do anything like that. He charged ahead and made a good business and was well respected among all of us car guys.
"He could do anything. He taught himself how to weld aluminum years ago and back before he started his body shop, he painted a Model A roadster for me in 1974 that still looks like it was painted last week. He built some of the nicest cars that anyone could ever build. He was just the best."