IPads settle into St. Cecilia curriculum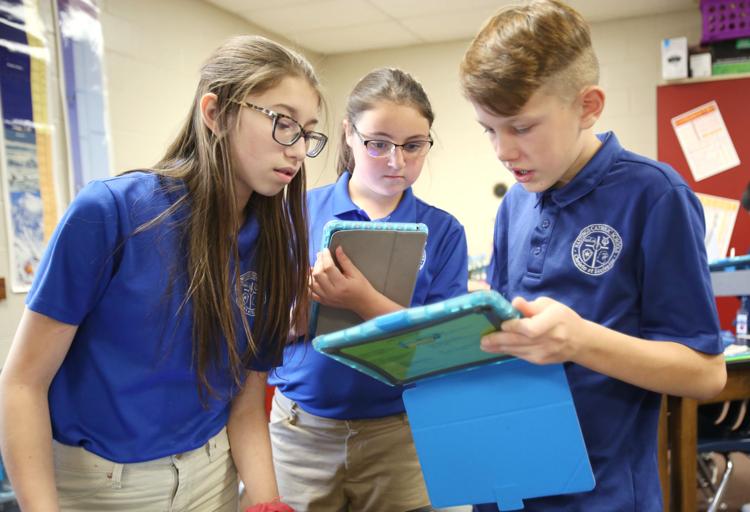 St. Cecilia School is adjusting to its new 1:1 iPad program, which began before the start of the fall semester.
The adjustment hasn't been difficult.
"It works amazing," said Megan Fago, middle school science teacher at St. Cecilia. "I ten times prefer this (over paper and pencil)."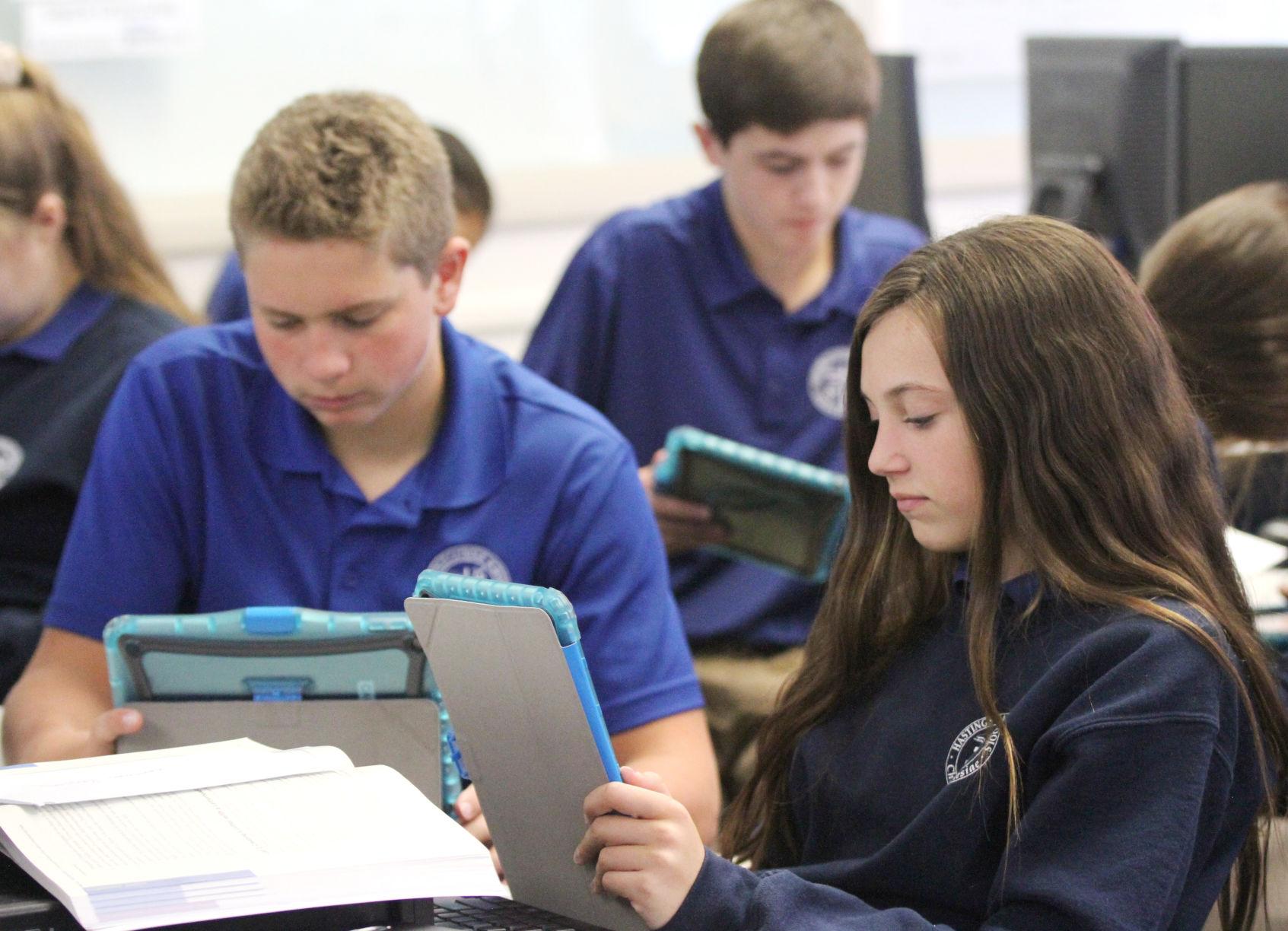 Each middle school and high school student was given a sixth-generation iPad in August, provided by the Diocesan Technology Office of the Catholic Diocese of Lincoln, to be used for work in the classroom and outside of school.
While each teacher uses the iPads to a varying extent, many of the teachers use apps for note-taking or online quizzes.
Fago is one of the teachers who use the iPad extensively in the classroom, using a combination of note-taking apps and Apple Classroom. Fago also uses the iPads for document sharing and for homework.
Apple Classroom lets teachers distribute worksheets and materials to each student. Teachers then can grade each assignment and quickly give students feedback. Fago said it is much more convenient to carry around her iPad than stacks of papers.
Another feature Apple Classroom provides is a live view of each student's iPad. That lets teachers keep an eye on what students are doing while they read or do a worksheet in the classroom.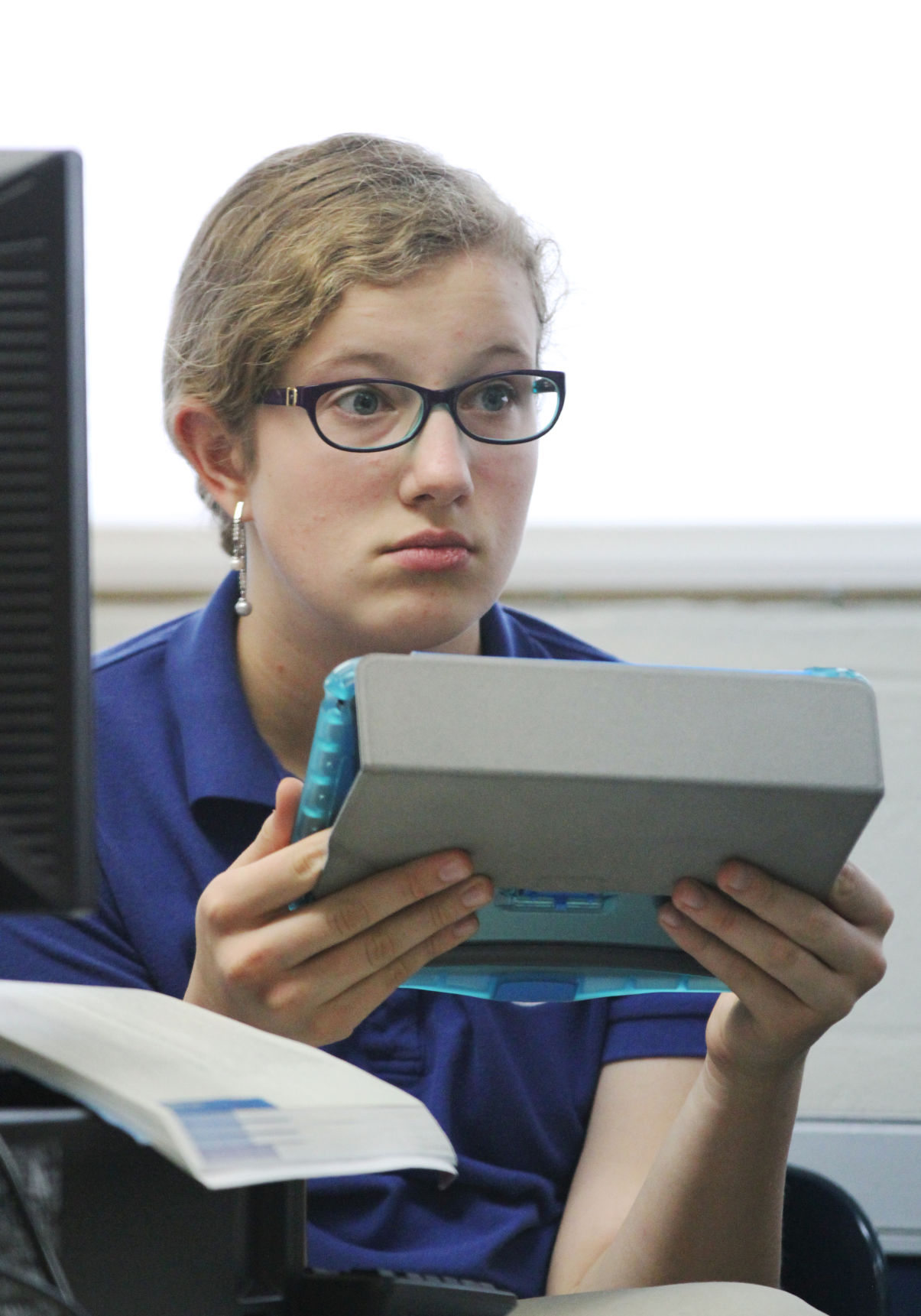 "He knows I am watching," Fago said, pointing to a live view of one of her student's iPads with the feature on her own iPad. The student had written "Hi Mrs. Fago" using one of the note-taking applications.
If a student gets distracted while working, the teacher can lock a student out of his or her iPad.
Fago said since the students have learned that the teacher can keep tabs on what they are doing, they have been less distracted and Fago hasn't needed to check in on them as much.
Mikayla Niederklein, a Spanish teacher, said she uses the iPads about three to four times each week for reading and document-sharing. She said she also can track students progress' on reading assignments.
Niederklein said another benefit with the iPads becomes obvious when she need a substitute teacher. Because substitutes may not speak Spanish, she can create assignments on the iPad that require minimal guidance, like pre-recording pronunciation or using apps like Duolingo, a language-learning service.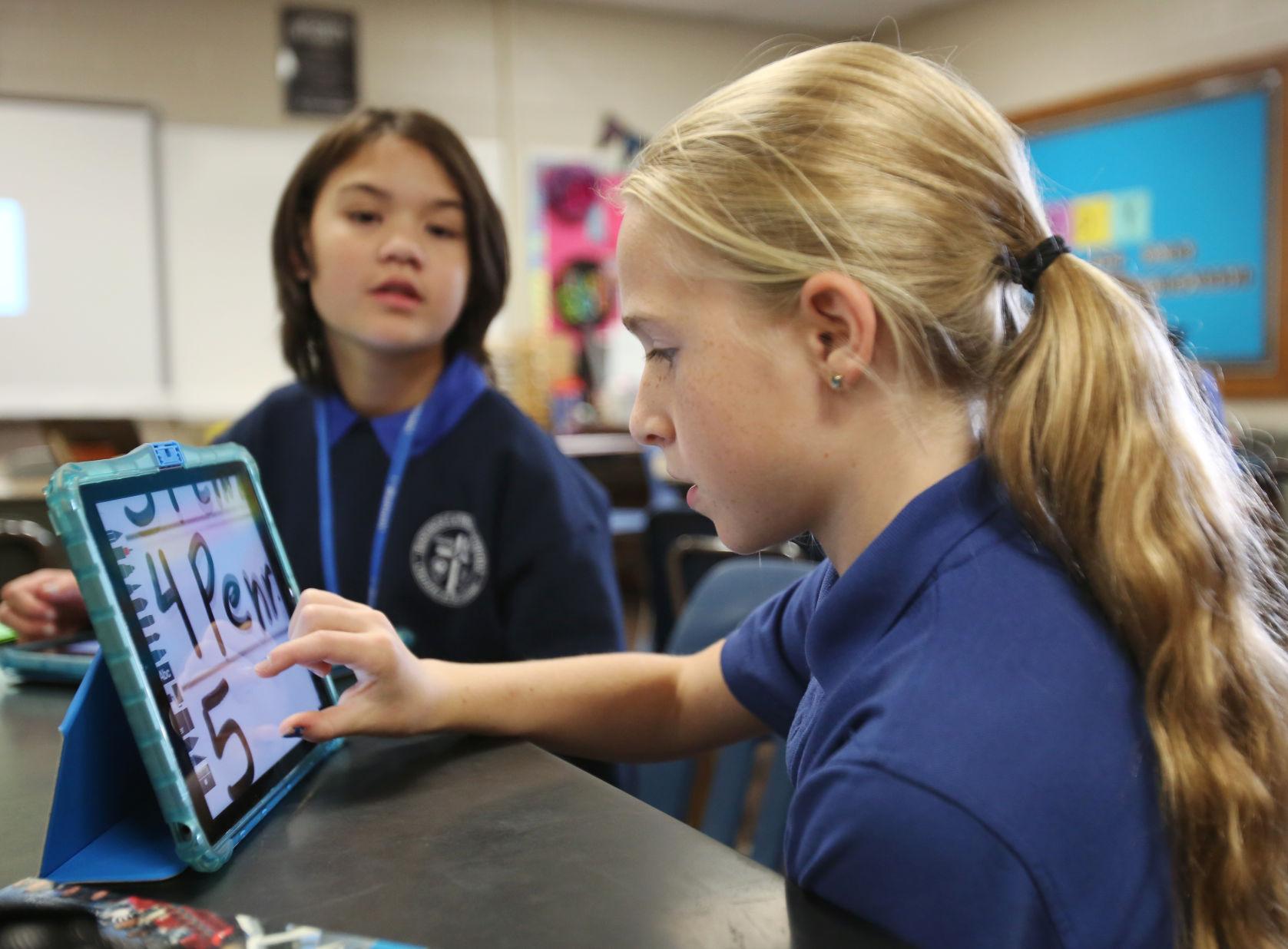 Greg Berndt, information technology and marketing teacher, said he likes knowing what tools students have. Some students might have a Mac computer or a personal computer at home — or limited access to a computer at home — and that lack of consistency made assigning some work difficult in the past.
Berndt also said the teachers are getting more comfortable with the iPads and coming up with new ways to teach students. Berndt himself likes to teach graphic design and giving out quizzes on the iPad.
Principal Sandy VanCura said the school is letting teachers decide how much they want to include iPads in their classroom. Some teachers use the iPads more than others.
The school currently is treating the iPads as another tool in its curriculum, rather than building the curriculum around the tablets. Non-electronic textbooks still are a staple in classrooms, and students can choose to do assignments on the iPad or on paper, VanCura said.
"We have some students that want to use paper and a pen or pencil, but then there's others that are, 'Yup, give me the device,' " she said.
VanCura said having a 1:1 program gives every student equal access to the same technology. The school previously had a cart with iPads that teachers had to share. The school still has computer labs that also need to be shared between classes.
"In order to provide students with greater access to technology, we felt it was important to apply for the initiative," VanCura said. "It's the world in which we live."
Niederklein said she likes the 1:1 program, compared to the computer lab or iPad cart, because she can have students use their iPads anytime, and she doesn't feel obligated to use the iPads for the whole classroom period.
VanCura said the idea for having a 1:1 iPad program was brought to her by the Diocesan Technology Office in January 2018. VanCura had to submit an application about why the program would be beneficial, and teachers had to submit possible ways to use the iPads. The school was approved for the program in late spring the same year.
The Diocesan Technology Office chose iPads because their presence is becoming more common in the workplace, compared to computers or laptops.
"There's just more and more iPads being used," VanCura said.
The iPads were paid for by the Diocesan Technology Office through a donor-funded program. St. Cecilia paid for a $50 insurance policy on each iPad and upgraded the provided cases. If an iPad is damaged, parents will have to pay a $50 deductible.
At the end of the school year, the iPads will be returned to the Diocesan Technology Office and reset before being returned to students the next year.
St. Cecilia is the second school in the Lincoln Diocese schools to get iPads. Lourdes Central Catholic in Nebraska City piloted the program about four years ago.