Fans attending this year's American Legion Mid-South Regional Tournament expressed various reasons for making the trip — be it long or short — to Duncan Field to watch the top teams battle for top honors on the diamond.
From supporting sons, grandsons and entire state champion teams to getting together with friends from long ago to revisit memories of previous championship runs, all shared a common goal as they packed the ballpark on a warm and sticky Wednesday afternoon: To see baseball played at a high level of competition.
"We're excited about being here," said Mark Bowers of Omaha. Retired from Fremont after more than 32 years of teaching, he made the tournament an occasion to get together with familiar faces from the school.
"I know a few of the parents and I just wanted to follow the team," he said. "I went to the state tournament and watched a couple games and kind of got hooked and said 'If they make to the regionals we're going to come out for the games,' so I'm here.
"They've played very well. They don't make very many mistakes, just a good all-around baseball team."
Joined in the parking lot by a former Fremont head football coach and player, Bowers said he was looking forward to seeing some high-level baseball played at what on paper looked like an amazing facility, he said. Though he'd seen photographs of Duncan Field online, he had not as yet set foot inside the hallowed ballpark.
"I looked it up on the internet and it looks like an awesome place," he said. "I'm excited to be here."
Joining Bowers for the game was birthday boy Gerry Gdowski Sr., a former varsity football coach at Wisner-Pilger, Pierce and Fremont who served as athletic director and coach at Fremont from 1979-2001. The father of Gerry Gdowski Jr., former Husker quarterback and current coach at Vanderbilt University, his reason for attending the tournament was to support longtime friends with ties to Fremont players.
"We went to all the games for the state tournament at Creighton Prep and it was just a lot of fun watching these kids," Gdowski said. "They've come together as a great team, and they can hit the ball and really run the bases. There's a lot of speed, which is kind of surprising because our track team just won the state championship and now our baseball team wins the state championship and both of them have a lot of speed. That's a nice thing to see.
"It's been since 1946 that they won a state championship, so it's a huge deal. The Fremont people are pretty excited about this team. Having our young kids be successful like that is a good thing. Being a coach myself, seeing kids come together as a team and being able to accomplish things like that is huge for your community."
Gdowski said the only present he was hoping for on his birthday at the ballpark was a win from Fremont.
"That's what I'm looking for," he said.
Dick and Peggy Wetjen of Omaha came to see their grandson, Brody Sintek of Fremont, pitch. The couple has followed the team closely this year, attending most of its games.
For Peggy, the stadium brought back memories of when her now grown son, Chris Sintek, toed the rubber here as a pitcher with the Kearney Legion program. He later pitched for University of Nebraska at Kearney.
"We were here for the All Star Game about a month ago and it's beautiful!" she said of Duncan Field. "It's very improved."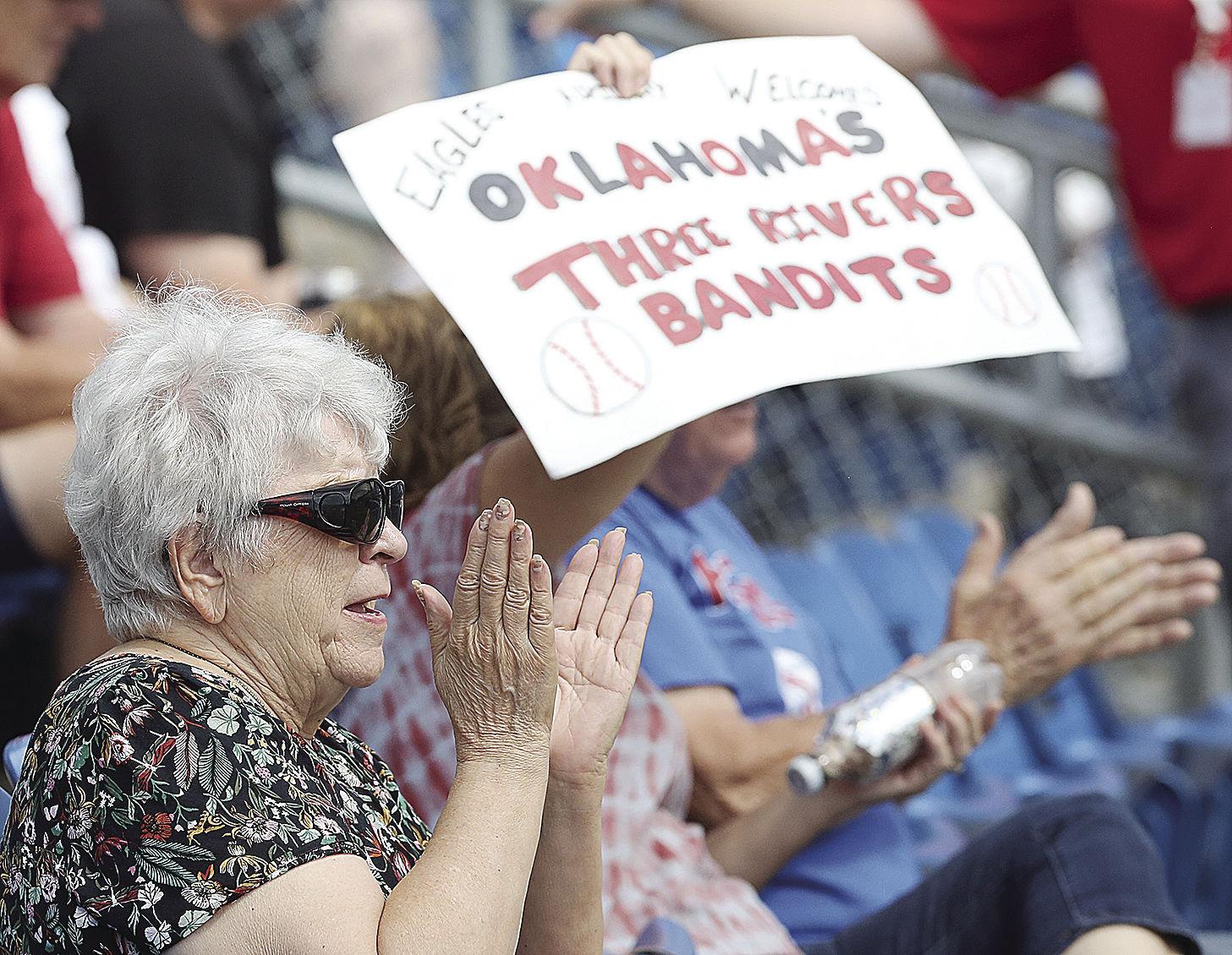 "It's a huge difference," Dick said. "I think the biggest one (upgrade) that everybody notices is the lights are no longer in the outfield. It's an impressive stadium. When you keep track of how many home runs that have been hit out of here (as listed in the game program) it means there are not a lot of home runs hit here. It's pretty cool to look through the names we all remember, some of them which are pretty famous."
Though their plans called for driving home following the game, both said they may well return should Fremont continue to play winning baseball as the week progresses. Dick said he was curious to see how well Nebraska teams would fare against top out-of-state teams from the region.
"I know that Hastings has probably played a lot of the same teams all year long and Fremont has played a lot of the same teams all year long, so you kind of want to see how you match up," he said. "Most of these (tournaments) you see in Lincoln and Omaha, so for Hastings to host a regional tournament, somebody had to be pretty impressed with the package that was put together, much less the stadium. You don't see a stadium like this outside of bigger metropolises."
"It'll be cool," Peggy said. "I'm excited!"
For Terry Leininger, a farmer from Sutton, the tournament offered a chance to see some top-notch baseball played locally. A one-time third baseman himself in high school at Sutton in the late 1960s, he said he was looking forward to seeing just how good the Hastings and Fremont Legion teams really are on a larger scale against top teams from neighboring states.
"I'm just a fan," he said. "I catch baseball wherever I can. Baseball is the best game there is.
"It should be pretty high-grade baseball I would think. To get to a regionals you've got to have a pretty good team."
Pam Hardwick traveled by automobile from the southwest corner of Missouri to root for the state's home team, the Sedalia Travelers, and more specifically, her grandson, catcher Levi Betts. Joining her on the road trip were Julia Miller, Levi's mother, and Alan and Lisa Hardwick, her son and daughter-in-law.
"We've been watching him play and were so excited that he (Levi) got to come to this," she said. "It's a nice place. Beautiful field! Really a nice place to play ball."
Their length of stay in Hastings likely will be determined by how far Sedalia advances in the tournament, she said.
"We leave tomorrow night, but then we may be back if they keep going!" she said. "This is quite an event for them. I'm just thrilled that we've made it this far."
While the destructive aftermath of Wednesday's early morning thunderstorm was evident during their drive to Hastings, it didn't impact their ability to reach the ballpark, she said.
"We drove to Kansas City last night and came on in today," she said. "We were really sad about all the flooding and damage that we saw coming up on I-29 (but) the roads were good."
Phil Krejci of Juniata said that he came to the tournament to support the Hastings team and see how baseball was played in other parts of the country. Joining him was his son, Aden, whom he hoped would benefit from watching the championship teams compete. The 11-year-old plays on the local Bombers baseball team.
"It's pretty cool," Krejci said of the out-of-state teams converging on Duncan Field for the tournament. "It's not something you get to see every day. I'm familiar with the talent around here, and it's cool to see some different players and maybe some talent that's a little more than what's around here, the cream of the crop of the Midwest."
Coach Kevin Sutton of the Texas-based Texarkana Bulldogs Legion program brought his team to Wednesday's game to get out of its hotel and scout the opposition after dropping its opener earlier in the day to Oklahoma, 2-0.
"We're just trying to see what advantages we can pick up this afternoon," he said.
With the exception of losing its first game, Sutton said the overall experience of playing tournament baseball at Duncan Field had been nothing but positive so far. He hoped for better things on the field next time around.
"Everything American Legion lined up for us — from the flight to the bus, the transportation over and between the games and the eating places — everything has been great," he said. "Everybody has been treating us well. The town has really gone out of their way making us feel welcome. The donations as far as food and gifts and things like that for the kids has all been great.
"The ballpark is excellent. Love the ballpark. The facility is wonderful. We actually took a couple of pictures to take back home and spread the word. We need something similar!"
Sutton said his team will need to step up its game if it hopes to advance in the tournament of champions. The need to score first and gain early momentum will be key going forward in its quest for survival, he said.
"We're playing state champions now, we can't start from behind," he said. "We need to get out ahead, score early, and try to take a lead from the first inning on. It's a little tougher baseball than what we've played the last few months."