For the last 18 weeks, Hastings Public Library patrons were able to make everything from coasters to glass and aluminum sheets printed with photos in the library Makerspace.
The Makerspace, in the library's basement, had expanded equipment offerings thanks to a grant. The Nebraska Library Commission was awarded a National Leadership Grant of $530,732 by the Institute of Museum and Library Services for the partnership project with the University of Nebraska-Lincoln, Nebraska Innovation Studio, Nebraska Extension, Regional Library Systems and local public libraries.
The equipment travels between Nebraska libraries.
Several pieces made using that equipment were on display Saturday morning in the Makerspace to showcase opportunities.
Erica Rogers, library assistant, the staff member who oversees the Makerspace, has a sense of pride looking at everything she helped patrons make.
"People who say 'I can't do that,' well look, yes you can," she said. "I think that's a nice sense of accomplishment for them. We're really encouraging the maker movement and that's that step outside your comfort zone. You can do things and it's not as hard as it looks."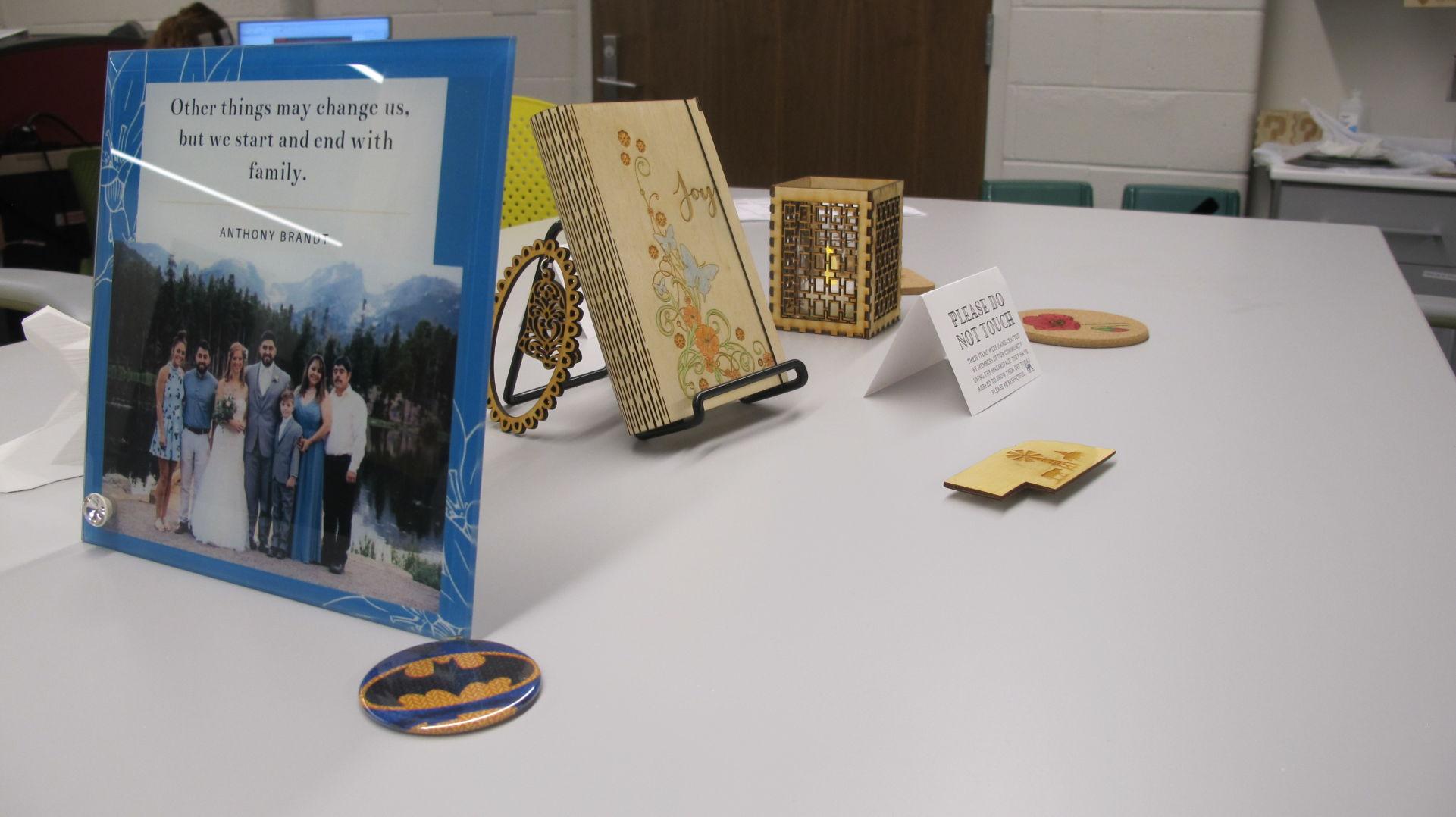 Hour-long certification sessions were required for the "big six" pieces of Innovation Studio Makerspace equipment: laser cutter, CNC router, sewing machine, embroidery machine, vinyl cutter, 3-D printer and heat press. The certification sessions walked the participant through how to use the machine safely, how to use the programs that run the machine, how to change out materials when applicable and how to set up the equipment.
In addition to the "big six," other new equipment on hand through the end of October include a laminator that uses pouches for items such as luggage tags; a smaller button maker with more options; an Arduino kit — an open-source hardware and software program that designs and manufactures single-board microcontrollers; soldering kit; additional audio equipment and additional green screen equipment.
The new equipment supplemented the library's existing Makerspace equipment that was installed as part of the renovation that was completed in October 2017.
Hastings had the additional Innovation Studio Makerspace equipment from mid-June through the end of October.
"I think it's been used really well," Rogers said. "The community's been really supportive. I've seen a lot more fresh faces come in, a lot more repeat people come in and using some of the equipment. They're really excited to do entrepreneurial things."
A few of the Makerspace regulars were on hand during the showcase, working on projects.
That includes Helen Bunde of Hastings, who was receiving assistance from library assistant Sarah Uden to set up the computer that works in tandem with the laser cutter.
Bunde was working on a design for a glass plate.
Several of the small wooden and cork cutouts she made using the laser cutter were displayed.
"I think it's wonderful," she said of the Makerspace. "It's a good place. We need some place like this to come to do different projects. The (library staff members) are really helpful."
Bunde has used every piece of Makerspace equipment except the sewing machine.
"And I've got one of them at home," she said.
The laser cutter is her favorite.
"I like working with the wood and the cork," she said. "It's really good."
Bunde visited several of the other displays during the showcase.
"I think it's wonderful what they do," she said
Rogers said a lot of people have been using Makerspace equipment to make presents for Christmas and birthdays.
"That's been nice," she said. "People like the idea of the Makerspace, but they kind of forget about it and this kind of rejuvenated that and was bringing people back in again."
Now that the grant period is ending all of the temporary equipment is leaving.
The Makerspace will be closed Nov. 1-11 to allow that additional equipment to be moved out.
The closure also will allow for the installation of a new heat press and a new laser cutter. Those have proven to be two of the most popular pieces of Makerspace equipment.
The new heat press and laser cutter are models selected for their durability.
"As a result, that was at the top of my list when I was writing proposals, to see if we could get some stuff," Rogers said.
She will work on policies and what kind of trainings will be required.
The library is adjusting hours to have more appointment hours available for additional Makerspace equipment trainings. Information is available at www.hastingslibrary.us.
Several tote bags and T-shirts — the graphics on which were affixed using the heat press — were on display during the showcase.
Rogers wore a Backstreet Boys T-shirt Saturday she made using the heat press.
"There's a lot of things you can do," she said.