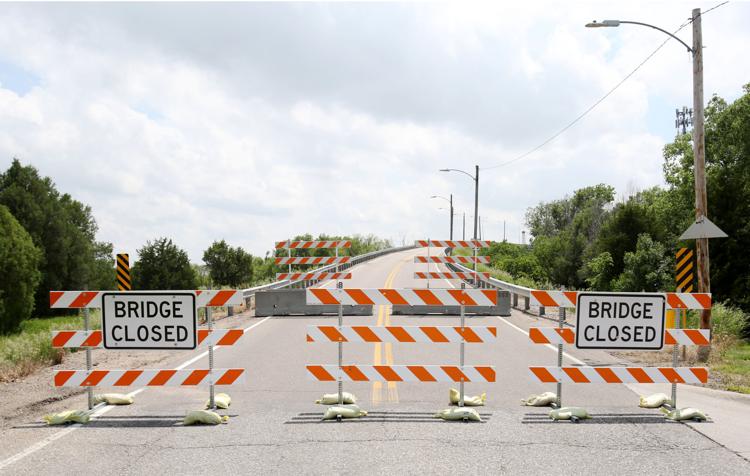 Members of the Hastings City Council will try to determine the "least worst decision" for the future of the old 16th Street viaduct during the next council meeting.
That is how Mayor Corey Stutte described the situation as the council will narrow four engineering design proposals during its Nov. 25 meeting to two options moving forward.
The cost estimates for all options, ranging from demolition to repair to replacement, have swollen since design firm Olsson first addressed the situation in May, due to supply and demand. Contractors around the state are busy fixing and repairing other bridges that were damaged during floods earlier this year.
"It's a bad decision no matter how we look at it," Stutte said. "All we're trying to do is figure out is the least worst decision to make and do it with the understanding this is taxpayer money."
Work on the old 16th Street viaduct could be delayed a couple of years due to other bridge projects around Nebraska.
"The request coming out of council is that we want some more honed-in numbers, and so what we did was prepare the most feasible options we thought would make sense," Stutte said. "We presented them to Olsson's, and they went back and they took a hard look at it with their railroad engineering team to really figure out what the cost might be. We had a suspicion the cost would be driven up just based on the flooding that happened this spring."
Escalated mobilization and contingency costs factor into the cost estimate increases.
"It comes down to who's available, when they're available and how much is it going to cost to mobilize when we get them out here," Stutte said.
City Administrator Dave Ptak said working with the Union Pacific Railroad will be a wildcard. The viaduct extends over the Union Pacific line.
"Who knows what kind of delays or timing issues we may have dealing with the railroad," he said.
According to new estimates, Option 1 includes demolition of the structure, including coordination with Union Pacific, for a cost estimate of $1,464,140.
Option 2 is repairing the east abutment, removing the southern span, wrapping pillars and repairing extension contraction joints for a cost estimate of $3,095,120.
Option 3 is removing and shortening the span of the bridge over the railroad using retaining walls for a cost estimate of $12,466,370. This option includes the purchase of the former Taylor's Steak House at 1609 N. Kansas Ave., underneath the bridge.
Option 4 is a new alignment of a new viaduct structure on Eastside Boulevard from 14th Street to 26th Street, including coordination with Union Pacific, for a cost estimate of $13,014,550.32. This includes the purchase of the apartment complex on Eastside Boulevard near the tracks for $850,000, right-of-way acquisitions of Nebraska Department of Transportation land, and overhead power relocations that aren't in the public right-of-way.
"I get where the cost is coming from," Stutte said. "It really does come down to other issues throughout our state."
By comparison, Olsson's bridge assessment report from May 2019 included a $150,000 estimate for repair to extend the structure's life two to three years; a $500,000 estimate for permanent closure and rerouting of traffic; $2.250 million for extensive repairs to extend the structure's life 30 years, with the assumption expansion joints will be replaced and maintained to prevent chloride-laden water from leaking water from leaking directly on the pier caps; and $5.7 million for a full replacement and an estimated 75-year lifespan.
A project the scope of a new bridge would require a public vote.
With a cost estimate of more than $13 million, Stutte said, complete reconstruction is not a feasible option.
"We're looking for council to declare it as a safety issue, and what we're going to do is try to narrow it down to two options and the two most feasible options, which will be removal or repair," he said.
Council members will have a further discussion about the chosen options during the Dec. 2 work session, with the expectation of selecting, at the regular Dec. 9 council meeting, an option to proceed.
"It was kind of eye-popping, to be quite honest," Stutte said of the new cost estimates. "Not only did the costs escalate, but the timelines we're talking about are obviously much longer than we were thinking."
City Engineer Dave Wacker said he thought the contingency costs included within the estimates may be high, but it's important to trust the expertise of Olsson's bridge engineering team.
If the council decides to remove the structure, that doesn't necessarily mean a new viaduct couldn't be constructed in the future, Stutte said.
"It just takes a vote of the people," he said.
Work on the overpass cannot come out of the city's renewed half-cent sales tax because the viaduct was not included in the language for the September 2017 ballot issue. The half-cent sales tax expires March 31, 2028.
Ptak said state statute would prevent bridgework being paid for with funds earmarked for street repair.
Stutte and other city officials realize how important the overpass has been to the Hastings community. Stutte said his own mother yelled at him about it.
"I am not for raising taxes," Stutte said. "There may be a council member or two that are thinking we could go ahead and repair that, but at the end of the day it's taxpayer dollars, and that's something we've got to grapple with."