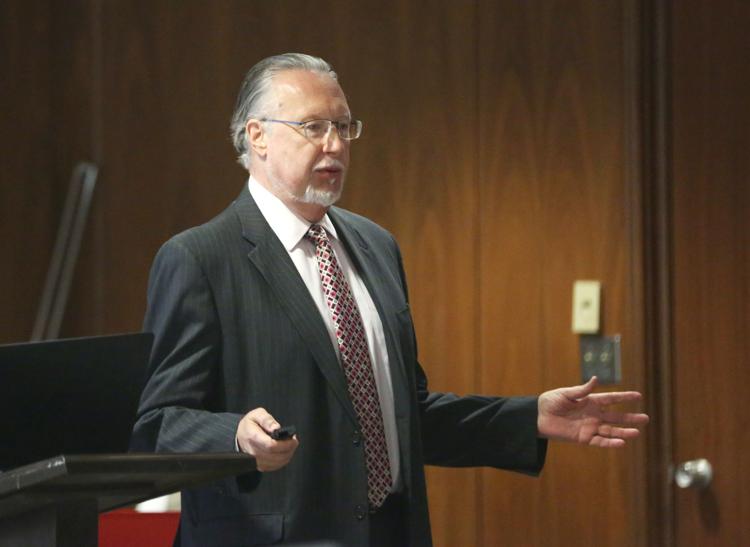 Prosecutors started presenting evidence Thursday morning in Adams County District Court in the murder trial against a 22-year-old Hastings man.
Daniel B. Harden is on trial for first-degree murder, use of a firearm to commit a felony, and conspiracy to commit robbery, as one of two men accused of trying to rob 19-year-old Jose "Joey" Hansen and killing him in the process in 2017.
The third day of trial began with opening statements by each side telling the jury what they believed the evidence would show over the upcoming days of testimony.
Zachary Blackman with the Nebraska Attorney General's Office gave the opening statement for the prosecution.
"This case is about a planned drug robbery that went wrong and, ultimately, resulted in the death of Jose "Joey" Hansen," he said.
Blackman said Harden conspired with Deante Mullen and Deonte Hayes to set somebody up for a robbery by arranging a drug deal, but planning to steal the person's belongings on Sept. 11, 2017.
Blackman said the three agreed, but Hayes became ill from excess drugs and alcohol and stayed behind. Mullen and Harden drove to meet Hansen in a white Chevy Tahoe owned by Mullen's girlfriend. Blackman said Mullen was driving the vehicle, which was spotted traveling down G Street by security cameras at 2:21 a.m. and 2:23 a.m.
Hansen was killed by a single gunshot wound to the back in the 700 block of West G Street.
Blackburn said Mullen is expected to testify that Hansen handed him an 8-ball (or 3.5 grams) of methamphetamine, which was to be traded for $100 and some cocaine. Instead, Mullen told authorities that Harden pulled out a gun owned by Mullen and pointed it at Hansen to rob him. Hansen tried to exit the vehicle and that's when Mullen says Harden shot him in the back.
Katherine Creigh, Mullen's girlfriend at the time, is expected to testify that Mullen came back to the house in an agitated state. Blackburn said Creigh saw Harden come into the house and change into some of Mullen's clothing before leaving the house.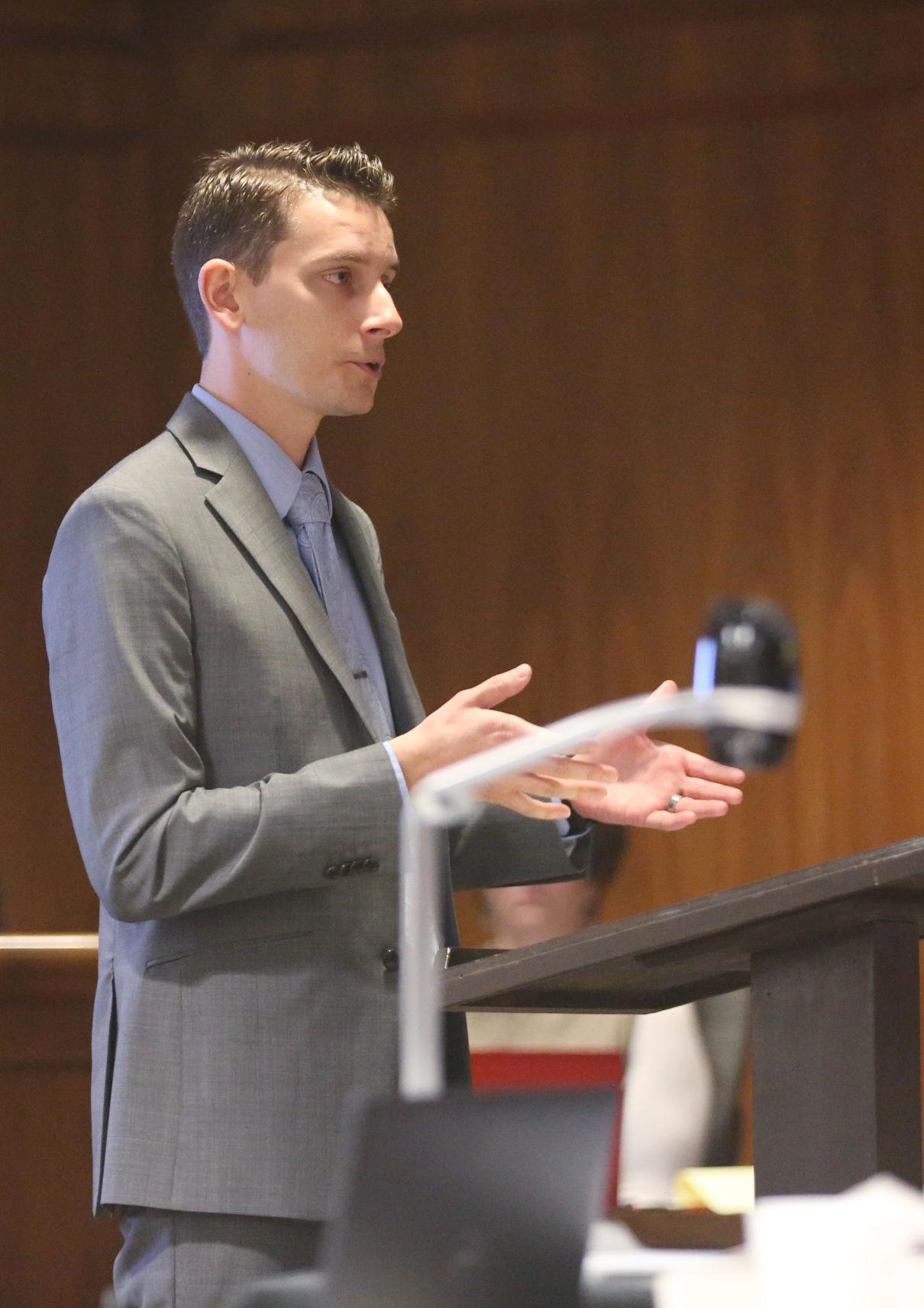 Creigh asked about Mullen's cellphone and Mullen told her he must have dropped it at the scene. She then drove back to the 700 block of West G Street to retrieve the cellphone and a pack of cigarettes that Mullen had dropped. Blackburn said that trip was also caught on video at 2:51 a.m.
But defense attorney Clarence Mock told the jury that his client wasn't even at the scene of the robbery.
Mock said Harden couldn't have been involved in the robbery and be at his residence by 3:04 a.m., which is the time he logged into Facebook at his residence.
"Daniel Harden couldn't be in that Tahoe," Mock said.
He said Capt. Raelee Van Winkle with the Hastings Police Department measured the time it took to walk from Creigh's residence at 106 N. California Ave. to 714 N. Williams Ave., where Harden lived at the time. He said Van Winkle walked the distance in 18 minutes and ran it in 11 minutes.
Mock said Van Winkle was in better shape than Harden so it would have taken him even longer to make the trip.
Mock said Harden did go to Creigh's house on Sept. 10 to drink alcohol and use drugs. But after the discussion turned to robbery, Mock said Harden decided to walk back to his house. There, he logged into Facebook at 3:04 a.m. and shortly thereafter started playing video games with a roommate, Laikyn Willison.
While playing video games, Mock said they were interrupted by Dustie Martin, adding another person to verify Harden's location.
Outside the stories he expects to hear from Mullen and Creigh, Mock said there is no indication that Harden ever contacted Hansen. In addition, he said there isn't any physical evidence to link Harden to the scene, either.
He said the evidence actually shows that the shooting couldn't have occurred in the way Mullen told authorities, due to the trajectory of a bullet that struck a nearby house.
"There is no physical or electronic evidence that connects Daniel Harden to Joey Hansen's death," he said.
Mock said the group had been talking about robbing somebody to get money for Hayes, Mullen's friend. If the intent was to rob somebody to get money for Hayes, Mock said there would be no incentive for Harden to participate.
"Why would Daniel Harden participate in the robbing of Joey Hansen to get money for Deonte Hayes and (Hayes' girlfriend) Serenity Crossfield?" he asked. "He's (Harden) going to deny he said he was down to do anything."
Mock told the jury that both Mullen and Creigh were charged with felonies in the murder. Each made a deal with the prosecution to reduce their charges in exchange for testifying against Harden. Mock said that gave them incentive to make up a story that would make prosecutors willing to give them a deal.
Even after agreeing to talk to police to try to get reduced charges, Mock said Mullen lied to authorities multiple times. First he told police he threw the gun away. Then he said he gave it away. The final version had Mullen selling the firearm in Lincoln for $200.
Mock said Creigh's story also lacks credibility due to actions she took after the murder.
"She already tampered with evidence in this case," he said, referring to her removal of items from the crime scene.
Following opening statements, prosecutors called eight witnesses to the stand.
Amel Gonzalez of Hastings said he was living at 710 S. Lincoln in 2017 and found Hansen's body while out for a walk. Jurors heard his call to the 911 dispatch center.
The first officer on the scene was HPD officer Koob Borgeling, who testified he took photos of the Hansen's body and areas of blood spatter found on the street. He identified Hansen using a driver's license in his wallet, which also had $480 in cash. Another officer also testified.
Vincent Maretti of Hastings testified that he heard a loud noise that could have been a gunshot about 2:30 a.m.
Aspen Palu, Hansen's girlfriend, testified that she saw Mullen call multiple times before Hansen answered the phone. She said she was worried after he didn't return from the drug deal and started messaging and calling him, but didn't get an answer. When she saw police in the area blocks away, she said she knew it involved Hansen.
Mikaella Vanderpool testified that Palu and Hansen had been staying on her couch at the time. She said she saw Hansen leave the house shortly after 2 a.m.
Van Winkle testified that she searched Hansen's phone and found the last contact was with a Facebook account under the name Deante Lil'nonsense Mullen. With that information, she put out a BOLO (be on the lookout) for Mullen, his girlfriend and her vehicle.
Sgt. Nolan Conradt with the University of Nebraska at Lincoln Police Department testified that he spotted the vehicle in Lincoln and called for backup. He approached Mullen, who attempted to get back into the vehicle and flee, but Conradt was able to stop him and place him under arrest for an outstanding warrant.
First-degree murder is a Class 1A felony punishable by life in prison. Use of a firearm to commit a felony is a Class 1C felony punishable by five to 50 years in prison. Conspiracy to commit robbery is a Class 2 felony punishable by up to 50 years in prison.