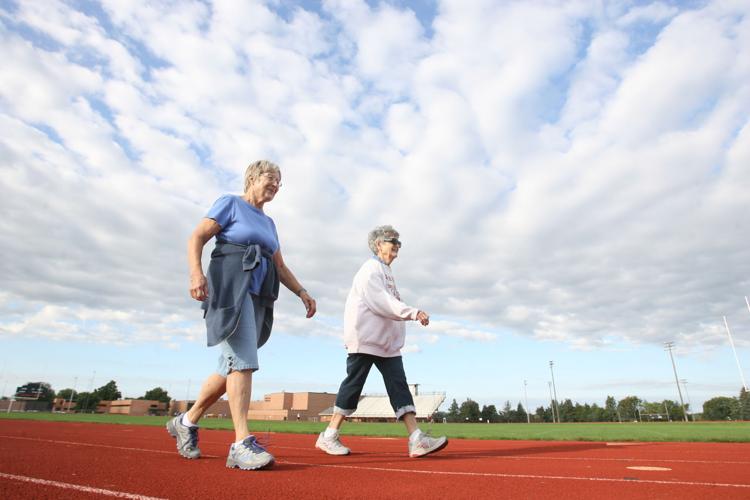 It was 50 years ago that the Beatles played their final show on a rooftop in London and a local schoolteacher founded a walking group with mostly fellow teachers in Hastings for the health of it.
And while the former marked the end of an era, the latter still is going strong on its 50th anniversary, with walkers coming together three times each week to tread the long and winding track at Hastings High School.
Founded by Helen Karloff in 1969, the informal walking club has changed many faces and pairs of shoes through the years. Karloff, who taught at District 15 for most of her 25 years in the classroom, first was joined on the walk by a neighbor who also wanted to stay fit. Maril Freese was among the first walkers in the fold, but has since moved to Lincoln.
Shortly after Karloff and a neighbor began circling the neighborhood together near the now defunct Imperial Mall off Valley Chase Avenue and Park Lane Drive, they were joined by other women — most of them fellow teachers. In short time, the group swelled to double-digit membership.
"One neighbor came out and said, 'May I walk with you?' and other neighbors came and joined," Karloff said. "That's was how it started, and that's how it's kind of run now. You just get out and join."
Karloff and the remaining 10 regulars — who have since relocated their shared 45-minute stroll each Monday, Wednesday and Friday to the Hastings High track — were joined by Freese to commemorate the group's 50th anniversary with a coffee gathering at Karloff's house Aug. 23.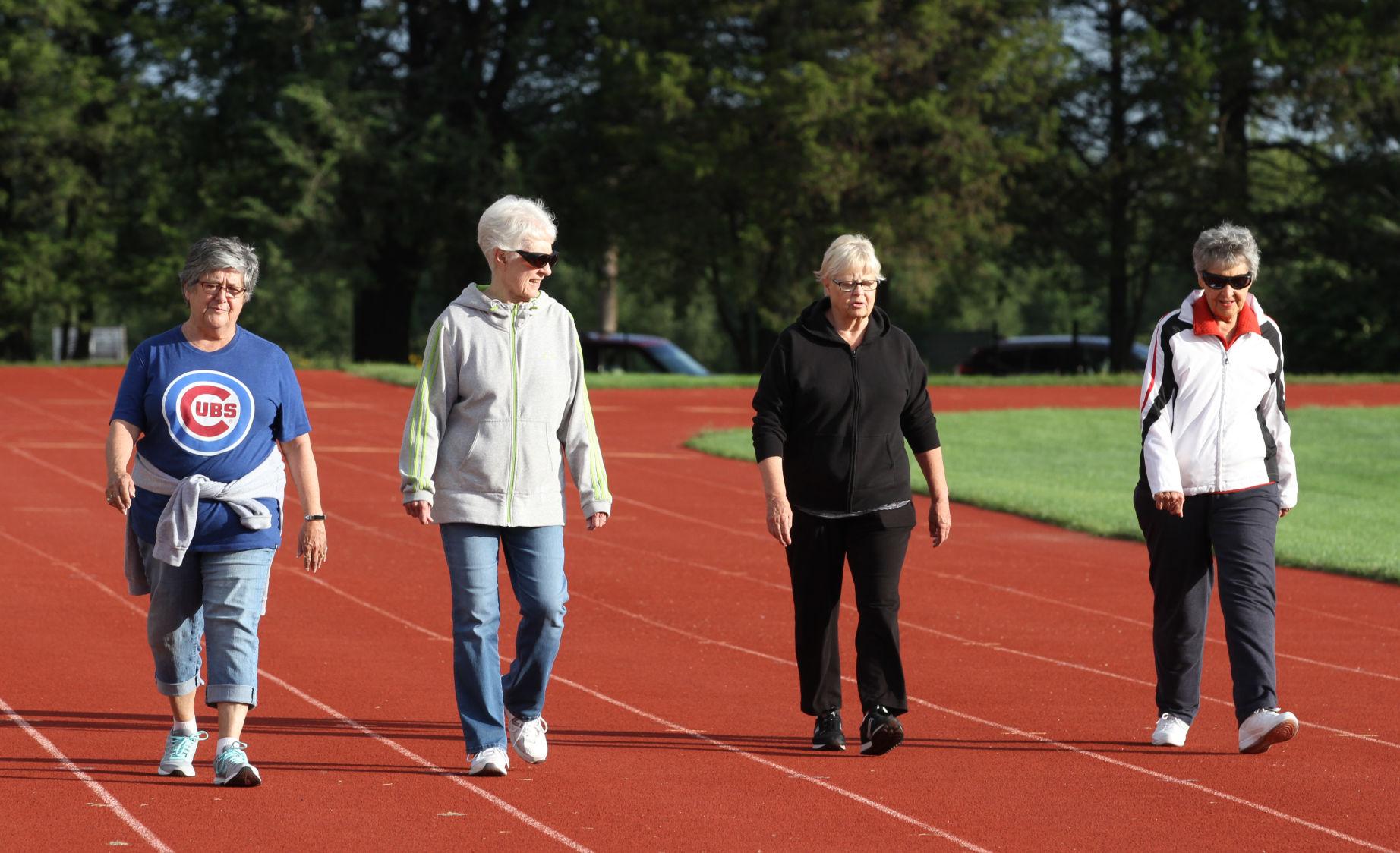 As she reflects on the club's lengthy run, Karloff said she is as surprised as anyone to see how the impromptu routine she established has stood the test of time. Averaging 75 years in age, some current members have belonged to the group for more than four decades, embracing the time as both an opportunity to keep fit and keep up with the latest happenings in one another's lives.
In addition to sharing trackside chats under the trees after their walks, the women meet for coffee periodically throughout the year to stay connected as friends. It is one of the perks that has made their longstanding arrangement so rewarding, Karloff said.
"The getting together is very much a part of it," she said. "We love to get together. If someone has a birthday, we'll usually have a coffee."
While many of the schoolteacher walkers initially limited their participation to summer months, Karloff and others have managed to keep their routine going year-round. Their cutoff temperature for walking is generally 20 degrees, though Karloff said most of the women bundle up and brave the elements whenever possible. In years past, the group moved its stroll inside the Imperial Mall when extreme temperatures arose. Days off have been few and far between.
"We walk at 8 in the morning, so it's usually not too hot then," Karloff said. "In the winter, we don our long underwear and bundle up, even if it's less than 20 degrees because we prefer walking outside."
Pat Kleiber, 81, worked in Hastings Public elementary schools for more than 30 years. Kleiber has been walking with club members for roughly 40 years.
"I love being outside, and I love seeing the change in the weather," she said. "I love the feeling of exercising my body so that I feel better all day. And the conversation is stimulating.
"I'd rather do this than meet somebody and have coffee and have something that I shouldn't be eating in my body. I feel like we're killing two birds with one stone."
Carolyn McKenzie, 80, has been stepping out with fellow walkers for more than 30 years. Retired after 36 years of teaching, she remembers how an increase in automobile traffic began to impede the group's walking routine prior to its move to Hastings High track.
"In the summer you needed a place to go exercise, so at that time, we met out by the mall when the local church bell rang," she said. "That was our signal to walk."
Eliminating traffic was but one benefit to moving their collective stroll to the rubberized high school track.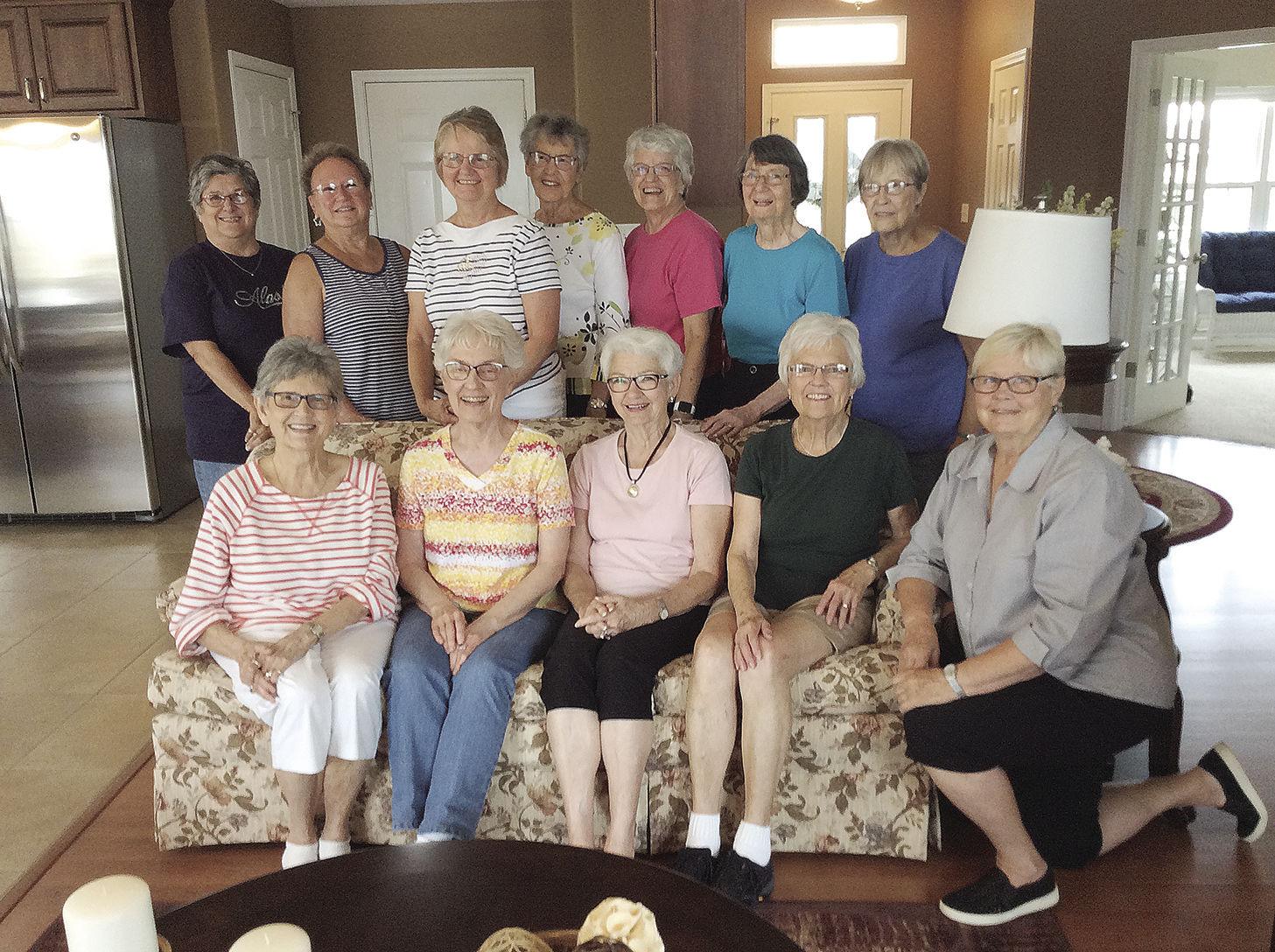 "It's wonderful," she said. "It's softer on your joints!"
While participation from multiple walkers adds accountability to the routine, McKenzie said it is the informal nature of the club that has kept her going all these years.
"It's really no commitment," she said. "I guess you just feel like you need the exercise and it's fun to do it with your friends. It goes much faster than if you're walking by yourself."
Judy Thorsheim, 79, of Hastings taught in Hastings Public elementary system for more than 50 years with her husband, Jon. A walking club veteran for more than two decades, she is among those die-hard members who refuse to allow inclement weather to stop them in their tracks.
"We're not afraid of the cold," she said. "We walk outside pretty much rain or wind. The weather doesn't stop us much unless it's icy or there's too much snow on the track."
Retired these past 19 years, she said she has grown to value the friendships she's forged on the track. Post-walk conversations serve to keep walkers connected to one another's lives, families and latest happenings within the community.
"We like to say we're solving all the problems of Hastings and the world," she said with a laugh. "We know all about each other's families and where we're going on vacation and all that sort of thing."
She said she feels especially blessed to be healthy enough to participate in the tri-weekly ritual, knowing there are others who no longer can because of health issues.
"At our age, there are a lot of people who can't do it anymore," she said. "We figure as long as we can do it, we will."