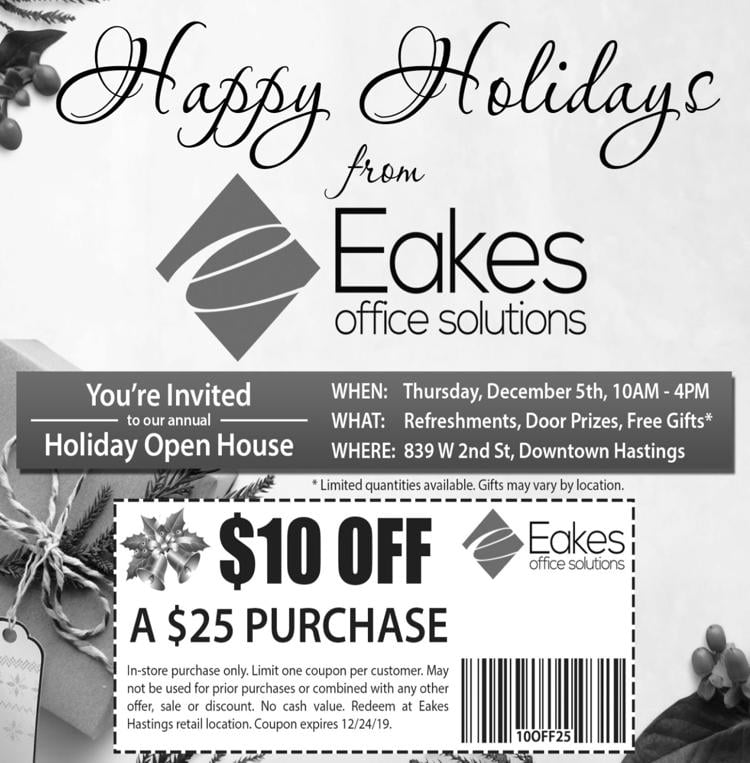 When members of the Hastings City Council meet on Dec. 9, they will act on a four-part resolution to determine the future of the 16th Street viaduct.
The four parts of the resolution are the four options presented by engineering firm Olsson for the 85-year-old structure that has been closed to traffic since the end of May based on an engineering assessment that highlighted severe deterioration to the aging structure.
Council members approved at their Nov. 25 meeting a resolution declaring the viaduct to be a public safety matter.
"There is a safety issue there, and we all know there are other issues that come with an abandoned nuisance, basically," Mayor Corey Stutte said Monday.
According to estimates from Olsson, Option 1 includes demolition of the structure, including coordination with Union Pacific Railroad, for a cost estimate of $1,464,140.
Option 2 is repairing the east abutment, removing the southern span, wrapping pillars and repairing extension contraction joints for a cost estimate of $3,095,120.
Option 3 is removing and shortening the span of the bridge over the railroad using retaining walls for a cost estimate of $12,466,370. This option includes the purchase of the former Taylor's Steak House at 1609 N. Kansas Ave., underneath the bridge.
Option 4 is a new alignment of a new viaduct structure on Eastside Boulevard from 14th Street to 26th Street, including coordination with Union Pacific, for a cost estimate of $13,014,550.32. This includes the purchase of the apartment complex on Eastside Boulevard near the tracks for $850,000, right-of-way acquisitions of Nebraska Department of Transportation land, and overhead power relocations that aren't in the public right-of-way.
Council members discussed those options during their work session on Monday.
City Administrator Dave Ptak presented financing estimates for the four options.
Property taxes for a house valued at $100,000 on a $1.5 million bond to tear down the structure range from $23.44 per year for five years to $7.50 per year for 20 years.
There are 10-year and 15-year amortization options, as well.
For a $3.1 million bond to fund extensive repairs, taxes on a house valued at $100,000 ranged from $45.44 per year for five years to $15.50 per year for 20 years.
For a $12.467 million bond to pay for a newer shorter span, taxes on a house valued at $100,000 ranged from $194.81 per year for five years to $62.48 per year for 20 years.
For a $13.05 million bond to pay for a new bridge alignment on Eastside Boulevard, taxes on a house valued at $100,000 ranged from $203.34 per year for five years to $65.07 per year for 20 years.
Jay Bleier, senior engineer for Olsson based in Hastings, was on hand to discuss the four options with the council and answer questions.
Engineer Tyler Cramer, a bridge expert for Olsson, joined the meeting by phone.
Bleier said each of the cost estimates includes a large amount for contingency and mobilization costs.
"Engineers like myself tend to be conservative because we don't want you to make a decision and then have something come up where you say, 'Geez, that's $2 million more than what we expected,' " Bleier said. "We want to give you a worst-case scenario, hoping you don't spend that much but be prepared anyway to do that."
Because the extensive repair option has a lifespan of just 25-30 years, Bleier described that option as kicking the can down the road. While the repaired viaduct would serve the community during that time, the cost for a new structure after 25 years would be far more than it is now.
He estimated the repair option would take about six months to design and nine to 12 months to execute.
Answering a question from Stutte about where the dollars make the most sense between repair and replacement, Bleier said a new structure, with a lifespan of about 75 years, likely would make better use of community dollars but a cost feasibility study would need to be done for sure.
"For what it's worth, Olsson is a member of this community," he said. "We don't want to see frivolous spending, whether it's giving you something new when you don't need it or trying to salvage something that shouldn't be salvaged."
Whatever decision is made Dec. 9 will not be made in a vacuum.
Stutte pointed out that in addition to whatever direction the council takes on the viaduct, the city already is committed to costs associated with the paving of 42nd Street between U.S. Highway 281 and Baltimore Avenue, paving of U.S. Highway 6 west of Burlington Avenue and the planned Hastings Southeast Highway 6 expansion project — all of which will add up to more than $10 million.
"This is not a single project," he said of the viaduct. "This is something we need to look at in the collective project scope that we have in this community."
Councilman Chuck Rosenberg, who has been the loudest voice on the council for keeping an overpass in the vicinity of the 16th Street viaduct, said these projects will promote growth in the community — mentioning 42nd Street by name.
"You cannot grow a community if you don't have infrastructure," he said. "These are big expenses we have, but they'll pay it back as we grow this community and we get more tax dollars in. Everybody uses infrastructure every day."
Councilwoman Jeniffer Beahm was not present at the work session, but emailed a comment to Stutte that was made public.
Beahm, who represents Ward 1 and south Hastings, wrote she did not believe investing in the repair of the overpass is a good use of taxpayer money.
She wrote her constituents in south Hastings face an inconvenience on a daily basis by having to travel miles out of the way to the Burlington Avenue underpass when a train is blocking a crossing near Elm to the east or Marian to the west.
"The old viaduct, as it stands today, is unsafe and quite frankly was meant to be torn down decades ago," she wrote. "The Highway 281 overpass is not only an adequate alternative, it was designed to be the alternative. Plus the Elm Avenue overpass is perfectly suited to provide additional access to the North Park Commons development.
I cannot support the cost of repairing the old overpass when that money could be better spent — or better yet — saved for more critical projects in the future."