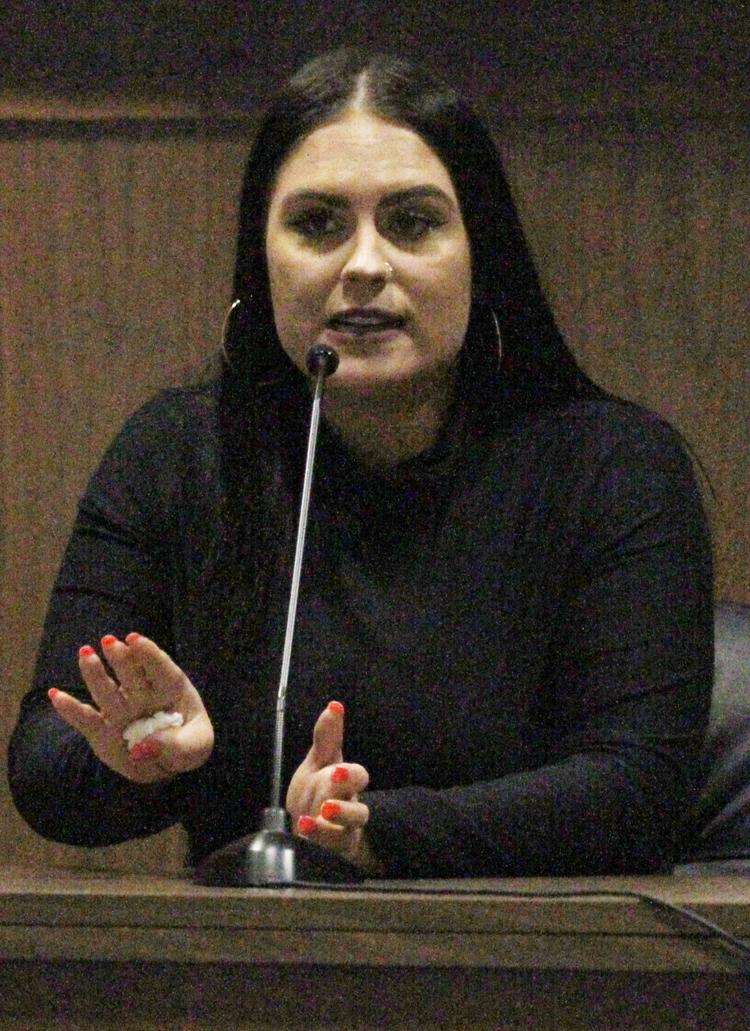 Katherine Creigh teared up a few times as she testified against her former friend on Wednesday during the murder trial of Daniel Harden in Adams County District Court.
"Does it hurt you to be here to testify in this case?" prosecuting attorney Corey O'Brien asked.
"Yeah," she said.
Creigh told the jury that she has known Harden since the two attended middle school together. She said they would contact each other and hang out regularly. He even lived at her apartment on one occasion.
"I basically considered him family," she said, later adding, "He drove me to rehab once. We were close."
Creigh said Harden was also good friends with Deante Mullen, who was her boyfriend when 19-year-old Jose "Joey" Hansen was shot and killed. She said they often hung out and consumed drugs together, which is what happened on Sept. 10, 2017, the day before Hansen died during a robbery attempt allegedly committed by Mullen and Harden.
She testified she and Mullen went to Harden's house to pick him up. They also went to get Mullen's friend, Deonte Hayes, Hayes' girlfriend Serenity Crossfield, and the couple's baby.
The group went to Creigh's house, where most of the group started consuming various drugs and alcohol. During the evening, she said Mullen pulled out a Draco firearm and showed it off.
Hayes also brought up the idea of "doing a lick," which is robbing someone of drugs or money. Creigh said Mullen started looking for a person to set up for a robbery.
She testified Harden didn't participate in the conversation too much.
"Just that he's down and he needed money," she said. "It was mostly Deante doing all the talking and setting it up."
Hayes and Crossfield testified in the case on Tuesday.
Crossfield said that Mullen did most of the work on setting up the deal, but Harden took part in the conversation about potential targets. She said she went to bed about midnight.
Creigh said Hayes seemed to be out of it shortly after arriving. Eventually, he threw up on himself and went to lay down in the back bedroom where the child and Crossfield were sleeping.
Hayes said he didn't remember too much and most things he knows about that night have been based on stories from other people.
"Everything is blurry so I can't remember," he said.
While he couldn't recall specifics about the night, Hayes said he didn't have anything to do with Hansen's death.
Creigh testified she saw Mullen and Harden leave the house after Mullen grabbed the keys to her white Chevy Tahoe. She said they were gone about 15-20 minutes before they returned.
She testified that Mullen came into the house first and appeared to be shaken up with tears in his eyes.
"He raised his hands up and said, 'He shot him. He shot him,' " she said.
She said Harden came inside moments later, changed clothes in her bedroom and left without saying a word.
Creigh described Harden's expression at the time as "vacant."
Crossfield testified that she woke up at one point and heard Mullen and Creigh sounding scared in the other room. She said she didn't hear Harden's voice or any doors opening or shutting before going back to sleep.
Creigh said she and Mullen realized he didn't have his cellphone. She said Mullen checked the Tahoe and couldn't find it so she drove back to the scene of the incident with Mullen directing her.
She said they saw the phone sitting in the street, describing it as laying in gravel, but didn't see Hansen's body until defense attorney Clarence Mock showed her a photo of Hansen's body as it was found. Creigh turned away from the photo and wept.
Mock suggested she would have had to have seen Hansen's body because it was laying in the alley, the only graveled area nearby.
Creigh said she didn't really look around. She just grabbed the cellphone and a package of cigarettes also on the ground and hopped back into the vehicle.
The following day, she said they learned that Hansen had died and Mullen wanted to get out of town. They packed up to go to stay with Mullen's mother in Lincoln. Hayes, Crossfield and Harden went with them.
In Lincoln, Mullen was arrested on an outstanding warrant and Creigh was detained for questioning by the Hastings Police Department.
Creigh said she lied to police, telling them that she and Mullen had been at the house all evening because they were sick.
"If I said anything, I feared my life would be in danger," she said.
It wasn't until her arrest that she and her attorney decided to offer information for a lighter charge. Creigh accepted a plea agreement that would drop her felony accessory charge to a misdemeanor of obstruction.
She said she kept the information from Mullen, even though they broke up shortly after being arrested. She maintained contact with Mullen's mother, but didn't tell her about the deal.
"I did not want her or Deante to know that I was saying anything to the police," she said.
Prosecutors also offered physical evidence in the case.
Dr. David Jaskierny, a pathologist in Omaha, conducted an autopsy of Hansen and concluded that he died of a gunshot wound. He said the bullet passed straight through Hansen's body, traveling from right to left, and from back to front. He said there is no way to determine what position Hansen would have been in when he was shot.
Brandy Porter, a biologist previously with the Nebraska State Patrol Crime Lab, testified to DNA tests conducted on various items including blood found in the street and items collected from the Tahoe. None of the DNA samples she testified to matched Harden.
The state rested its case Wednesday and the defense began presenting evidence. The defense's case will continue Thursday.
Harden is on trial for first-degree murder, use of a firearm to commit a felony, and conspiracy to commit robbery.
First-degree murder is a Class 1A felony punishable by life in prison. Use of a firearm to commit a felony is a Class 1C felony punishable by five to 50 years in prison. Conspiracy to commit robbery is a Class 2 felony punishable by up to 50 years in prison.