DEWEESE — With the highly publicized movement afoot to storm a highly classified Area 51 federal facility for answers on the paranormal in the news this week, a small group of diversified Bigfoot researchers from multiple states converged on cabin property near the federal U.S. Meat Animal Research Center near Clay Center Friday with similar motivation in mind.
But attendees at the Giants and Bigfoot campout in Deweese weren't out to overthrow the government or break any laws during their overnight stay. Their mission was to hear two prominent personalities in paranormal studies disseminate information on Sasquatch at a location where sightings allegedly have occurred. Organized by Harriett McFeeley, host of the annual Bigfoot Conference in Hastings who runs the Bigfoot Museum here, the campout included presentations by explorer/author Don Monroe of Lima, Montana, and image analyst M.K. Davis of Yazoo, Mississippi.
Though rain put a damper on plans to explore the property for clues to the possible presence of Bigfoot activity there, campers did report hearing sounds that suggested they were not alone during the campout. Reports of grunting sounds, scratching sounds and a distinct "Whoop," (a sound frequently attributed to Sasquatch) were brought to light during discussions between presenters and campers Saturday morning.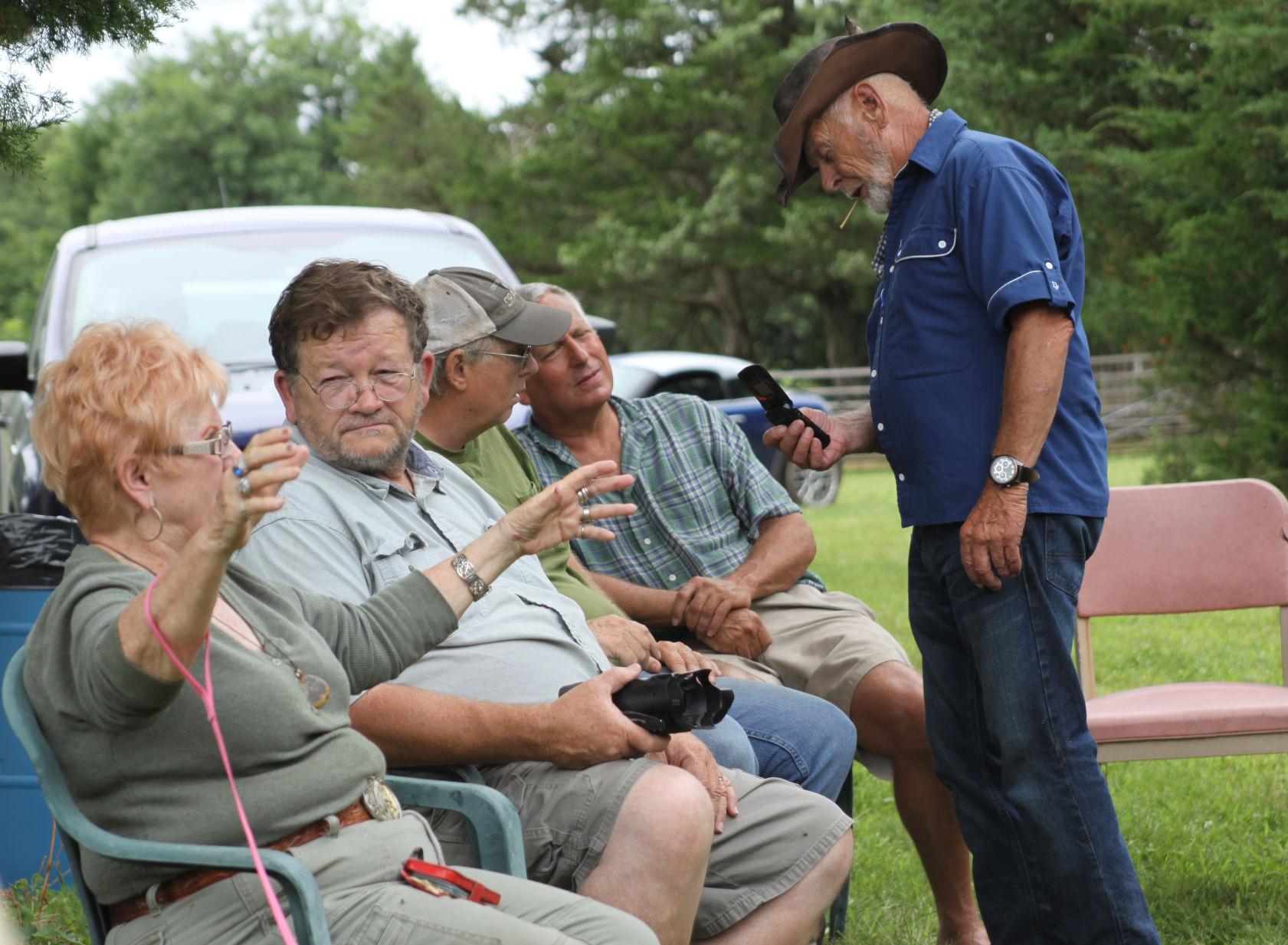 Monroe, 83, has been exploring caves, ancient civilizations and the paranormal for more than 60 years. Having encountered such unexplainable phenomenon as ghost wolf apparitions and the remains of giants during his numerous delving into cryptozoology, the author of four published books now speaks almost matter of factly of his encounters with Bigfoot through the years, including his most recent sighting of three creatures while "squatching" with Davis just three weeks ago at Bluff Creek in Northern California. He and Davis have revisited the site where the famous Patterson-Gimlin footage of "Patty" was captured in 1967. Davis even captured footage he now believes to be Bigfoot while taking stock footage of the area in 2006.
"I'm not a believer, I'm a knower," Monroe said. "I've seen them several times. I was told by a fingerprint expert years ago that it (Bigfoot) has most of our known blood lines — and something else — mixed with it. That something else is the question: We don't know what that is. I call them feral wild people or Wild Man.
"I was impressed immediately by what I saw here in Nebraska. I see real possibilities for them to live here very easily. There is lots of cover, endless food, from fish to fowl, waterways and corn."
Monroe said the true merit in the weekend's campout is that it provided a forum for those with similar experiences to disseminate and gather information from others equally eager for answers on the creature's identity. And if he and Davis can serve to keep that conversation going, they perform a service that one day may provide evasive answers to its origin and ancestry.
"We're the horse's mouth," Monroe said. "And not just us, but so many people in the Bigfoot community who are valid. We have presented the facts as we know them short of the total conclusion. But I do know they exist. There's no doubt about it."
Davis is perhaps best known for his enhancements of film footage taken of President John Fitzgerald Kennedy's assignation by Abraham Zapruder and Orville Nix. His latest advancements applied to the Patterson-Gimlin footage can be viewed online at https://thedavisreport.wordpress.com/.
"I'm often asked, 'Why isn't there definitive evidence of Bigfoot?' " Davis said. "Well, there is definitive evidence. The problem is the bar is too high for that type of thing. The things that normally work that put things in textbooks do not work with Bigfoot. People are very dismissive about it.
"There's an old saying that if you can improve an image by 1 percent you'll see 10 new things. The Patterson-Gimlin film holds true to that. At some point and time you just have to say, 'Wait, this is a much better film than anybody ever told us,' and re-look at this event."
Working with high-quality original frames obtained from "people associated with the film," Davis was able to correct most of what he considered the fatal flaws found within the film. Using the latest stabilization, lensing correction and processing techniques, he has produced a version of Patty's walk that he believes provides definitive proof of her existence. His hope is that someone credible in academic circles will seize upon his newly enhanced footage to prove once and for all that Bigfoot is, in fact, real.
"We have a system set up where we pay professional people to explain our world to us, and sometimes we don't get our money's worth," he said. "It's past the point of being real. The next question should be, 'What is it?' I think it's probably an archaic person, meaning a person that is of an older style that they thought was long gone off the Earth.
"I think this is a grand opportunity to get some kind of a grip on it. Film is the best evidence. You can't beat film. Let the film tell you what is on there and what occurred rather than spend 50 years like they have being tugged back and forth by different ideas, most of them driven by theories that don't have a lot of hard facts behind them."
Art Wach, 55, and his brother own the cabin property in Deweese where the campout was held. He said he first observed what he believes are signs of Bigfoot activity on the property in 2010.
"I first heard a 'Whoop!' " he said. "I've also seen tree breaks, heard howls, and been screamed or yelled at really close. Last December I heard a double wood knock (a sound Bigfoot are said to make to make their presence known) and saw footprints in 2015 and on April 19 this year."
Wach befriended McFeeley at her annual Bigfoot Conference and is convinced his property is frequented by at least one creature. That campers over the weekend reported hearing sounds they believed may have been Bigfoot activity simply reinforced his assertion his property may in fact be occupied by inhuman squatters.
"I think it was pretty good," he said of the campout. "I liked making new friends and just getting more knowledge about more stuff. It was a small group, so we really got to know each other."
Forrest Simpson, 64, is a retired lawman from Bandon, Oregon. He discovered the Bigfoot Museum while searching online for things to do in the area and registered for the campout upon completing the tour.
"I was absolutely fascinated," he said. "I don't know if I believe or I don't not believe. It's one of those things where I don't know that I need to see or hear one to believe because there are so many credible people who have witnessed and experienced them.
"There was a guy in Bandon who put together a whole book of sightings in Coos County that goes back years, with statements from people he talked to. There were timber cutters, timber markers, timber rangers, so many credible people who had nothing to gain but things to lose professionally for saying 'I've seen Bigfoot.' "
Intrigued by both campout presenters, Simpson said he plans to expand his book collection with a series of books recommended by Davis on Bigfoot and giants.
"It was almost too much information to absorb at one time," he said. "I'm an avid reader, so I'm looking forward to when I get home to make Amazon.com my friend: Find the book, order the book!"
Artist Shelly Bible, 48, of Minden always has wondered if the dark figure she saw lingering under an overpass while driving to the a medical appointment in Omaha in 1991 may have been the elusive creature. Her experience at the campout solidified her belief in Bigfoot, she said.
"It was real and it was fun," she said. "I can't wait to do it again. I wanted to see a real Bigfoot — I really, really wanted to — so I was hoping we'd go down and knock on trees or 'Whoop' or whatever. I'm kind of disappointed in that we didn't, but it was too muddy."
Studying an image of Patty displayed on a a poster brought by Davis made her feel pity for the fleeing creature, she said.
"The way she was looking made me feel bad that she got her picture taken," she said. "You could tell that she was horrified."
Patrick McWilliams, 52, of Denver is a hospital PBX operator who has attended all three Bigfoot Conferences in Hastings. A member of the Sasquatch Investigations of the Rockies (S.I.R.) team, he has been following Bigfoot events since 2015, when he encountered what he believes was a Bigfoot at close range while hiking with his dog in Bailey, Colorado, in 2015.
McWilliams said he heard a "whoop" and scratching outside of his tent at about 1:30 Saturday morning during the campout. The subsequent scratching seemed to be coming from the dark side of his tent.
"I also thought I was hearing a little grunting going on, but I wasn't sure," he said. "In hindsight, I think there is probably something here. And yeah, I'd say there's probably some type of Bigfoot or Sasquatch out on the property."
Finding the presenters to be entertaining and informative made the campout an exhilarating experience, McWilliams said.
"I had fun listening to Don, M.K. and Art and talking to the other people here," he said. "I don't dismiss the idea there are Sasquatch in Nebraska. There's a corridor they travel, and finding all kinds of stuff in Colorado, why wouldn't it make sense in Nebraska?"
Bob Wills, 65, of Hastings is retired from a security position at Hastings College. He encountered what he believes were Bigfoot in Oklahoma and Kansas in 1983 and 1992. Awakened by scratching sounds on his camper door just after 1 a.m., he ventured to the camp site area near the cabin to see if someone may have been trying to get his attention. All were apparently asleep when he arrived.
"So what was it, you know?" he said.
The unexplained noise merely added an element of intrigue to what had already shaped into an engaging event, Wills said.
"I thought it was great," he said "I thoroughly enjoyed it."
Stan Mangers, 58, a seasonal fair employee, called the campout "the most different thing I've ever been to in my life." Having experienced mystical visions himself unrelated to Bigfoot, he said the event validated his belief in the existence of the evasive creature.
"I think it's real," he said. "Don and M.K. are amazing! I'm glad I went."
McFeeley said she regards the campout to be her most poignant Bigfoot event to date. Considering the lineups she's brought to previous Bigfoot events, such was high praise indeed.
"Jeff Meldrum (anthropologist and noted Bigfoot speaker) said, 'In every legend there is a bit of truth and in every truth there is a bit of legend,' " she said. "That's kind of the way this whole weekend was. We learned from M.K. and Don and the others that going back to things they thought were legend had way more than a bit of truth to them.
"I think the fact that attendance was so small was good (because) we could get personal and intimate with them (the presenters). We got to know them and could ask them questions and get them to explain and clarify. I thought it was terrific.
"They weren't just some guys standing up there on stage talking. They made the whole thing personal."
Monroe and Davis will give a condensed encore presentation of their weekend talks at a special event at 7 p.m. Monday at the Bigfoot Museum, 1205 E. 42nd St. The presentation is free with paid admission into the museum.
For information, call 402-705-0000.