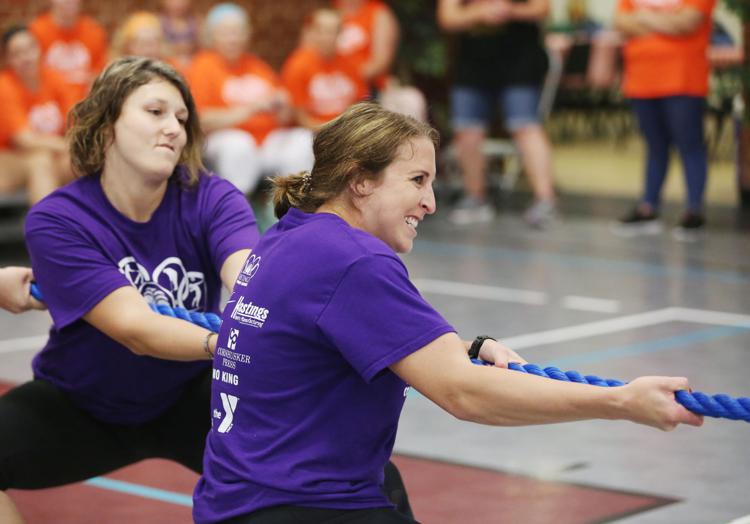 Organizers of the second annual Hastings Community Olympics had to get a little creative on a wet and soggy Saturday.
Despite rain Friday and throughout Saturday morning, only three events had to be canceled: miniature golf, key log roll and capture the duck flag.
"Everything else we improvised," said Ryan Martin, recreation superintendent for the Hastings Parks and Recreation Department.
For instance, instead of taking place in Lake Hastings as planned, the tank races occurred on the community center court. One team member pushed a second team member riding in a tank on rollers through a timed obstacle course.
"Big G was gracious enough to lend us some scooter parts," Martin said. "(Participants) actually had a really good time with it. It was fun."
Sponsors for Hastings Community Olympics included the Hastings Family YMCA, Mary Lanning Healthcare, Pastime Lanes, Cornhusker Press, Hastings Equity Manufacturing and Thermo King.
Had the tank race happened as planned, participants would've paddled tanks from the boat ramp to the buoy and back as a timed event.
"It actually worked way better than I thought it would," Martin said of the revised competition.
The final event, tug-of-war, and award ceremonies were supposed to take place at Chautauqua Park. Instead, they occurred about 45 minutes early inside of the community center.
Hastings Community Olympics saw a new champion this year.
Among the six competing teams, it was Smartlinks, representing Mary Lanning's information technology department, that took home the championship this year.
Defending champion Pacha Soap finished third.
Smartlinks had a consistent performance, earning points in seven of the nine events including first place in the quiz bowl on Friday and volleyball on Saturday.
"We thought that was a good opportunity to get a group together," team member Jamie Tinsman said. "We're a group that works closely together."
Mary Lanning's wellness department promoted participation in the Hastings Community Olympics.
Teams representing Mary Lanning Rehab and Mary Lanning's Hastings Family Care also participated in the Hastings Community Olympics.
"It was well organized with great people to go against," Tinsman said.
Mary Lanning Rehab finished fifth, but the team took home a prize of its own.
While visiting the Hastings Police Station as part of the scavenger hunt, the team found a kitten inside the station.
"We were excited. We thought it was the police mascot," team member Becky Krumm said.
Participants had to get a photo with a police officer as part of the scavenger hunt.
Mary Lanning Rehab team members asked the police officer with whom they took a photo whether the kitten was a mascot for the station.
"He said 'No, we don't have a mascot,' she said. "He said if anyone drops an animal off there they have to take it to Heartland Pet Connection."
Krumm, whose family has been looking to own a cat for while, received permission to take the feline home to her sons, ages 11 and 6.
She was cradling the kitten during the award ceremonies.
"It'll have a good home," she said.
Martin wasn't sure what to make of the situation when the Mary Lanning Rehab team returned with a cat.
"I was joking with them that that's not on the scavenger hunt," he said. "They laughed and got a big kick out of it."
Team results