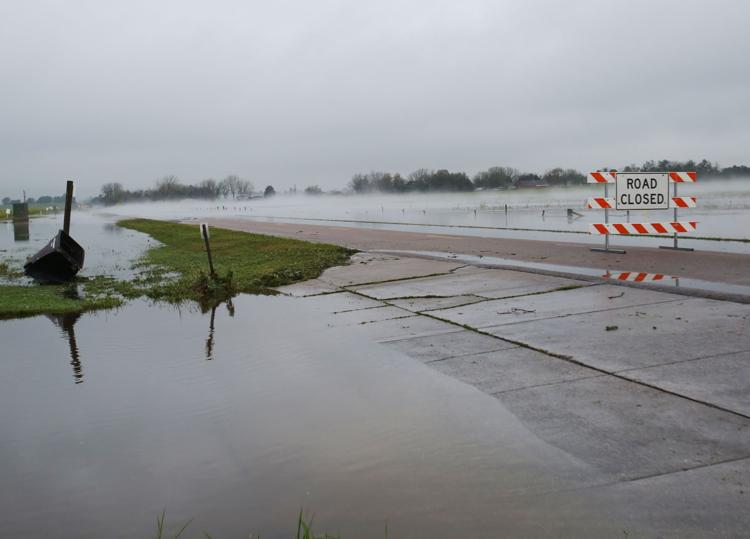 Heavy rain, powerful winds and hail struck Hastings and the surrounding area early Friday morning in a storm system that kept residents up late with lightning and thunder and created big problems with road flooding in the northern part of Adams County.
Up to 7 inches of rain fell at locations in the county, and pea- to golf ball-size hail also was reported from the storm that struck the area about 3 a.m., said Ron Pughes, Adams County Emergency Management director, in a news release late Friday morning.
Greg Anderson, assistant highway superintendent for Adams County, said the county roads that received the most damage were straight north of Hastings.
"People need to watch out for flagged areas because we're out of barricades again," he said.
He started calling in county crews to work before 4 a.m.
"Several roads were closed due to water over the road and washing out the road," Anderson said. "We're going to be looking at some pretty substantial damages again."
Roads in certain parts of Adams County already have sustained quite a bit of damage this year due to previous storms.
The Adams County Board of Supervisors approved on Aug. 6 hiring Big Red Bunks of Doniphan to help haul dirt to construction sites in the county.
Anderson said those sites where roads previously were washed out fortunately didn't get hit too badly on Friday morning.
"All of our work that our contract haulers have been going to has been down in the southwest part of the county," he said. "We're going to keep plugging away at them come next week if at all possible."
After the area north of Hastings was hit hard, water from the storm started flowing southeastward through creeks.
"I'm getting calls now that it's over certain roads now that it wasn't before," Anderson said Friday afternoon. "It's just going to have to run its path, and then we'll see what it's done. We have a lot of places north of Hastings where gravel's washed off the road."
Friday morning's storm was loud, intense and punctuated by heavy wind. The National Weather Service reported a peak gust of 76 miles per hour at the Hastings Municipal Airport. A light helicopter parked at the airport was reported blown over at 2:59 a.m.
North of Pauline in southern Adams County, gusts estimated at 60-65 mph were reported between roughly 3:30 and 3:50 a.m.
Drifts of white hail remained visible on the ground Friday morning on Hastings' west side, and cornfields just west of town showed severe crop hail damage. Damage was reported at locations including the YWCA of Adams County, 2525 W. Second St.; and Prairie Loft Center for Outdoor and Agricultural Learning, on DLD Road south of the Hastings Regional Center campus.
The Adams Central Public Schools near U.S. Highway 6/34 and Adams Central Avenue were closed for the day due to an overnight power outage. Power reportedly was restored to the campus early Friday morning, but too late to reverse the decision to cancel classes.
Superintendent Shawn Scott said damage was limited to some hail damage on vehicles. Scott said a rumor about the athletic wing flooding was false. Some water did seep in under doors, but there was no damage.
"I hate to have a day of school like this, but it's better to be safe than sorry," he said. "I appreciate everyone's understanding."
Hastings Middle School, Second Street and Marian Road, lost power briefly during the early morning, but power was restored around 6:30, said Jeff Schneider, superintendent of Hastings Public Schools. Schneider suspects hail covered up some drain pipes, causing leaks in the building.
No other HPS school buildings were damaged in the storm, he said.
While HPS buildings saw little damage, the middle school's garden was destroyed. Jayson Stoddard, a middle school teacher and garden caretaker, changed his lesson for the day to one about "changing perspective" to keep the students positive.
Many of the students were heartbroken to see what had happened to the garden overnight, he said.
"It's gone," he said. "The garden looks like it went through a paper shredder."
Students will be helping to clean up the garden on Monday evening.
Lee Vrooman, director of operations for Hastings Utilities, said most outages were west of Marian Road and farther west — into the Southern Hills and Westbrook neighborhoods and the village of Juniata.
HU crews started restoring electricity to that area beginning 7:30 a.m.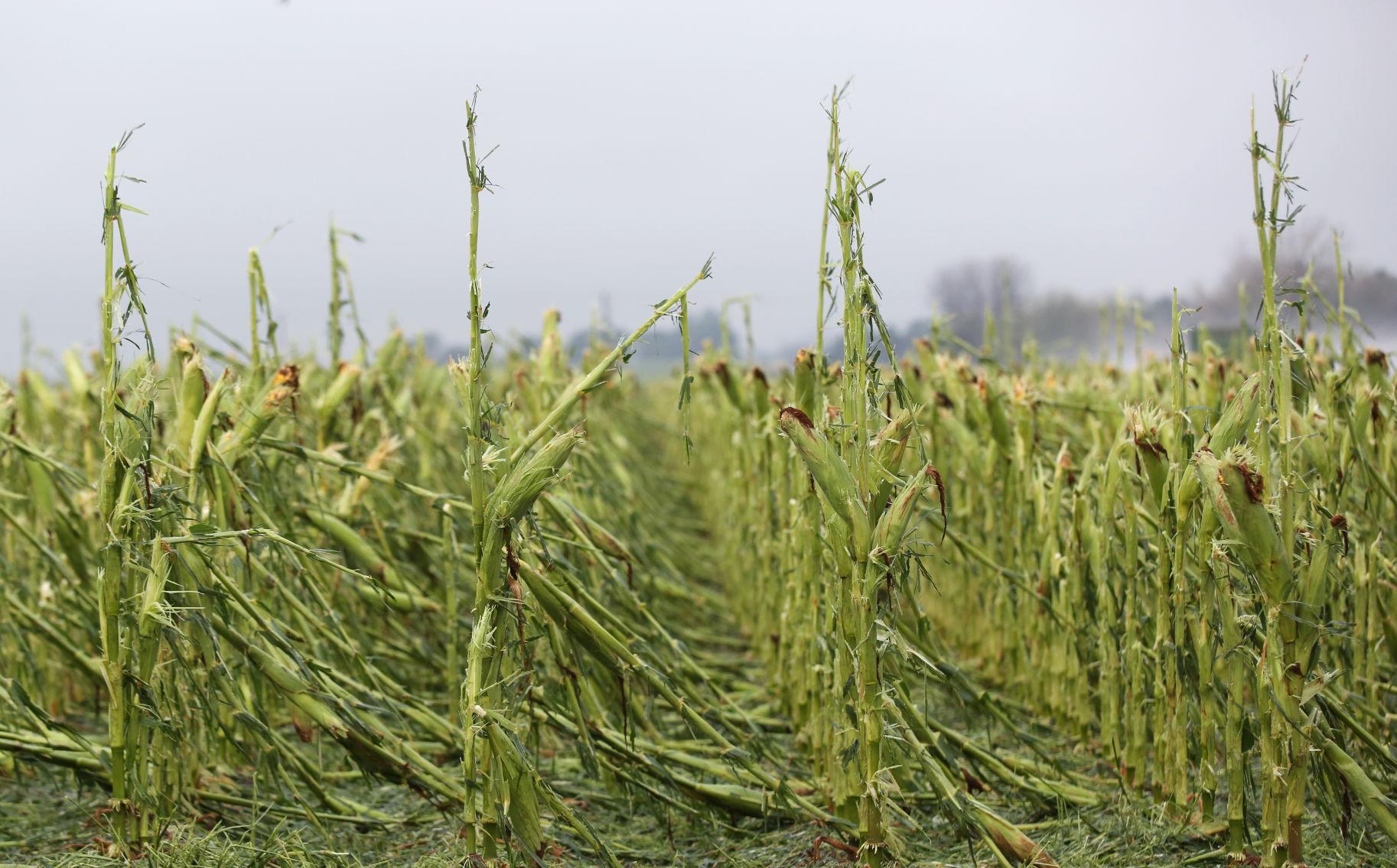 Industrial Park West sustained broken poles that crews still were replacing Friday afternoon.
Vrooman said there were a couple other isolated outages in west Hastings.
He said the outages were caused by lightning strikes causing fuses to blow and from high winds slapping power lines together.
Hastings city street crews were out clearing streets of debris at midmorning and planned to continually monitor and clean storm sewers heading into the weekend.
Leaves stripped from trees have the potential to clog the inlets, and city officials were hoping to avoid additional flooding in the event of more rainfall in coming days, the city said in its own midmorning news release.
City crews won't be picking up downed branches from terraces like they did after previous storms this summer. The city landfill is open 8 a.m. to 4:45 p.m. Monday through Friday and 8 a.m. to noon Saturday for residents bringing out their own tree debris. Vehicles must be unloaded and out of the landfill by the stated closing times.
Meanwhile, Hastings police were reminding residents Friday morning not to drive through flooded streets.
At the Adams County Fairgrounds, where the Oregon Trail Rodeo was scheduled to begin Friday evening, Manager Jolene Laux said the arena received minor damage that would be repaired during the day on Friday.
Laux said the areas where the contestants would go within the arena were in fairly good shape.
"We did have some panels come down, and we're working getting all that stuff back up — banners and stuff like that," she said Friday morning. "Otherwise, the condition for the contestants is good."
At Hastings High School, the scheduled football scrimmage was to go forward at 6:30 p.m. Friday on the practice field as planned. The Back to School Color Bash that was slated for 8:30-10:30 p.m. was canceled due to wet conditions in the area around the practice field.
The storm also caused damage to the building of the YWCA of Adams County.
Sonia Klouse, assistant executive director, said officials discovered that four garage doors had been damaged in the storm and an area housing equipment for the after-school program, The Zone, had been soaked.
"It's pretty devastating," she said. "We're sad about the stuff for the kiddos."
Luckily, she said, prom dresses toward the front of the facility weren't damaged. The offices also weren't damaged, so they were able to open as normal on Friday.
She said The Zone will begin on Monday as scheduled, but they will be short some items until they are replaced.
In the north part of the city, Greg Spady, owner of Jerry Spady Chevrolet GMC Cadillac, 2750 Osborne Drive East, said floodwaters intruded upon the business parking lot for the second time this year.
He said service appointments had to be canceled and the dealership had to close for a time Friday morning because both entrances to the parking lot were blocked by water over the road.
"We have this happen about every other year," he said. "We have learned over the years to know when it will be an issue."
Once they believed the water would be a problem on Friday, Spady said, they started moving cars off the lot and had about 98 percent of them out before the flooding reached the lot.
Spady said he felt lucky that they didn't experience hail with the storm, which could have caused more damage.
By Friday afternoon, the waters had receded to allow the cars to be brought back onto the lot and the business to reopen.
According to the Nebraska Rainfall Assessment and Information Network, area rainfall totals for the 24-hour period that ended 7 a.m. Friday include 4.54 inches west of Doniphan, 4.02 inches about five miles northeast of Juniata, and 2.78 inches two miles west of Hastings.
The Grand Island-Hall County Emergency Management Agency issued a Friday morning news release warning that water was running over several county roads in the Doniphan-Alda- Wood River area.
At midmorning on Friday, Hastings Fire and Rescue was dispatched to help rescue officers of the Hastings Police Department who were stuck behind a flooded road.
Fire Chief Brad Starling said the officers had been out at a shooting range near Showboat Boulevard and 12th Street as floodwaters rose in the area.
"We were asked to assist in evacuating their training range at Showboat," he said. "They found the road they had taken to get in there had flooded over."
As firefighters coordinated rescue efforts, the officers were able to find a route out along higher ground.
But Starling said the issue highlighted another problem as the rising waters encroached upon a section of Showboat Boulevard.
Just as the officers did, Starling reminded motorists to pay attention to their surroundings and make sure not to drive over areas covered in water. If the road has washed out beneath, it could create a hazardous driving condition.
"It's not worth driving through a flooded roadway," he said. "You don't know what's going on underneath."
If citizens should find themselves in a situation where they are stuck behind a flooded roadway, Starling said, they should seek high ground and call for help.
Motorists are urged to respect barricades and remember that gravel roads are extremely soft, so not much water is needed to push a vehicle off the road.
"If the people are going to get onto the county roads north and east of Hastings they need to be very, very careful," said Anderson, assistant highway superintendent for Adams County. "It hit a swath in there, and it was a pretty direct hit."
In both Adams and Hall counties, motorists are urged to use caution when driving. Adams County noted the potential for downed tree leaves and other debris to make roads slippery or otherwise pose travel hazards.
Pughes, the Adams County emergency manager, also urges residents cleaning up tree damage to follow safety procedures when moving, cutting or handling large limbs or trees.
All damage should be recorded photographically as soon as possible for insurance claim purposes, Pughes said.
***
Tribune journalists Tony Herrman, Will Vraspir, Jarad Johnson, John Huthmacher, Laura Beahm and Andy Raun contributed to this report.