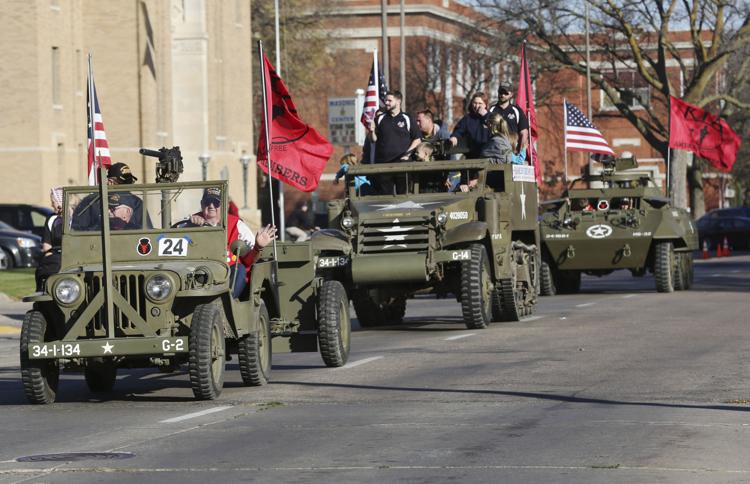 Nebraskans representing the five U.S. armed forces service branches will serve as grand marshals at the Hastings Veterans Recognition Parade at 10 a.m. Saturday.
Marshals representing their respective U.S. military branches in this year's parade are: Hastings residents Dale F. Musgrave, Army; Willis "Gale" Bullard, Air Force; Marcus Fitzgerald; Marines; Darrell E. Moyer, Navy; and Omaha resident Randy Evans, Coast Guard.
The parade, hosted by Hastings Area Chamber of Commerce and the Masonic Center, includes participation by area businesses and veterans and is expected to draw hundreds of patriotic locals in recognition of those who answered the call to protect and defend the nation through their service.
Parade entrants may simply show up the day of the event to register at the Masonic Center, 411 N. Hastings Ave., from 8:30-9:30 a.m. There is no charge to participate in the parade, and veterans are invited to march or drive along the parade route and be recognized.
Marshals were chosen by parade committee officials from a pool of applications of honorably discharged veterans submitted by family members and friends throughout the year.
Four of the five representatives selected (Evans was unable to attend) were presented with customized plaques during a recognition dinner Oct. 23 at the Masonic Center. Those in attendance all said they were humbled by the honor to represent their respective branches.
"It's an absolute honor," said Fitzgerald, who attained the rank of corporal and received more than a dozen awards, ribbons and citations during his time served from 2001-08. "Even after this long to be recognized for my service is a real big honor to me. I feel very humbled. I feel like there are other veterans who probably deserve it more than I do from the Vietnam and Korean War eras, but I am proud to represent the Marine Corps here tonight.
"Ever since I was young, I wanted to be a Marine. To be honest, it was the uniform at first. I felt like the Marine Corps was the elite branch, and I really wanted to become a Marine, even early on in high school."
Having enlisted prior to the terrorist attack on Sept. 11, 2001, he suddenly found himself deployed overseas in wartime duty.
And while he felt prepared to carry out his duties, the reality that he would be facing life-and-death combat situations took some getting used to, he said.
"My trip to Iraq and the battle of Fallujah was definitely the highlight of my career that stands out," he said. "It was intense. Every day you just didn't know if that was going to be your last day. I'm honored I was able to do it.
"You almost come to be OK with it. As you're doing your day-to-day thing it becomes normal and you just kind of accept the fact that an IED (Improvised Explosive Device) could go off and you could die, or you could get shot by a sniper. I'm glad I made it out alive: Some weren't as fortunate. That helps me go on living life the best I can to honor the ones who didn't make it back home."
Musgrave, a Bronze Star and Purple Heart recipient, served as a door gunner for the Army in Vietnam from 1962-64. His swift actions taken to remove explosive warheads during a helicopter mission saved the helicopter and crew.
He said it was the camaraderie between himself and his fellow soldiers that enabled him to persevere during his most dangerous combat missions.
"You had to work together," he said. "I worked with three guys who were lifers every time I flew on a chopper, and it teaches you a lot."
He said it is flattering to be honored by the community for his service in battle, though he considers himself but one of many who risked all for a grateful nation.
"I never expected anything like this," he said of his Grand Marshal designation. "I think it's great."
Moyer split his time in the U.S. Navy stationed in Hawaii and Australia from 1946-49. He credits his father for encouraging him to enlist — a decision he said he never regretted.
"I didn't like school, and Dad said, 'Why don't you get out and do something?'" he said. "I said, 'OK, I'll go in the Navy.' So they signed me up and I went.
"Every young kid should have that experience. You don't get by with anything. You try acting up and you end up in the brigs, treading water! I learned not to get into trouble."
While serving on the aircraft carrier USS Shangri-La, he helped blow up land mines with the ship's deck guns.
"I didn't think I'd live this long," the 91-year-old said. "I was on a big aircraft carrier and we had 3,000 men on it. We were about 100 miles away from ships that were blowing up. It was loud."
Ascending to the rank of fireman first class, he assumed boilerman duties on the ship and was honorably discharged in 1948.
Bullard served 28 years in the Air Force, retiring as a colonel in 1993. A Gulf War veteran, he served as nurse anesthetist and earned multiple awards and ribbons, including two Bronze Stars.
"I feel great about it," he said about his selection as grand marshal. "I feel great about my military experience. I went in as a certified nurse anesthetist and served from 1967 to 1993.
"I was a full colonel over there in the Gulf War, so I was the ranking guy in our unit. I loved it."
Bullard's assignments included stints in multiple states, including North Dakota, Texas, New Mexico, Colorado, and abroad in Saudi Arabia and Turkey.
A member of American Legion Post No. 0011 in Hastings, his post-retirement years have included multiple assignments at St. Michael's Catholic Church, including service with the parish council, Knights of Columbus, choir, and as lector.
Evans served in the Coast Guard from 1972-76, continuing in the reserves through 1999. His duties included weather patrol 500 miles south of Greenland, launching balloons to monitor air speed in upper atmospheres. He also was on iceberg patrol, a unit launched shortly after the Titanic's ill-fated collision with an iceberg in the North Atlantic Ocean in 1912.
As a Coast Guard reservist, he boarded ships in search of illegal drugs. Among his many stops performing Coast Guard-related duties was Governor's Island in New York, which forever changed his once-jaded opinion of the Big Apple.
He now teaches boat safety classes and performs safety checks on boats to ensure they meet state and federal safety requirements.
He is thrilled to be able to bring attention to the Coast Guard through his role as grand marshal in this year's parade.
"A lot of people say, 'Coast Guard, what's the Coast Guard?'" he said. "This gives good exposure to it.
"I joined the Coast Guard because when I came out of high school, I didn't know what the heck I wanted to do with my life. The more I found out about it, the more I enjoyed it. There are so many jobs available in the Coast Guard that can help you get pointed in the right direction."