The cornerstone from First Congregational United Church of Christ's first location was placed in the current church building on West Seventh Street.
Pastor Jessica Palys is pictured Wednesday at First Congregational United Church of Christ. The chuch is celebrating 50 years at its current location in Hastings.
It is no longer the only Christian congregation in Hastings, nor is it the largest. But as it celebrates 50 years in its current building at 2810 W. Seventh St., First Congregational United Church of Christ continues to make and leave its mark on the community.
The church will commemorate its 50th year at its third location with a church family reunion on Sunday that will include a special 10 a.m. remembrance service with alumni choir followed by brunch served in Grabill Hall. Past members who've moved away are invited to join the celebration.
First Congregational, the oldest organized church in Hastings, held its first services around a covered wagon with its 13 original members in fall 1871. From there, services were moved to a sod house on West Second Street near Briggs Avenue.
In 1873, a Sunday school was established to serve all denominations. As membership grew, worship services were hosted in various houses and buildings around town until the first First Congregational Church was constructed at Third Street and Lincoln Avenue in 1879.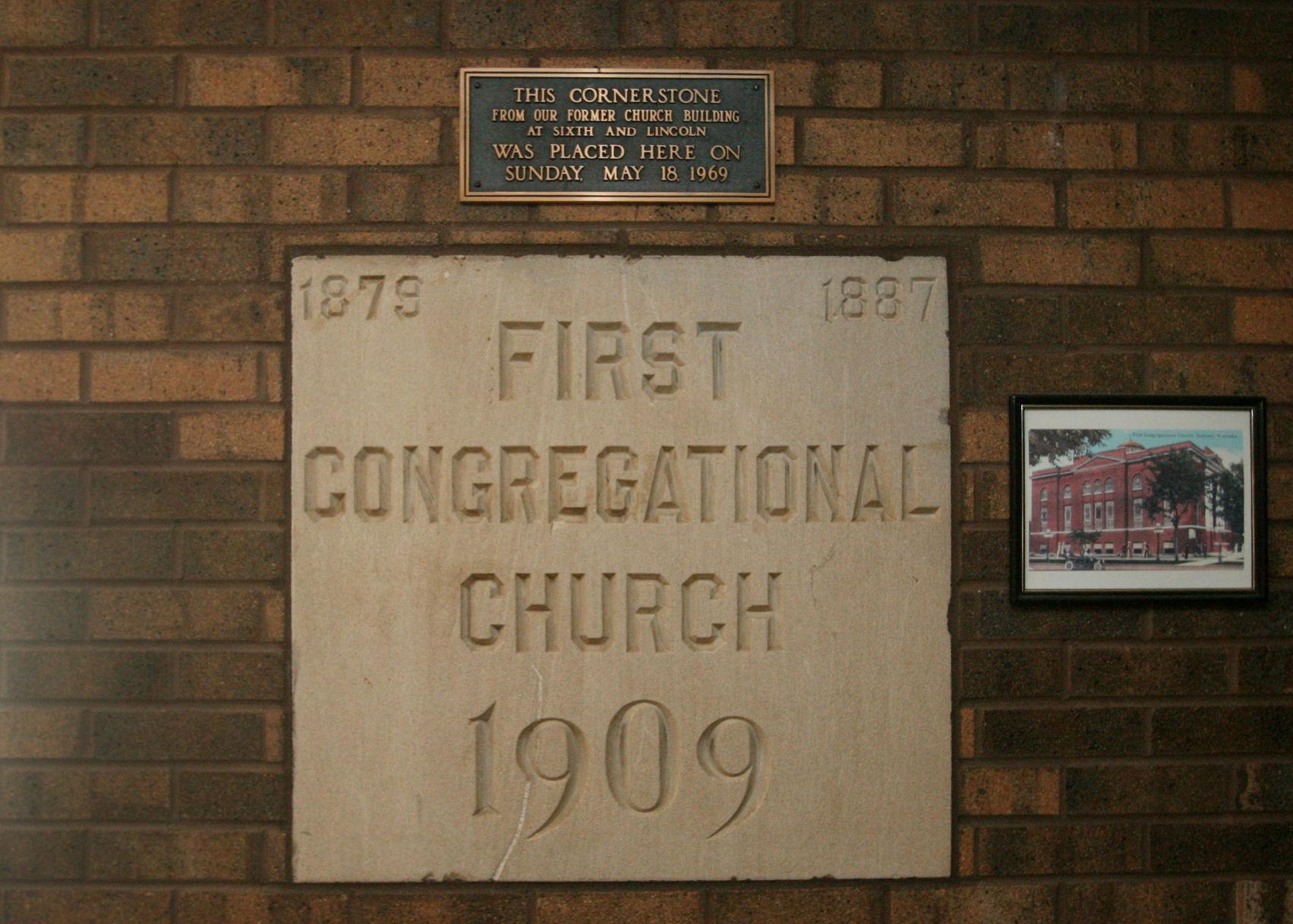 In 1887, the Hastings Improvement Co. purchased the property for $6,700 and two lots located on Sixth Street and Lincoln Avenue. The wooden church building was relocated onto the new property and later was replaced by a brick building in 1910.
When Hastings Public Schools purchased that property in 1965, the church moved to its current location on Seventh Street and Marian Road. The new round building with asymmetrical white roof incorporated the original cornerstone and stained glass windows from the old church and was completed on May 18, 1969. The first service there was Oct. 5, 1969.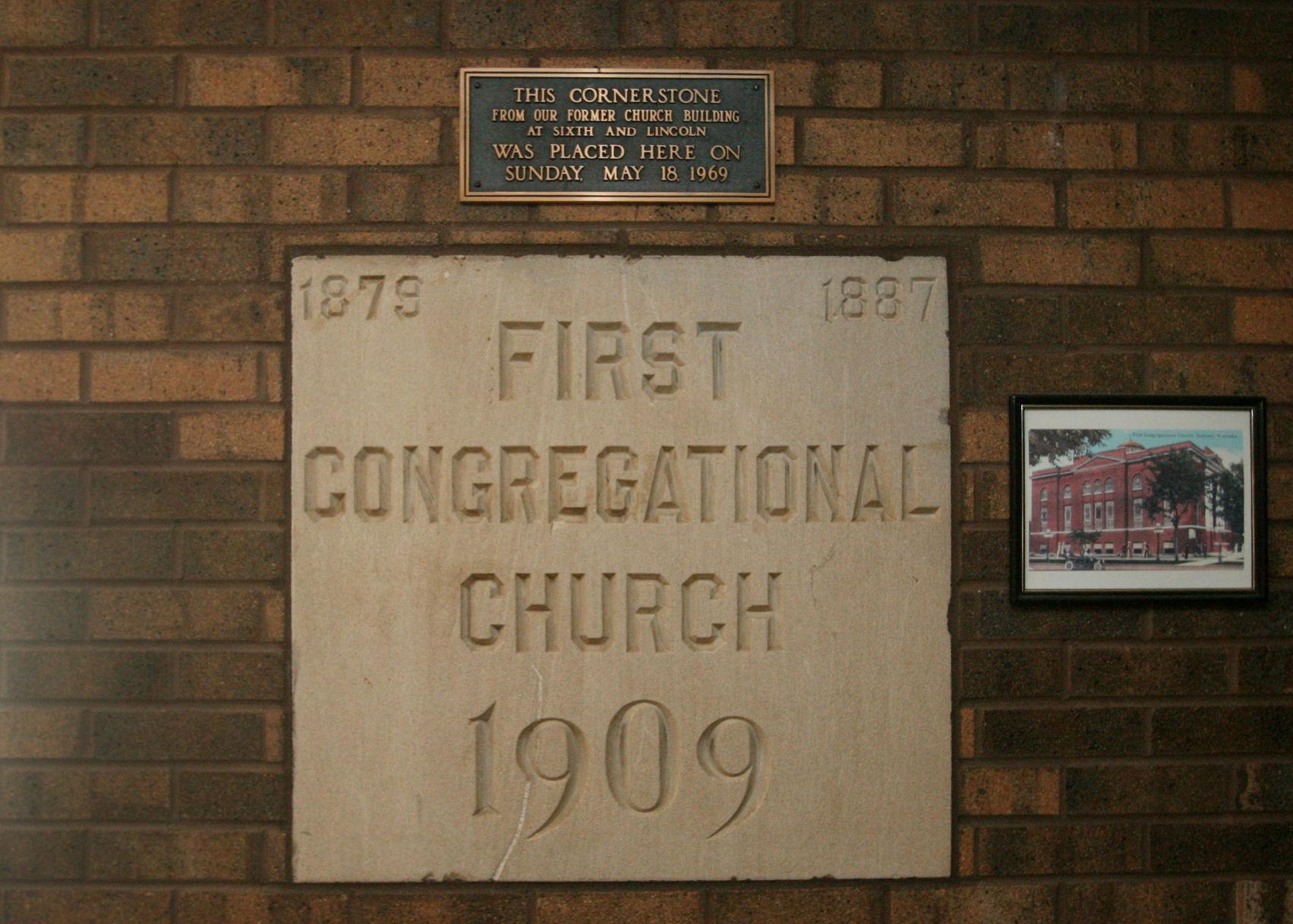 The evenly-shaped design of the building, which elevates the altar by a mere few feet, reflects the church's view of the hierarchy within its members. While the pastor leads services, all are considered equal participants, with none regarded as more or less spiritual than the others, said Pastor Jessica Palys.
Palys wasn't among those present when the current building was dedicated, but the third-year pastor did visit with several longtime parishioners when planning the celebration. That collective input helped solidify the premise that this celebration is indeed perceived as a family reunion of sorts by those whose church roots run deep.
"I think when you celebrate a church like ours, which was the first organized in the community of Hastings, it's about celebrating all of Hastings' history, really," Palys said. "It's a slice of what this community is about. That's why we're calling it a family reunion, because we're trying to bring the family back together."
Harold and Darlene Dwyer of Geneva have been members of First United for more than 50 years. Harold served on the selection committee that traveled to Minnesota to recruit Pastor Hugo Flaig to serve as the first pastor at the Seventh Street location. He was also on the building committee that dedicated the building in 1969.
The couple raised four daughters in the church, including Kay Hughes, who was baptized, confirmed and married at First Congregational.
"The generations of people that you interact with become part of your family," Hughes said. "And not just the kids, but the older people, as well. And I think that's true for any church: That cross-section of generations creates the bond for everybody."
Carol Michael has attended services in the new church building for nearly all of its 50 years.
"The congregation is like your second family because it's a small congregation," she said.
Cathy Cafferty has been active in the church with her husband and family for more than 40 years. The one-time Sunday School teacher said she has felt an intimate connection to fellow worshipers from Day One.
"We had friends here who encouraged us to come here," she said. "There were lots of young families, and even the people who were older were so generous and open and warm that you felt welcomed the day you walked in the door.
"There was a lot going on, so we really felt like it was our family. We've been through the ups and downs through the years...my son and my sister were married here, my older son's funeral was here, so with all these memories there's a connection. With all the family happenings, it feels like this is your home, good, bad, and otherwise."
Kathy Gruba of Hastings has served as church organist for all but one year since 1975. A convert from another church in town, she said she followed her parents to First Congregational shortly after college. Now a wife and mother of one, she said the church has shown exceptional support to her and her husband through difficult times.
"It's small enough that you kind of get to know people a little bit better, I think," she said. "I don't know what I would have done without the help of the people in this church during some hard times.
"The church's philosophy is more self-determining … you don't have a person set up on a pedestal. Everyone has access to God or spirituality or whatever you want to call it. To me, it's just a different approach, and that's why I continue on here. It fits the way I think it is."
As a transplant from Chicago, Palys said she finds the small town atmosphere that exists at the church refreshing. With a congregation numbering 130 members, it remains small enough to offer an intimate environment that enables all who attend to lend their unique skills and talents to the betterment of all within the church community.
"This church just really turns out to make things happen," she said. "We make amazing things happen with a pretty small group. It's nice that a small church can be something where it is what you put into it.
"You can do more in a small church in a small town because people will turn out for a cooking class, pingpong club or book club because their friendships are in the church. Everyone's gifts become something important. In a bigger church, you can be more anonymous because not that many people get to steer the ship, or even be involved with rowing."
As the church moves forward, it will be up to its senior leaders to keep the fire burning in the hearts of those who will one day inherit their roles in the church, Palys said. And with that, the circle of life will unify those who honor the elders before them by following in their footsteps of service to others.
"Like all churches, the population kind of goes in waves," Palys said. "These people are connected by shared life experiences. A new youth leadership and new crop of young kids coming up are having their own fun that will unify them through that generation."