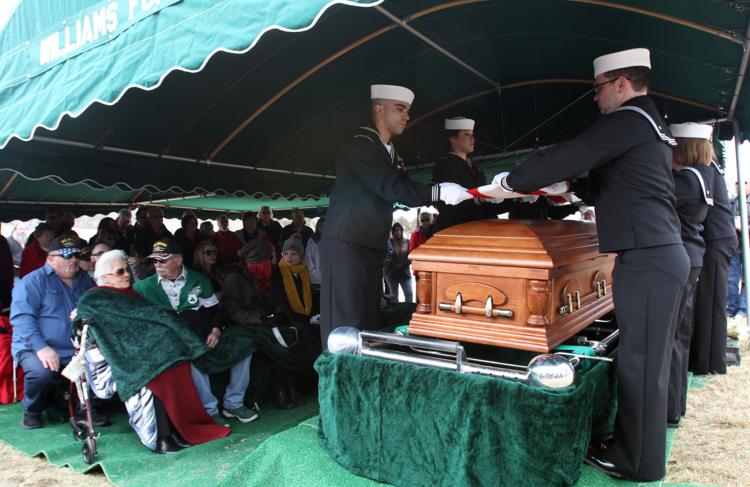 In light of a change in restrictions of gatherings for religious services, local funeral home directors expect some more families to have funeral services for loved ones, but others will continue to wait.
Revised directed health measures went into effect Monday across much of the state, including the South Heartland District. One of the changes for Adams County allows religious services to be held with more than 10 people gathered if other guidelines are followed.
Mike Butler, president of Livingston-Butler-Volland Funeral Home, said the new measures still limit people from gathering before or after the service. Greeting people before a service and sharing stories over lunch can be part of the healing process.
"Just because they've relaxed this a little bit, it's still restricted," he said. "I think most of the families we serve want to be able to hug their family, hug their friends."
Funeral homes have been offering a range of services to fit each family's needs, fit inside the health guidelines prescribed. Families wishing to have a funeral service have been able to do so as long as it included fewer than 10 people in the gathering. For those wanting to host a larger gathering, memorial services can be held at a later date.
Butler said they have been offering funeral services for small gatherings since the directed health measures were put in place. While he says there may be families choosing to have services under the revised measures, he believes many families will continue to wait.
He said various factors go into a family's decision on whether to wait on a memorial service, including the age of the individual, the size of a family and the locations of family members.
Even if a family decides to have a funeral service under the relaxed restrictions, it will be smaller by necessity.
Scot DeWitt, owner of DeWitt Funeral Home and Cremation Services, said the separation required under the new guidelines can reduce the occupancy of a church or chapel by a third to half.
As well as limiting space, he said the social distancing also limits the healing process for families.
"That reception time afterward is when the family really gets to be together," he said. "That whole process is kind of stopped."
Derek Apfel, owner of Apfel Funeral Home, said those gatherings before and after a funeral are crucial for families processing grief.
"People need to tell stories about their loved one," he said. "That's all being taken away from us right now."
While families can't gather with friends and relatives, Apfel said they have continued offering embalming services, even though there has been some concern in the industry about keeping the person conducting the process safe.
With the right equipment and universal precautions they use, Apfel said the process is safe, which allows the loved one to be viewed during the service.
"I think that helps with closure," he said. "It's important we do whatever we can for the families."
He said they have tried to go above and beyond to provide the services families want, even though there may be limitations.
"We're trying to make this as good as we can for the families concerned," Apfel said. "We all want to be able to get back to the way things were."
Butler said most people have dealt well with the news of limitations in services, understanding that curbing the spread of the virus is important in ending the pandemic.
"People here have been very understanding," he said. "We're fortunate that Hastings is such a good community and everybody is trying to do their part to stop the spread of this virus to our community."
Funeral homes are making lists of families wanting to wait to have a memorial service at a later date. Some are being scheduled in June or July, with hopes that the directed health measures will be lifted by then.
If that doesn't happen, DeWitt said they plan to reschedule them for a later time and wait to see that things look like then.
He said the local health departments have been helpful in making sure they are able to follow the guidelines set out in the health measures.
"They've assisted funeral homes on providing extra PPE, hand sanitizer and those kind of things," DeWitt said. "They make sure they have stuff that may be a little more difficult to obtain."
Overall, he believes that the pandemic may have a lasting effect on the industry, but hopes that isn't the case. Physical expressions like hugging or handshakes provide comfort to grieving families and he hopes those things won't go away.
"I don't think we're going to wake up and go back to what we used to do," he said. "I think it will be a learning curve. Shaking hands and hugging people are in a funeral director's DNA."