Monday was day four of self-quarantine for Emily Dunbar.
It's about as lonely as it sounds, although the mother of three is making the most of it.
Amidst the worldwide outbreak of the novel coronavirus disease (COVID-19), Dunbar recently chaperoned Hastings College students on a trip to France as part of their HC 2.0 new-look curriculum.
The trip was memorable and lasted its scheduled entirety. The group flew home safely and without hassle.
Throughout its duration, Dunbar said Hastings College personnel was in constant contact, discussing plans of action and assessing the fluid situation.
But while the group was abroad, and just as they landed stateside last Thursday, COVID-19 quickly reached its pandemic status.
And having come home from France, which is currently listed as a level 3 country on the U.S. Centers for Disease Control's website, defined by the widespread and ongoing transmission rate of COVID-19 there, the CDC is advising 14 days of self-quarantine for travelers.
Although she is asymptomatic, Dunbar feels it's her civic duty to participate.
"(It's) active patriotism, really, to make sure that if there is a chance I would be carrying the virus that I don't spread it to anybody," said Dunbar, who is director of Studio 200 for academic support at Hastings College.
Dunbar has no reason to believe she or anyone the group came into contact with COVID-19, primarily because of the environments they experienced.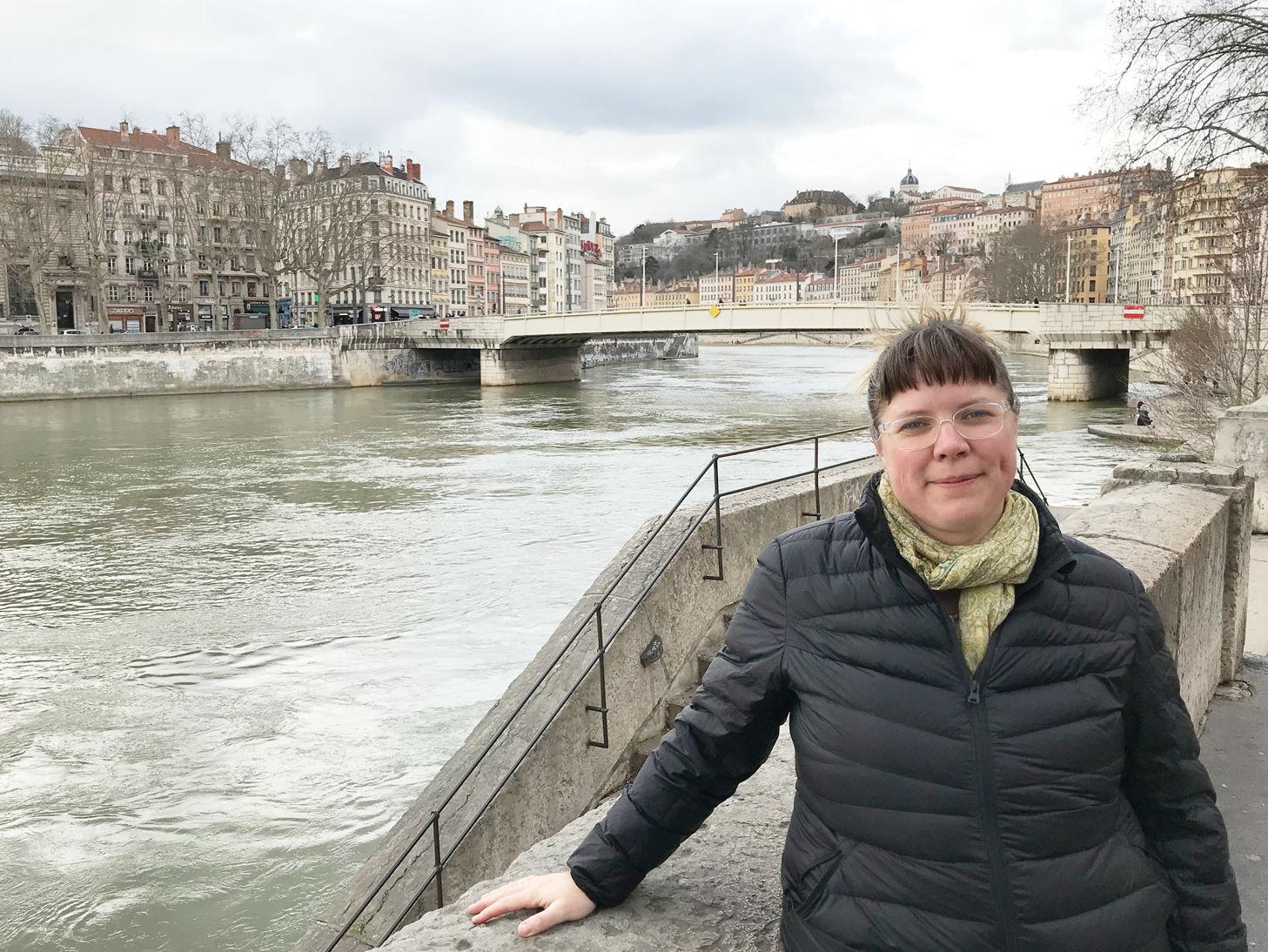 "Most of the activities we had planned were interactive, intimate, sort of private tours," Dunbar said. "We visited a small, family-owned chocolate factory. We had a night of cooking with a French chef in a flat in Lyon. So it was just our group and three French chefs cooking. We did a walking city tour.
"Most of the things we had planned were already in keeping with what ended up being recommended (by the CDC)."
But upon returning home, Dunbar finds herself splitting time primarily between two rooms in her Hastings home and practicing social distancing with her loved ones.
"I have my bedroom and the room next to it, which is my home office and studio," she said. "Those are my rooms, that's where I live."
The Dunbar family is doing its best to abide by all the CDC's recommendations, just to be safe. That includes maintaining 6 feet of distance between each other as much as possible, especially mom.
There's a stool outside of her home office where her family delivers coffee and meals and anything else she might need.
"I just keep hollering at them to bring me stuff, and they do," Dunbar said with a laugh.
So far, she's passed the time with some of her many hobbies. She's learning to play guitar and piano. She's practicing her stability on a balance board.
"There's always books. And I'm not going to lie, I've watched a lot of Netflix. I try to not just do that," Dunbar chuckled.
Technology has aided her in her social life and her work.
"I would be going out of my gourd without it," Dunbar said.
She's attended virtual meetings and posts her quarantine "shenanigans" on Facebook and Instagram. She's FaceTimed her family at the dinner table to participate in conversation. And, of course, Netflix.
Over the weekend Dunbar maybe felt most distanced while she watched her kids through the window build a "snow tower about as tall as our house" in the yard.
"I do feel left out, but what are you going to do?" she said. "I kept opening the window and talking to them through the window, which was fun."
Of her three kids, two are in college and one is a senior in high school. Soon enough, all three will be home and taking online classes with the closures of campuses.
"It's weird because my kids aren't usually home, so there are more people in the house than usual and I can't hang out with them," Dunbar said. "There's a lot of 'Sounds like you guys are watching a video. What are you watching?' And they AirDrop it to me from the other room so I can also watch the YouTube video that everyone is laughing at in the other room."
Monday was day four of quarantine.
"It's going to be a long 14 days," Dunbar said with a laugh.
Travel bans are in place now, but Dunbar looks forward to the next trip once things settle down. She said it's valuable experience for the students and herself.
"This unfolded in an unfortunate way, but if nothing else, we really learned about global citizenship and all the ways that we are interconnected and I think there is great value in that."