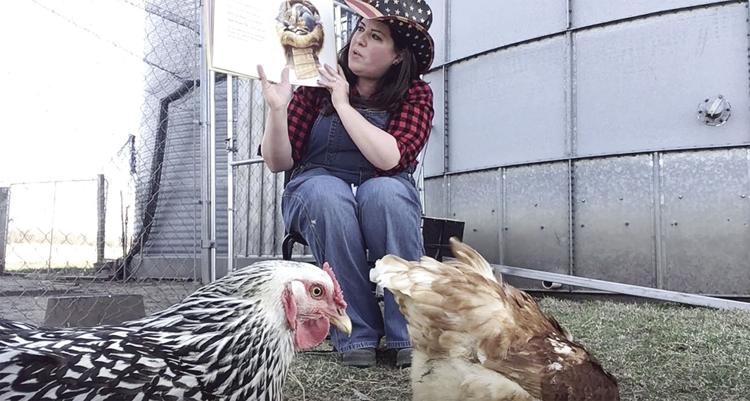 Betsy Thomas had no idea the impact she is making with her daily storytelling videos until she walked out of her house late last week to find her yard in Lincoln littered with her students from Kooser Elementary and their parents.
Her block was lined with cars, her grass full of smiling faces, and her eyes welled with tears.
A second-year librarian at the school, Thomas says she is just performing her job, reading to an online audience during the pandemic brought on by the novel coronavirus disease, COVID-19, as part of Lincoln Public Schools' request of its librarians to post daily learning challenges on a webpage.
But for the last six weeks Thomas has been contributing in a unique way, using her "costume closet," which is really a guest room in her basement, as a means for adding an even more vivid visual element to the experience.
Her effort has earned her national recognition, which was showcased with a six-minute segment on Tuesday's episode of the "Today Show" on NBC, as part of its showcase of educators during Teacher Appreciation Week.
Thomas reads a story to a webcam each weekday, but it's much more entertaining than that.
With each day comes a theme given by LPS. Based on that, she chooses a book, related costume and virtual background to display on her basement green screen.
It started in late March as a pirate.
"It just kind of snowballed after that," Thomas said with a laugh.
Then on the first of April, Thomas' clip began with a screen that read "Sorry, no video today," before she quickly popped up to say, "April fools, guys! Did Mrs. Thomas trick you?"
Others include one representative of a scene from "Jurassic Park" where she sports a Tyrannosaurus rex costume on one half of the screen and the outfit of a paleontologist on the other. She's also been a pencil, a ninja, a bumble bee, and Pooh Bear from "Winnie the Pooh," just to name a few.
A few times, Thomas has even ventured out of her home to use a separate environment. A friend's farm brought viewers live chickens and piglets to go along with story time. Her husband's family farm provided the opportunity for her to operate a tractor. She also drove around a forklift in one video.
Sounds like a lot of preparation, right?
"It was tricky because initially I wouldn't find out until 9 or 10 (p.m.) what the next day's theme was," Thomas said. "So I'd scramble to find a book and every night I'd be stressed wondering what it was going to be. But eventually I talked (the district) into picking themes a little further in advance so I have a little bit more time to plan and think and prepare. It's helped a lot."
Planning a few days ahead has aided Thomas in the process. So has her upbringing and background.
A native of Trumbull where her family farms, Thomas, formerly Betsy Rouse, graduated from Giltner High School before earning her bachelor's degree at Hastings College and acquiring her master's from the University of Nebraska at Omaha.
"I'm really proud to be from that area," she said of Tribland. "I loved where I grew up. Some people think that small schools can't give kids all of the opportunities that some of the big schools can, but I just think I had the best experience. I got to do a little bit of everything."
Thomas, who worked in Elkhorn and Council Bluffs before Lincoln, owes some of her video production ability to Hastings College, where she took multiple courses in the field.
"The producer of the 'Today Show' told me 'You know, you're kind of good at making these videos,' " Thomas said with a laugh.
"I got a really well-rounded education."
A week ago, Thomas was contacted by Kooser's principal, Ann Jablonski, about the "Today Show" wanting to produce a story on her. It led to an introductory interview last Thursday with a producer before a shorter one with host Hoda Kotb Friday morning, that was used for the show's package.
"I talked to (Hoda) for about five minutes and toward the end of the interview, Hoda asked me to go outside and I walked out my front door and I'd say at least 40-ish people were on my front yard — all students and their families, dressed in costumes that I'd read so far since this has all happened. It just really blew me away."
Spirit Halloween, a seasonal pop-up costume store, donated Thomas an extra 40 outfits and a $1,000 gift card through the "Today Show," Hotb announced.
Thomas' story had fellow host of the show, Craig Melvin, choked up and in tears speaking from his own experience parenting young kids during this time.
"As someone who gets to see his kids' teachers on Zoom," he said on the program, "this story is so moving this morning because the kids miss their teachers so much right now and teachers miss their kids just as much. And for those of us who have, like, small kids and you're seeing this every day, it's just hard, man. It's hard. So little things like that — just thanks to all the teachers out there that are going the extra mile."
Watching the segment back in full Tuesday morning, Thomas was in awe. She admittedly didn't remember much.
"I was really excited because I didn't remember all of what I said or what I did. I know I cried at one point and I don't know if I heard everything that was being said after that," Thomas said. "It was really fun to see it played back for me. I didn't know, obviously, that the kids and their families would be outside so it was really neat to see all the things behind the scenes with that.
"And to see all the things the families did to prepare for that, it was so cute and I loved hearing my kids talk and they did such a good job. I felt like they kind of stole the show because they were just awesome. It just made me miss them, too."
Thomas is humbled by the attention for something she considers her role in her career in education.
"It was really touching. I grew up in a family where you just do your job and you pitch in when you can and how you can," Thomas said. "I guess I didn't think what I was doing and how I was doing it was really worthy of the attention I'm getting from it.
"It makes me think about the impact that teachers do have and I think at times we can forget that. It's a special relationship we have with our kids ... I feel very honored."