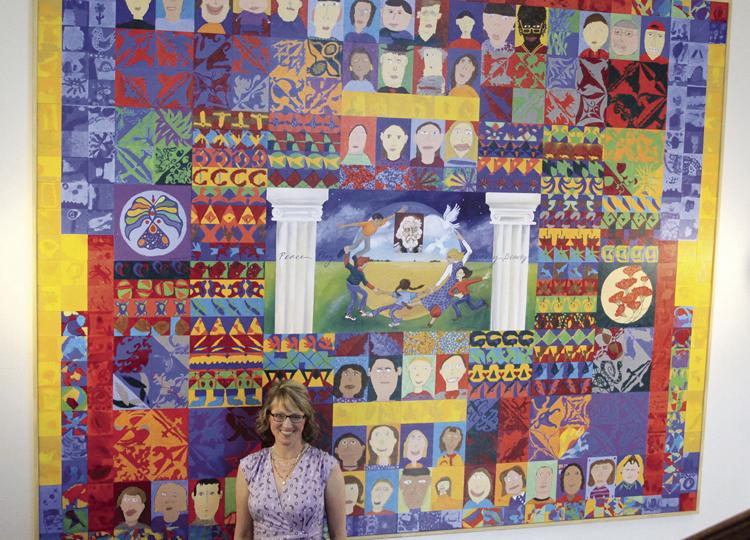 Her mother knew before she did; Ruth Raun was meant to be a teacher.
"She didn't tell me until years later," Raun said, "but she said she saw my face light up like she had never seen it light up."
Raun was recalling a visit to her cousin's classroom as an eighth-grader on the family's way back from dropping an older sister off at college in Michigan when, naturally, she hadn't yet realized her true potential, or her ability to positively affect lives — which, undoubtedly, she has.
"I wanted to be an astronaut. I am fascinated by outer space," she said. "Then it was medicine I was fascinated with. But I came to realize I was destined to go down this path."
Raun comes from a family of educators. Her mother taught one-room school and in a parochial system. Two of her sisters teach, as well. And so have "several aunts, uncles, cousins."
Growing up in poverty, Raun, along with many of her siblings, saw education as her way out of that. She pursued that passion in the University of Nebraska system, eventually graduating from the University of Nebraska at Kearney in December 1996.
Living in Hastings as a newlywed during her senior year, Raun found exactly where she wanted to teach. Walking through the neighborhood surrounding Longfellow Elementary one day with her husband, Andy, she was in awe at the school's architecture. She loved the stone columns and the brick and windows and the historical presence.
"Something hit me. I was still in college, but I just got this overwhelming feeling that (Longfellow) was the school I was going to end up at," Raun said. "And at that point I had never met any teachers, I didn't know anything about the school, it just felt like home."
Eventually, she partially realized why seeing Longfellow for the first time had that effect on her. Raun grew up in Minden. The elementary school in the Christmas City and Longfellow were designed by the same architect.
Her love for Longfellow, its staff and especially its students, only blossomed. After substituting for the school multiple times, she accepted her first job there.
Now, as she finishes up her 23rd year of teaching there, Raun has never wanted be anywhere else.
Her devotion to her craft, teaching 10 years of first grade and the last 13 in fourth grade, earned her the 2020 Hastings Public Schools Educator of the Year award.
HPS officials officially presented her with the honor April 17 at her home with a socially distanced celebration.
What has long stood out about Raun to parents of her students, fellow teachers and administration is the special bond she develops with those she teaches.
"Teaching is an art. It's a creative act, it's a personal act," Raun said. "I feel like a lot of the focus in education has gotten away from that art and that passion and has moved more toward a numbers game. Is learning important in education? You bet. Is it the only thing, though? Absolutely not.
"It is all about relationships."
The east stairwell at Longfellow houses a perfect example of that. A collaborative, eye-catching work of art by Mary Vaughan spans most of the white wall behind it, midway up the flight.
Titled "The Joy of Life: Peace, Play, Harmony, and Beauty," and constructed with many individually painted blocks — some showcasing self-portraits of students and others featuring vivid designs, the spacious rectangle was completed in 2003 under the direction of Vaughan, a former Longfellow student turned California artist who returned to town for an artist-in-residency at the school.
In the very center, two white columns, representative of the beautifully-architected school it rests in, bookend a circle of students and a teacher holding hands and dancing around a cornfield with a portrait of the school's namesake, poet Henry Wadsworth Longfellow, and two white doves.
That teacher, blonde with glasses and wearing a long blue dress with a white undershirt, is modeled after Raun.
In 2007, Vaughan returned to the school for another residency week after Raun was named Walmart Teacher of the Year and used her stipend to bring Vaughan back to develop another painting for the west stairwell.
This project, of the same collaborative style as the first, featured pillars to highlight Longfellow's Character Education Program — which Raun helped implement "to help improve the overall climate of the school and behavior." Members of the committee that developed the program adopted four qualities they wanted in all members of Longfellow: respect, responsibility, compassion and integrity.
"That was 23 years ago, and I am so proud to say that those four words are still the traits that we focus on," said Raun, who is one of three teachers left at Longfellow who helped kickstart the program.
Longfellow since has won two national awards from the Character Education Partnership.
"Our Character Ed Program has been going strong since then. It's really the culture of our school, and it makes our school unique," Raun said. "I think everyone who comes into the building recognizes how important it is."
What makes Raun unique are her personal classroom initiatives like her "Word Gifts" and the "Genius Hour."
Raun adapted the word gift idea from a couple of presentations she witnessed while at conferences. One speaker noted that one of the best gifts a teacher can provide is a rich vocabulary.
Another maintained that just because these are young kids who are being taught, it shouldn't mean teachers should have to "dumb down" their own vocabulary.
"We should go ahead and use the words we use as adults and then just explain to them what they mean," Raun explained.
"I was kind of fascinated by both of those things, so I decided the following year that every single day I'm going to give the students a word adults would use but kids wouldn't normally use. I'd give the definition, come up with some examples, use it in a sentence. Just a really quick, few-minute activity every day. I really felt like I was giving them a gift because this is something you can carry with you the rest of your life. It will make you a better reader, a better writer, a better speaker."
Initially, Raun would compile a list of words she thought might be "accessible" to fourth-graders.
Now, her students regularly recommend words they think would be good "word gifts," each of which is placed up on the wall after they are used. This year, based on a student's idea, the students snapped their fingers anytime a word gift was read in a book or said aloud.
"I was like, 'That is great because it's helping them remember the words and listen for them,' " Raun said.
The Genius Hour, which Raun brought to Longfellow as a pilot initiative along with second-grade teacher Charla Brant, is a weeks-long project near the end of the academic year where students are allotted an hour on Friday afternoons to study a topic of their choosing. It was adapted from Google allowing employees to spend 20% of their time a week to work on work-related projects that might bloom new ideas and products.
Genius Hour now has been adopted in many classrooms at Longfellow. Brant was HPS Educator of the Year in 2016 and now is principal at Alcott Elementary.
In Raun's classroom, students pick something "focused, but not so specific" to research and present what they've learned to the class. Unfortunately, due to the novel coronavirus disease pandemic dismissing school for the semester in March, it didn't happen this spring.
Raun's educational innovation has attracted much attention from her colleagues and superiors. But while she appreciates the recognition she has received, it's not why she teaches. That, she does because of the interpersonal connection.
"At its foundation, teaching is really just about people and about humans who all have unique characteristics, needs and strengths," Raun said. "That's what we need to focus on in education, I think."