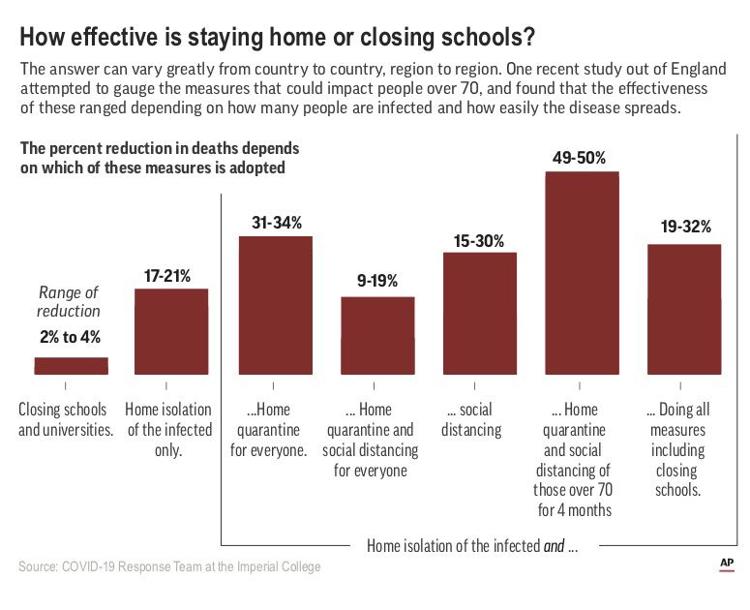 Hastings Public Schools announced Wednesday that classes will be canceled until further notice, and Hastings College announced it will switch exclusively to online classes through the end of the spring semester.
Both institutions' decisions are part of an attempt to thwart the spread of the novel coronavirus disease, or COVID-19.
HPS Superintendent Jeff Schneider emphasized that the Hastings Public announcement doesn't necessarily mean classes are canceled through the end of the semester — only that officials cannot say at this time when the schools might be able to reopen.
"HPS will be closed indefinitely, we will continue to monitor the situation and listen to guidance from state and local officials," Schneider said.
HPS has made arrangements to provide sack lunches and breakfast items for students during the closure, as food insecurity is a major concern for many families in the community.
In addition, HPS teachers will provide educational activities students can work on at home and remain engaged with what they were learning about before classes abruptly halted this week.
HPS plans to provide academic packets that will be available at each school building beginning March 23.
Students at Hastings High will receive their materials electronically but also can pick up hard copies if online access is a problem. School offices will be open for packet pick-up from 10 a..m to 6 p.m. Mondays and 8 a.m. to 4 p.m. Tuesdays through Fridays.
Students and families may stop by their schools during office hours to pick up personal items such as medications, musical instruments, and the contents of their desks or lockers.
"Grab-and-go" sack meals will be served at Hastings High School, Hastings Middle School, Alcott Elementary and Lincoln Elementary from 11 a.m to 1 p.m. Monday through Friday beginning March 19.
These meals will be for anyone age 18 and under. Children and youth don't need to be HPS students to participate, but must be physically present at the pick-up site to get the meals, HPS said, citing guidelines from the U.S. Department of Agriculture and Nebraska Department of Education.
The district needed approval of an application to NDE to get the meal program off the ground.
Schneider offered words of encouragement for students, families and the communities in a time of major disruption.
"Be safe and stay positive," he said. "I am confident our community will work together and get through this unprecedented situation."
Hastings College will conduct all classes online beginning March 23, when classes were supposed to resume on campus following spring break.
The HC decision was announced by Roger Doerr, chairman of the HC Board of Trustees. The college presidency is vacant at this time following the recent departure of Travis Feezell.
"We understand this decision will be challenging for our campus, but it's become clear that we, as a community, must do our part to mitigate the spread of the virus and put the health and wellness of people first," said Doerr, who spent many years as a professor at the college and also served as president of the Hastings College Foundation.
"Students remaining on campus have been asked to head home as soon as possible," Doerr said in a letter to the HC community. Exceptions may be made for those with extenuating circumstances.
Students already away from campus are asked to stay home.
"The Student Engagement team is working on a plan to allow access to the residence halls and apartments for a safe, managed move-out process," Doerr said.
Hastings College will make every effort to host commencement, but a decision about that issue remains several weeks in the future.
More information and updates will be available on ourHC, as well as through email. Students and parents with specific questions can contact Campus Connect via text message at 402-205-0611 or by email at campusconnect@hastings.edu.
All Hastings schools and colleges — Hastings Public, Adams Central, Hastings Catholic, Zion Lutheran, Hastings College and Central Community College-Hastings — are closed for in-person classes at this time.
The U.S. Centers for Disease Control and Prevention is urging that no more than 10 people be together at a time in a "social gathering," for now effectively putting a stop to most traditional American classroom learning.
Central Community College is offering classes online only through this week and will be on spring break the following week. Staff is developing online delivery options for classes that could be available starting March 30.
On Monday, the Rev. Thomas Brouillette, chief administrative officer of Hastings Catholic Schools, announced St. Cecilia and St. Michael's Elementary Schools would be closed at least through March 27.
Both schools were open for a time on Tuesday so families could pick up learning materials, and so that St. Cecilia students could clean out their school and gym lockers and so band students could pick up their instruments and a music book.
Teachers at both schools will continue to work during the closure, preparing materials for the students and providing feedback on completed work when it is returned.
An assignment portal is available online for students' and families' use.
Sandy VanCura, high school principal, notified high school juniors and seniors that prom has been postponed for the time being.