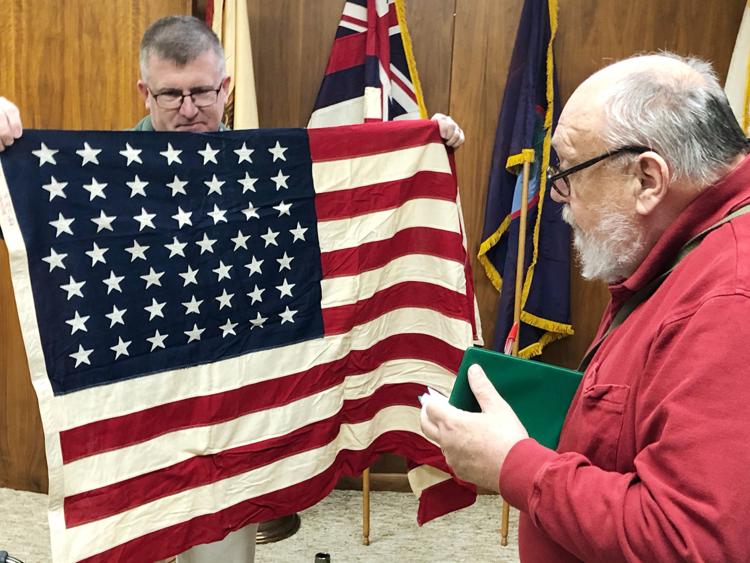 A rare American flag and other artifacts recently located in the office of former Tribune owner and publisher Fred Seaton serve as reminders of just how influential Seaton was in U.S. politics during his time in the Dwight D. Eisenhower administration.
Appointed U.S. Secretary of the Interior in 1956 by Eisenhower, the longtime Hastings newspaperman and onetime U.S. Senator remained in his cabinet post throughout the second term of Eisenhower's eight-year presidency (1953-61), playing an active role in the admission of Alaska and Hawaii as the 49th and 50th states in the union, respectively, in 1959 — 60 years ago now.
Frederick Andrew Seaton was born in 1909 in Washington, D.C., where his father, Fay N. Seaton, was a staff member for U.S. Sen. Joseph Bristow, R-Kan. The family later moved back to Kansas, where Fay had grown up in Jewell County, and Fay entered the newspaper publishing business, consolidating the Manhattan Mercury and Manhattan Chronicle under the Mercury banner.
Following a career path similar to that of his father, Fred Seaton went to work for the Manhattan newspaper after earning his degree from Kansas State University in 1931. During the years that followed, he was active in the Kansas Young Republicans organization and served as the group's Kansas state chairman from 1934-37. He was a campaign aide to Kansas Gov. Alfred M. Landon in his unsuccessful 1936 run for president.
In 1937, the Seaton family purchased the Hastings Daily Tribune, and Fred and his wife, Gladys, moved to Nebraska where Fred served as publisher. Fred continued in that role until his death in 1974, when he was succeeded by his son, Donald R. Seaton.
Throughout much of his career as the Tribune publisher, Fred Seaton simultaneously was active in state and national politics. He served in the Nebraska Legislature from 1945-49. Then, in 1951 he was tapped to fill a vacancy in the U.S. Senate created by the death of Sen. Kenneth Wherry. He served in that role for one year by prior agreement with Gov. Val Peterson, who had appointed him.
In 1951, Seaton visited Gen. Eisenhower, who had served as supreme commander of the Allied Expeditionary Force in the European theater during World War II and by then was supreme commander of the North Atlantic Treaty Organization, in Paris and urged him to return stateside and run for president as a Republican the following year. (The men had Kansas roots in common, as Eisenhower's hometown is Abilene.) Eisenhower eventually decided to do just what Seaton and others were suggesting, and Seaton joined the campaign as an adviser in Denver and later in Washington.
Fred Seaton was appointed to several positions in the first Eisenhower administration, including assistant secretary of defense, administrative assistant to the president and deputy assistant to the president. He and Gladys and their four children, Don, Christine, Alfred and Monica, moved to Washington at that time. On June 8, 1956, he took office as U.S. Secretary of the Interior.
Denny Storer, retired after a long career as a professor at Hastings College, said the Eisenhower presidency was a consequential chapter in American history.
Storer taught comparative politics and anthropology at the college from 1968-2001 and J-Term courses through 2008. Some research for his American presidency class — a staple at the college for more than 20 years – was conducted at the Eisenhower Research Library in Abilene, Kan.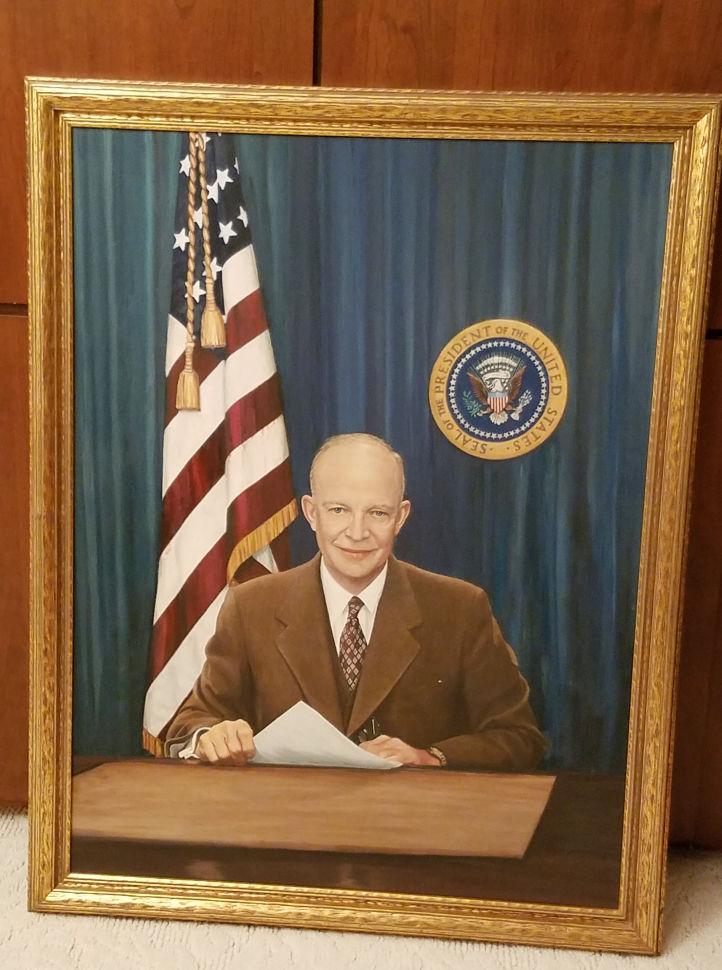 Much like today, he said, the political climate of that time was polarized and uncertain, with tensions caused by the Red Scare investigation headed by U.S. Sen. Joseph McCarthy of Wisconsin and post-World War II tensions over the Soviet Union's occupation of Eastern Europe.
"At that time, Eisenhower played a very, very crucial role in finding a way to ease us past that bitter time," he said. "You couldn't have asked for a more legitimate person to be president of the United States at that time than a man who basically led our military strategy in World War II in Europe.
"The biggest thing I give Eisenhower credit for is being able to act as a healing bridge in a country that was fast moving from the Depression Era and World War II into a new modern industrial age."
The Seatons returned to Hastings full time after Eisenhower left office. Seaton's continuing affinity for his former boss was evident in his extensive collection of artifacts from his Washington years kept in his second-floor office in the Tribune Building at Second Street and Burlington Avenue.
Numerous items, including several quilted departmental flags from Washington and an over-sized portrait of Eisenhower painted on wood panel, recently were pulled from longtime storage by Nancy Seaton, Don's widow. (Don retired as publisher of the Tribune in 2010. He died in October 2018 at age 77.)
The Rev. Dr. William Nottage-Tacey of Hastings, pastor emeritus of First Presbyterian Church, visited the Tribune building in November at Nancy Seaton's invitation to peruse the collection of flags. As a flag historian and collector, he said, he felt like a kid in a candy store as he unwrapped and examined each of the flags that once decorated Seaton's offices in Washington and later in Hastings.
Rarest and most interesting of the flags was the Annin flag, a 50-star American flag created through the collaborative efforts of Seaton and the flag company's president. In an effort to "not overly disturb the (original) 48-star arrangement, the one-of-a-kind" flag (as it was recently dubbed by a spokesperson/historian from the Eisenhower Library) added the two "outlying states to the equation in the fourth row, making an arrangement of three rows of 7, one row of 8, and three rows of 7 to represent the 50 states.
The prototype flag never did enjoy widespread recognition, however, replaced instead by the flag from Ohio's 50-star design created by Robert G. Heft, which was ultimately chosen by Eisenhower to represent the country. Secretary Seaton would later preside over its raising at Fort McHenry in Baltimore on July 4, 1960.
As it turned out, the uncovering of the Seaton/Eisenhower artifacts coincided with an already scheduled guest speaking appearance by President Eisenhower's grandson, Dwight David Eisenhower II, at the 24th annual Governor's Lecture in the Humanities Oct. 24 at the Holland Performing Arts Center in Omaha.
Communicating with event organizers, Nancy was able to arrange a meeting with the younger Eisenhower, a lecturer and historian, whose two-hour presentation included recollections of his grandfather of the D-Day and Normandy invasions.
During their meeting, Nancy presented Eisenhower II with the portrait of his grandfather and other photos that included a cabinet portrait featuring Eisenhower; First Lady Mamie Eisenhower; Vice President Richard Nixon and his wife, Pat; Fred and Gladys Seaton; and other cabinet members and spouses. All were gratefully accepted. (Eisenhower has family ties not only to his grandparents but also to the Nixons, who are his wife Julie's parents.)
Immediately he made arrangements with his staff for the portrait to be shipped to the Eisenhower Presidential Library and Museum for temporary display prior to adding it to his private collection.
Seaton's collection of Eisenhower-related artifacts included additional photos that Nancy said she plans to share with Eisenhower II after making copies of them for her own grandchildren.
The extensive collection of materials includes paintings by Eisenhower, original comic strips from the era, and numerous historical documents containing communications between Eisenhower, Seaton and other top officials. The collection will be analyzed by historians and placed in an appropriate archive for safekeeping.
The unusually large collection of memorabilia exemplified the depth of friendship that existed between Seaton and the 34th U.S. president.
Seaton's work as secretary of the interior included conservation efforts that promoted the most comprehensive long-range program of park development at that time.
His post-Washington political career included an unsuccessful run for governor of Nebraska in 1962.
The Tribune remains under the ownership of the Seaton family, which also publishes several other newspapers in Nebraska, Kansas, South Dakota, Wyoming and Colorado.
Publisher Darran Fowler said Hastings and the surrounding region continue to benefit from local ownership of the newspaper and from the Seatons' long history of civic engagement in the local community and beyond.
"Fred Seaton was one of the great political leaders of his day, not only for Nebraska, but for the United States," Fowler said. "We at the Tribune are proud to be stewards of the Seaton legacy here in Hastings that was upheld for so many years by Fred and then by Don, and to celebrate their memory with the community. We are standing on the shoulders of giants."