When she and her family moved to the Hastings area, Kyla Habrock went through the Nebraska Department of Health and Human Services' list of licensed day care providers in the Hastings area alphabetically until she got to the T's and found one with an opening.
"That's a little nerve-racking to think this is the only space, whether we like it or not," she said.
That experience led Habrock and her husband Mat, and Mat's mother Jen Schwab, to purchase the former Golden Friendship Center at 509 S. Bellevue Ave. with the plan to turn it into a day-care center.
They hope to have an agreement in place soon with a provider.
"We are not going to be the day-to-day providers, but we can be partners with someone who can provide that exceptional care for children in this community," Habrock said.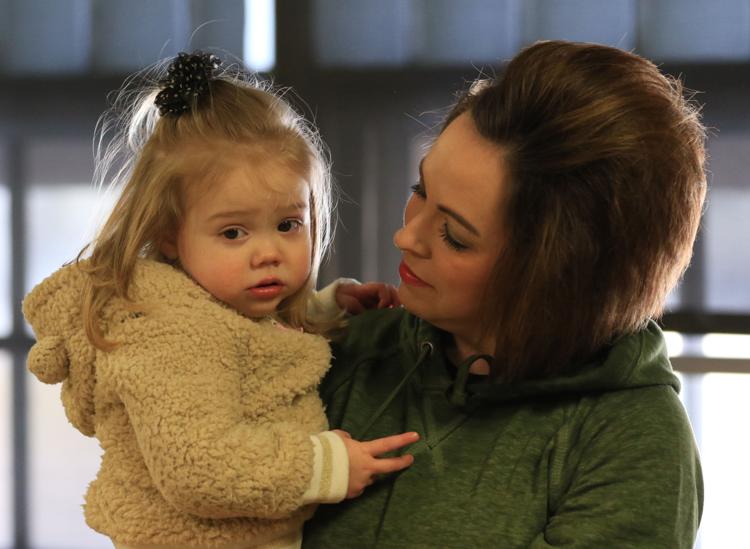 Selling their house in Lincoln and buying a house in Juniata was relatively easy, but finding a day care for their daughter, Fallon, was a challenge.
"As soon as we knew we were moving I was calling for day cares," Habrock said. "It was 23 calls later before I found one opening. I panicked and felt like everything was so easy maybe this isn't the right decision for our family."
They found a spot for Fallon where they are happy.
"But we know this is something where we are not the only ones that struggle with this," Habrock said. "As we've met more and more people and made more friends in the community, our story could be anybody else's story."
They didn't want to have drive to Grand Island every morning for day care.
Mat, who is a location manager for LandMark Implement, spends half of his time in Red Cloud.
"To go from Juniata to Grand Island to Red Cloud wasn't going to be ideal at all," he said.
They are aware of day care needs in smaller, surrounding communities as well.
The shortage of day cares in Hastings came up in the young professionals focus group as part as the city's ongoing housing study.
"There are people choosing to live in Grand Island and work in Hastings, or vice versa, because daycare is not readily available here locally," Mat said.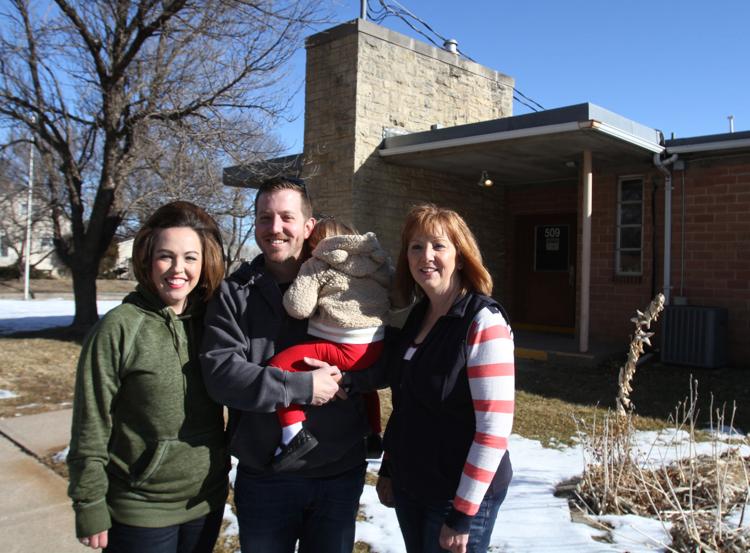 Their initial plan was to open a storage unit business because as they found moving from Lincoln to Hastings there is also a shortage of storage unit space in Hastings.
They purchased a lot on Second Street for that purpose. When they received an offer to sell that lot that was too good to pass up, they decided to use their earnings to help fill another need in Hastings.
"This is definitely filling a need," Kyla Habrock said. "Although we don't have experience in childcare, Jenny has a background in accounting and has business acumen and years of experience. Mat worked in state government. I'm studying nonprofit management."
They are making sure the provider they choose is going to provide good, quality care.
"We have a vision of not just a space for children for nine hours a day, or whatever it is, but it being a really good way to supplement the development of those children," Mat Habrock said. "By having the building it's allowed us to work with potential providers or potential tenants."
They've had conversations with business and industry representatives, asking what do the employees of these businesses need and how can this day care meet that need, including hours of operation that are advantageous to different shifts at local manufacturers.
"If we can help parents in that way by being able to match that consistency with relationships with their teachers I think that'll be good," Kyla said.
It's fitting, they say, that the building they purchased for the day care had been used several decades by Adams County Senior Services as a senior center, but was built as an elementary school. It was once St. Michael Elementary.
"They were really excited to see it come full circle and see it used this way," Mat said of the Adams County Senior Services board.
Mat knew Dave Rippe when they both worked for the state government in Lincoln. Rippe's love of Hastings helped sway the Habrocks to move west when the LandMark job became available.
It was also Rippe who helped the Habrocks find the location for their day care. Rippe and his wife, Kristi, suggested the former Golden Friendship Center site, after Mat told him about the plan.
The building has only minor issues.
"The structural integrity of this building is incredible," Mat said.
Schwab, who moved to Juniata shortly after the Habrocks, was a real estate appraiser.
"I was really excited when we saw this because it's just a very structurally sound building," she said. "It's a really well-built building that I think is going to stand here for a long time."
The Habrocks pitched during Big Idea Hastings last year starting a company that would provide administrative services for local day-care facilities.
"The support of the community has been awesome," Mat said. "Big Idea Hastings was a really neat way for us to understand how much of a need there was for this and how much support there was. It motivated us to go forward. I tell everybody this is a really special community. There are a lot of people that care and a lot of people that want to support each other."