As a young man, Craig Oswald of Hastings knew he wanted to join the city's fire department and worked toward that goal for more than a decade.
"My dad always taught me to help people," Oswald said. "He was always stopping to help people."
He first applied at Hastings Fire and Rescue in 1977, but openings were less frequent and it was common for dozens of candidates to apply for each position. He was passed over during several rounds of applications until July 1991 when the department opted to bring him into the fold.
Since that time, Oswald has been an asset to the department. He worked about four years before being promoted to lieutenant. After around six years in that position, he became a captain.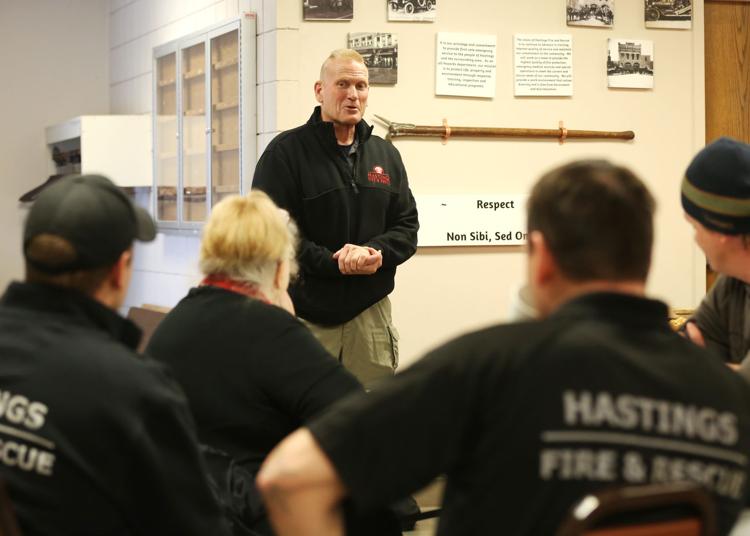 Oswald, now 62, has decided to hang up his firefighter's helmet after 18 years as captain, for a total fo 28 years of service to the department. His final day was Friday, during which a reception was held for him at Lincoln Park Fire Station.
Friends and family visited to congratulate Oswald on his retirement. He received the flag that flew over the station on his final day, as well as a plaque from the firefighters' union.
One of the newest firefighters also made a wooden replica of the department's Maltese Cross design as a wall decoration for Oswald as well. He said he was touched by the gesture.
Former Fire Chief Kent Gilbert said he appreciated the hard work Craig put into the job. He was always persistent making sure the people under him were well trained
"He would always go through, around, over or under anything that got in his way while helping people," Gilbert said. "I'm sure he's going to be missed."
Todd Brehm, a former co-worker of Oswald's for more than a decade before he left to work at the Nebraska State Fire Marshal's Office, said he had many fond memories of Oswald. He said the department is losing a wealth of institutional knowledge as well as an understanding of area structures and locations.
"He's going to be missed," Brehm said. "He understood what it means to say we're members of a brotherhood of service."
Assistant Fire Chief Curt Smith said Craig was a great leader in the department.
"He's a lead-by-example kind of guy," Smith said. "He motivates his crew to try to keep up with him."
Oswald said he was never comfortable asking anyone to do something that he wasn't willing to do first. He felt that approach generally earned him the respect of his subordinates.
He said he enjoyed being able to work in a profession where he could help people on a regular basis.
Although retiring from fire service, he will continue to work as a truck driver. While working full time as a firefighter, he has maintained a second job as a truck driver on a part-time basis.
"I love everybody here," Oswald said. "I hate to leave. But it's been a good run. It really is a great career."