The experiment paid off.
"An experiment" is how Byron Jensen, the Hastings Symphony Orchestra conductor described the no-rehearsal sing-along of Georg Frederic Handel's "Messiah" Sunday afternoon at the Hastings Masonic Center in downtown Hastings. Participants sang from the main floor, standing to sing their parts as Hastings Symphony Orchestra members played from the stage.
Jensen estimated about 50 singers participated.
"There were a couple of choruses where it gets really difficult," he said. "So without doing a rehearsal it kind of was a little scary in places, but overall I was very pleased and it's something I hope we can move forward with."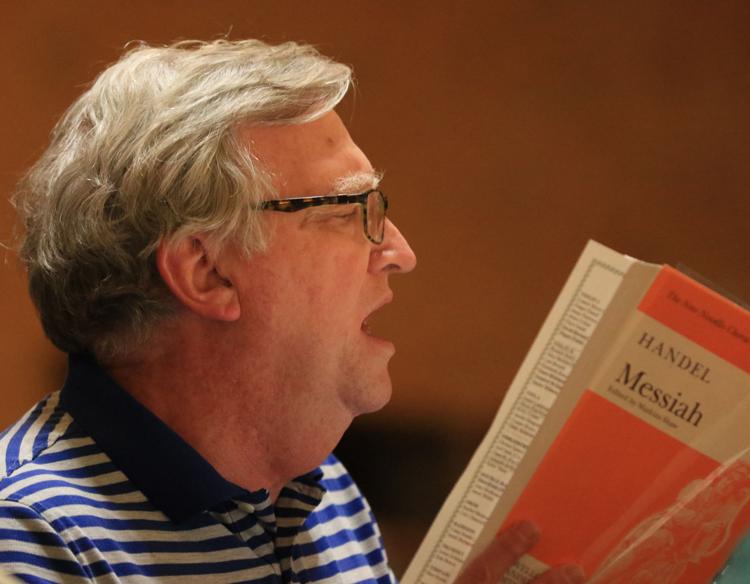 He plans to make the no-rehearsal sing-along a regular activity, except during years when Hastings College mounts its large production of "Messiah" — last done in 2016.
About a third of the 278-year-old oratorio's 53 movements were performed Sunday — those centered on the birth of Jesus. Moving at a leisurely pace the event lasted about an hour and 15 minutes.
Jesse LaBrie of Grand Island, who is vocal music director at Grand Island Senior High, stood on stage to sing the movement "Thus Saith the Lord."
He joked he was terrified to be in that position. LaBrie performs the movement every year as a bass soloist in the Axtell Oratorio Society's Easter production of "Messiah" in Kearney, but he hadn't practiced it for nearly a year.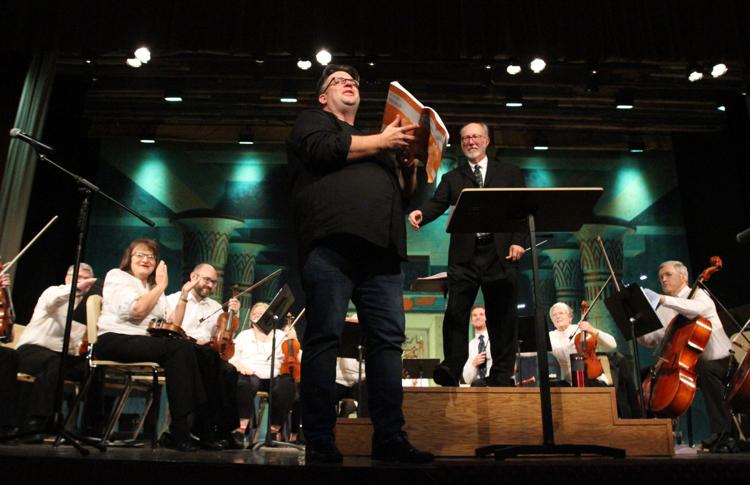 An alumnus of Hastings College, he also sings in the HC production of "Messiah."
The sing-along was a fun community engagement activity, LaBrie said.
"There's no pressure; there's no prep work," he said. "You just come and make music with a whole bunch of people who love and are passionate about classical music."
He called Handel's "Messiah" an "extraordinary" piece of music.
"It was written well over 250 years ago and it's still performed all over the world and performed several times a year," he said. "People young and old enjoy it. It's a masterpiece."
Alicia O'Donnell of Trumbull, HC alumni engagement and annual giving director, sang Sunday in the alto section. She took advantage of the opportunity to perform an iconic piece of music.
"This is my only chance to ever sing with the symphony," she said. "I love to sing but I lack vocal talent. I thought this would be a great opportunity to celebrate amazing music and to feel like I'm contributing to great music."
O'Donnell has helped plan the large HC production of Handel's "Messiah" in the past, so she has thought of it more as an event than a piece of music.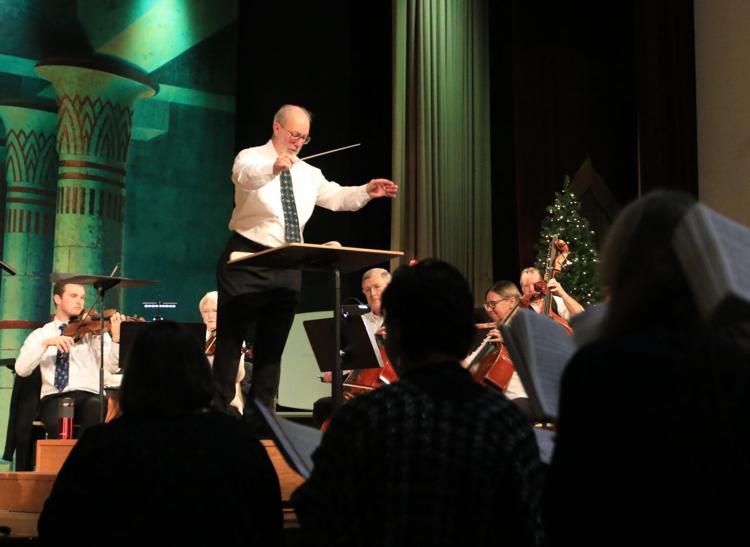 "This probably gave me chance to think of it more as music, to dive into the counterpoint and the chords and the demands upon the singers," she said. "It's majestic. It's spiritual. It's uplifting and thoughtful during the holiday season."
With an incomplete set of sheet music for Handel's "Messiah," O'Donnell used a tablet for guidance during the afternoon.
Handel's "Messiah" was definitely a challenge, she said.
"I've read music since I was in first grade, but I haven't been challenged by music in this way for many, many years," she said. "Those arias were challenging. It was difficult to try to make my vocal cords move that quickly. It was a lot of fun."
O'Donnell enjoyed the accessibility of Sunday's sing-along. Many audience members who weren't singing still brought sheet music to follow along.
"It takes a great deal of dedication from a wide variety of people to pull off the full 'Messiah' event," she said. "To bring together people on a Sunday afternoon, give them a break from the chaos and craziness that the holidays frequently include and to sing just for fun, without a lot of pressure, but really for the glory of the music was really enlightening and uplifting."
Before the sing-along ended, Jensen promoted Hastings College music department's Christmas Extravaganza performance, which was at the Masonic Center later that day.
He also promoted the Symphony Orchestra Christmas concert, which will be 3 p.m. Dec. 15 at the Masonic Center.
It is a blessing to be both the HSO conductor as well as a Hastings College music professor, he said.
"One of the things that came out this today is I know there were quite a few people who had never been, probably, to the Masonic Center and had probably never been to a Hastings Symphony Orchestra concert," he said. "Just getting that out there in front of people that (the Hastings Symphony Orchestra) is something that is going on and has been going on for 94 years — I can only see that as a benefit for the performing arts in this community."