Thirty years ago, on Nov. 9, 1989, the Berlin Wall separating the two sides of Berlin was torn down, signaling the end of the Cold War.
To commemorate the event, Hastings College hosted a series of lectures and events during the week to explain to students and the community why the Cold War should be remembered.
"We felt a need to have this event because — I don't think I would be exaggerating if I said that the end of the Cold War was the major event that took place during our lifetime," said Sabina Hilaiel, assistant professor of political science and international relations.
The keystone event this week was a lecture by Doug Bereuter, who served as congressman for Nebraska's 1st Congressional District for 26 years, between 1979 and 2004. Bereuter's lecture was about his experience as a congressman behind the scenes during major events during the Cold War.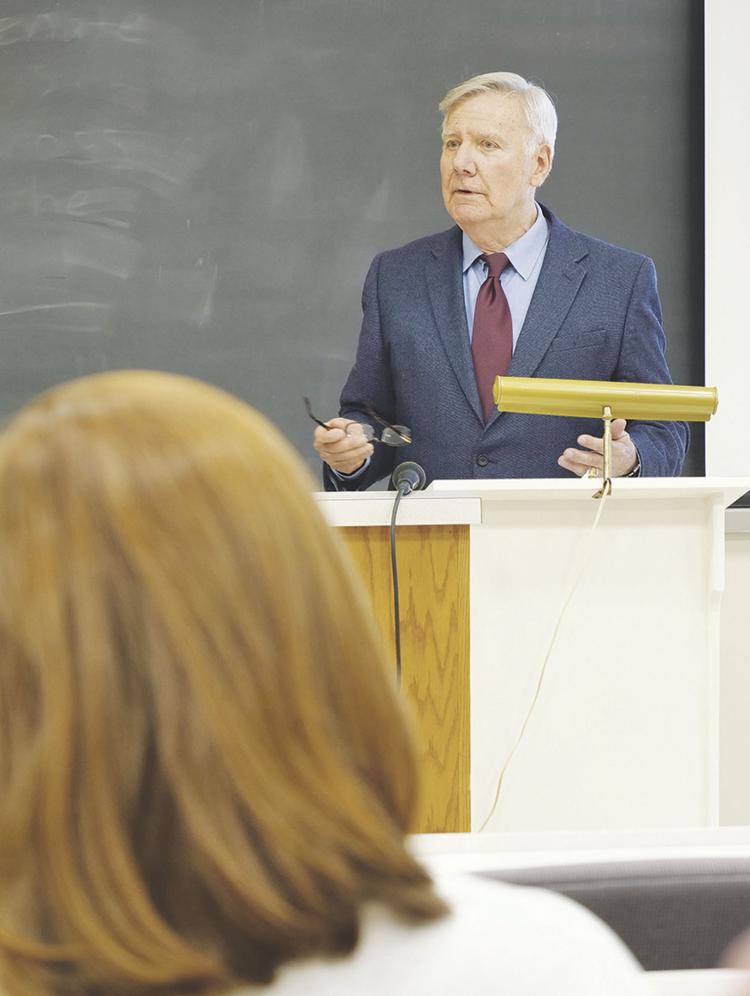 "I have never talked publicly about the things I did during the Cold War, ever," Bereuter said.
Bereuter's perspective was on the political front line of major events in Europe and Asia as a congressman. Specifically, he served as a leading member of the House Foreign Affairs Committee, six years of which were as vice chairman. He was also chair of the European and Asia-Pacific subcommittees
Bereuter's experience with the Cold War began in his junior year of high school working a construction job at an Air Force base in Lincoln. He said he remembers there were always at least two B-47's on the runway ready to receive nuclear weapons.
"The B-47 had one purpose, not conventional warfare," he said. "The pilots really knew this was a one-way trip for them."
Bereuter recounted memories of reading about the Cuban Missile Crisis when he was a graduate student at Harvard.
"I remember seeing the Boston Globe, the circles as to how far these intermediate range missiles from Cuba could reach, including over Boston," he said.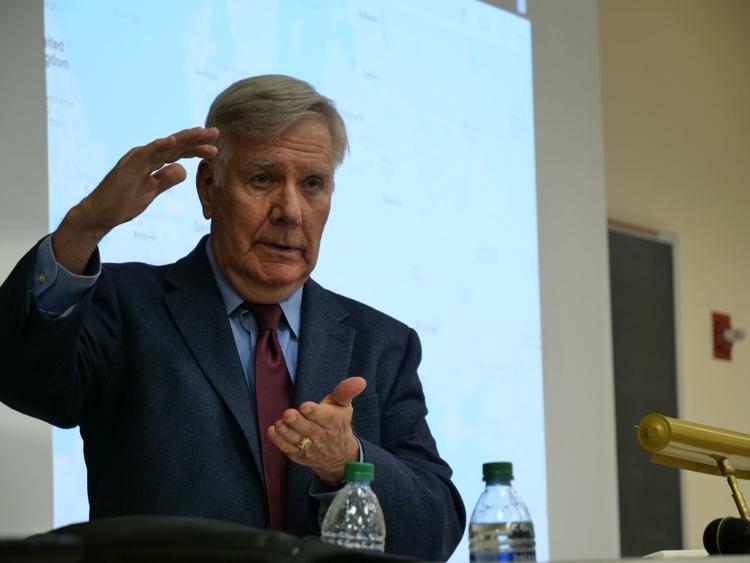 Bereuter recalled when he went to a trade conference in Moscow with other politicians. Before he was about to leave, Leonid Brezhnev, the fifth leader of the Soviet Union, died. Bereuter's group arrived on the day of the funeral.
"We were given an indication of what the Soviet Union in Moscow was like, in a small way," he said. "Women were waiting in line for two hours to get into the grocery story, and find there was nothing to buy when they got in there."
Bereuter said preparing for the lecture was a chance to reflect.
"It was such a busy period of time and I didn't keep a diary, didn't keep a log," he said. "The Cold War, at its height, was a dangerous period of time for Americans and Soviet citizens to live through. If we were in trouble with each other, the whole world was vulnerable."
Bereuter said ultimately, it was former President Ronald Reagan and Mikhail Gorbachev, the last leader of the Soviet Union, who pushed the Cold War to end.
"It would not have been brought to an end as rapidly as it was, if it hadn't been for these two men," he said.
Bereuter said it's important to discuss the Cold War and the events that happened because various nuclear treaties are expiring in the coming years and there has been little discussion about them.
"We certainly don't want to go back to that period of uncertainty and potential danger," he said.
Bereuter also served on the Human Rights and Economic Policy and Trade subcommittees. He was also retired as vice chairman of the House Permanent Select Committee on Intelligence.
Hastings College will play host to Adam Seipp, a professor of history at Texas A&M University, on Friday at 7:30 p.m. in the Morrison-Reeves Science Center Room 219. Seipp will give a lecture titled "We Have to Pay the Price: American Garrison Towns in Germany after 1989," which is about what happened to areas that were occupied by American military then abandoned. The lecture is open to the public.
Hastings College also held several events for students, ranging from a Cold War photo exhibit to a Skype conversation with its sister school at Pyatigorsk State University in Russia.
Rob Babcock, professor of history, said this week was put together by several academic departments, including the Pushkin Institute for the Study of Russian Language and Culture. He said in addition to commemorating the Cold War, the departments worked together to take advantage of the new curriculum and calendar, and give students an opportunity to explore a field of study they haven't before.
"It's a chance for us to get out of our silos and be interdisciplinary," Babcock said.