As the final cell of Hastings' solid waste landfill opens, the city is looking to the future of solid waste management for the entire area.
Van Kirk Brothers of Sutton built the sixth cell of the landfill with an early November deadline.
The landfill cell is 42 feet deep and encompasses six acres and 150,000 cubic yards, which City Engineer Dave Wacker said is similar in size to the other cells.
Its completion comes about 25 years after construction began on the first cell — on the southeast edge of the landfill.
Subsequent cells were built, from east to west.
"Here it is 2019, and here it is the last phase, and there's no other spot available on this parcel of land because of flood plain and things like that," said Jack Newlun, the city's solid waste superintendent.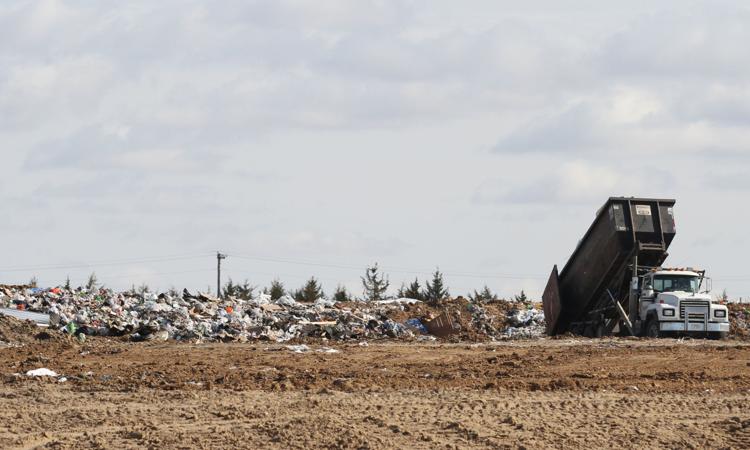 The final cell has a seven-year life expectancy.
Newlun said after that the landfill can be built up 100 feet at a five-to-one slope.
Building up the landfill would extend the site's life expectancy to 39 years with today's technology and volumes.
That life expectancy has been extended by the landfill using a shredder to increase the density of garbage stored in a cell.
Before the shredder, the landfill was averaging a density of about 1,150 pounds per cubic foot. With the grinder, the landfill is now achieving about 1,450 pounds per cubic foot.
The city transitioned from its former 53-acre landfill in southeast Hastings, where the dog park now is located, to its current, 33-acre site at 725 S. Southern Hills Drive in 1982. The north end of the current landfill site was used for solid waste before construction of the first cell.
The landfill has a six-county service area. Newlun said at one point there was 368 landfills in Nebraska. Today there are 22.
"Everything is regionalized and getting bigger," he said.
Today's landfills must meet stringent design, operation and closure requirements established under the Resource Conservation and Recovery Act. RCRA Subtitle D focuses on state and local governments as the primary planning, regulating and implementing entities for the management of nonhazardous solid waste, such as household garbage and nonhazardous industrial solid waste.
Newlun said many smaller landfills could not comply with the requirements of Subtitle D.
While a new landfill site likely will come after Newlun and Wacker retire, Newlun said planning for a new landfill needs to occur long before that future site is opened.
"We need to do long-term planning," he said. "That's where we sit all parties down and create a solid waste master plan, basically for the future of the whole south central part of the state."
Hastings is preparing to do a study and prioritize needs.
"It's very long-term planning and that's what has to happen because a landfill doesn't happen overnight," he said. "I'm told even if you had the land it would take five to eight years to get it permitted, so you possibly could build on it."
In his more than 30 years working at the landfill, and in the city's engineering department before that, Newlun has seen the prevalence of recycling ramp up and then level off.
Still, he said, there hasn't been noticeable increase of plastics at the landfill since Woodward's Disposal stopped accepting plastics at its recycling center on South Baltimore Avenue in early September.
"Not that we notice, I can honestly say," Newlun said. "We're not seeing truckloads of plastic recycling coming in. Nothing of that nature."
Woodward's notified customers in early September it would no longer accept any plastic products at its drop-off facility, 1400 S. Baltimore Ave., due to rising recycling processing costs. Plastics still are accepted with Woodward's curbside recycling.
Robb Woodward, president of Woodward's Disposal Service, declined to comment for this story.
The city recycling center near Third Street and Chestnut Avenue opened in 1972 by a committee of 15 -20 residents. The city took it over in 1992.
The city discontinued operating the Hastings Recycling Center July 31, 1995.
Ellis Disposal Service opened a recycling center at the end of 1994 at its location at 1110 W. A St. and stopped taking glass in November 1996.
Woodward's stopped taking glass in May 1997.
"There's basically no market for glass," Wacker said. "That's a misnomer. I think a lot of people think there is."
Former City Administrator Barbara Bramblett told the Tribune in June 1997 at a time when there were still two private recycling centers that they were under no contractual obligation to the city to provide a particular level of service or accept any particular items.
Mayor Corey Stutte said Woodward's officials shared their plans with him to no longer accept plastic recyclables at the South Baltimore site before implementing that change.
"It's a business' decision on their part and they are trying to make their business work," he said. "Recycling has really changed over the last 20, 30 years when you look at exactly how this all works. They need to figure out something that works for their business."
Julie Diegel, executive director of the Nebraska Recycling Council, said China started clamping down in 2017 on plastics it would take.
"Mostly, I think they came to this realization they were getting so much garbage from the U.S. and the recycling we were sending was really, really dirty," she said. "So they decided they would put a lot of restrictions on it. This changed everything. It turned the whole recycling world upside down. Subsequent years up to the present it's only gotten worse. The restrictions got more stringent."
According to a discussion paper published by the Nebraska Recycling Council, China banned mixed paper imports at the start of 2018 and followed with a .5 % contaminant restriction on all imports.
Diegel said for more than 20 years, a significant amount of recyclables have been exported to other countries because it was cheaper to ship and process them overseas.
There is insufficient capacity within the U.S. to use all of the material recovered through U.S. recycling.
"It's not just here, it's everywhere," Stutte said of the shrinking recycling market. "We need to be cognizant of that."
He said the city is taking a holistic look at the lifespan of the landfill.
"We've been in contact, obviously, with Jack (Newlun) out there at the landfill to make sure we're able to answer those sorts of questions. What we really need to do is figure out how we can make things better. The plastics conversation isn't really too big of an issue for us at this point. The volume is not that large. We feel comfortable with where we're at on that. What we need to do as a community, we need to make sure we're taking a look at where does this landfill move forward?"
Diegel is optimistic for the future of recycling.
As with all commodities, experts believe market prices will rebound at some point. This might occur when domestic capacity for processing recovered materials improves.
"Everyone does expect it to change," she said. "We don't know if the glory days of recycled commodities are over but the recycling markets have gone up and down ever since they began, for recycled materials. These are commodities that are sold on the commodities market in Chicago, just like all other commodities. Some are virgin. Some are recovered. Markets fluctuate."