In the sixth inning of Thursday's opener with North Platte, the Hastings defense committed three errors and saw its 5-1 lead evaporate into a 5-5 tie. The Tigers eventually won on a walk-off wild pitch, but HHS head coach Pete Theoharis knew that game wasn't telling of his team's true potential.
"We said after game one — we were actually upset because we had a bunch of errors that let them tie the game and we had to rally around it — we said that was a good team and we didn't play very well, and we were still able to scratch out a win," he said. "I told the girls that kind of shows you where we can be when we play well."
Coming off the 6-5 victory, Hastings stormed out of the gate in game two. The Tigers scored seven runs in the first two innings en route to a 10-0 win, completing the sweep over the Bulldogs.
"I thought Elle Douglas, in terms of controlling at bats, did a great job in both games. They didn't really hit her that hard," the HHS coach said. "I thought in game two we did play well and it kind of showed hopefully a level of softball we can play down the road. Hitting, running the bases, pitching and defense, were really good in game two, so hopefully that can springboard us forward."
One constant Douglas was extremely sharp in the nightcap. She allowed just two hits in the shortened four-inning game. And, more importantly, she issued just one walk — a far cry from the 10 free passes issued in game one.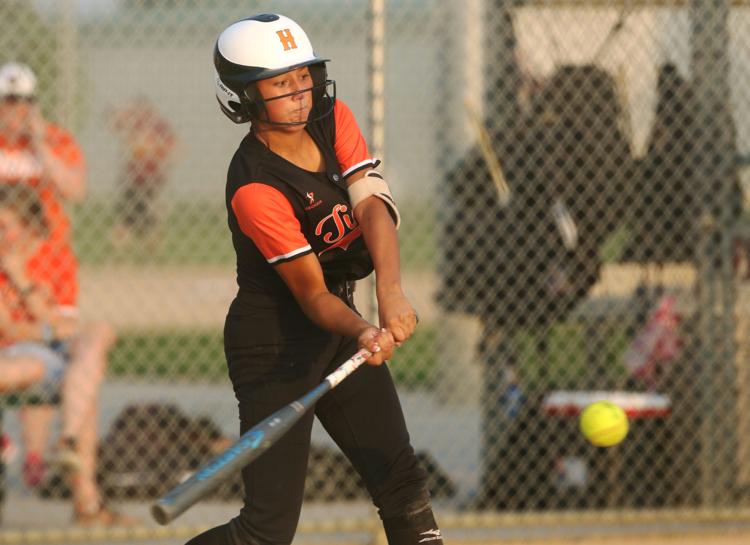 The Tigers' ace was constantly pitching out of trouble in Thursday's opener. In the first inning, she got out of a bases-loaded, one out jam. In the second inning, a one-out walk led to a run but the defense ended the inning by cutting down what would have been the second run at the plate, thanks to a great throw from Faith Molina.
Even in the seventh inning, Douglas issued three walks to load the bases. But, just as she did throughout the game, she retired two straight Bulldog hitters to escape without any damage. In all, Douglas stranded 11 North Platte runners on base.
"She faced a lot of jams that we kind of worked ourselves into in a variety of ways. But she would either get a big out or the defense would step up behind her. I thought that said a lot about her," Theoharis said. "We asked her after game one if she had some left in the tank and she wanted the ball right away to go game two, and that was a big sign too."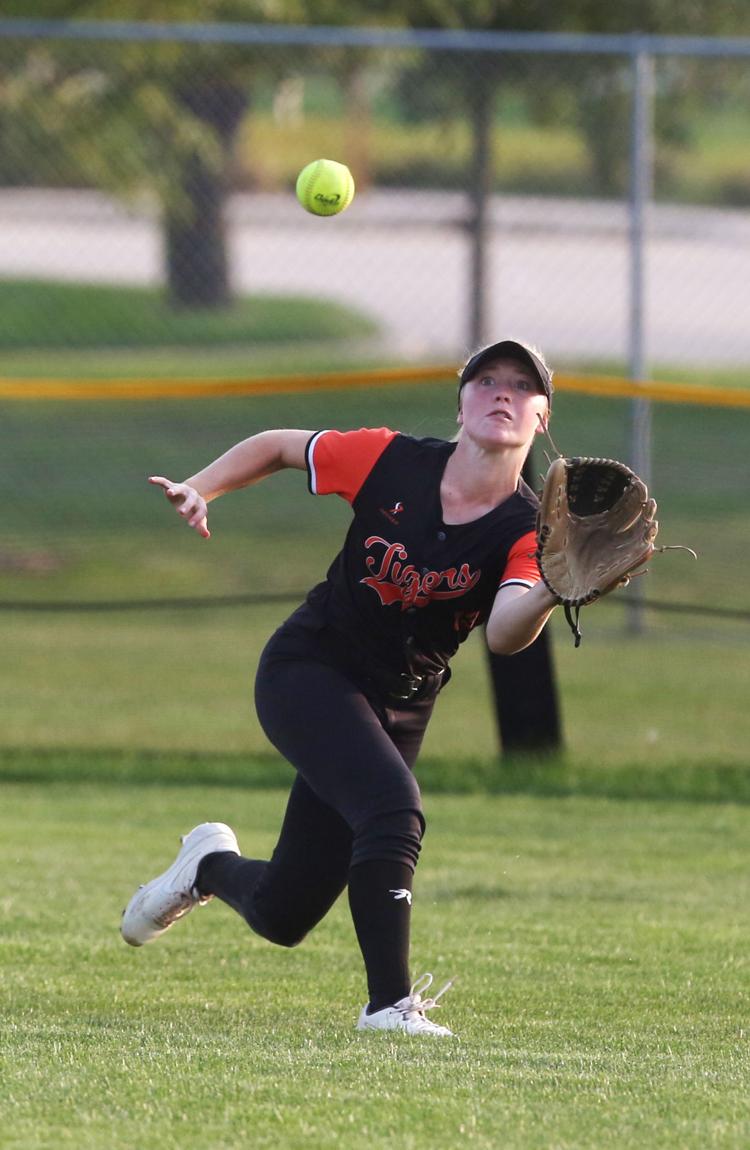 The blow up inning for Hastings came in the sixth. Douglas issued a leadoff walk, which was compounded by back-to-back one out errors. In the next at bat,Emily Winkler hit a two-run double to cut the lead to 5-3. Two batters later, Winkler and Cassidy Ratliff scored on another HHS error to tie the game.
After the Bulldogs squandered their chance in the top of the seventh, Hastings had the opportunity to end the game in the bottom of the frame. A leadoff single from McKinsey Long got things started for the Tigers, and Long moved to second on a wild pitch to Sophie Cerveny. Cerveny bunted Long to third, but Ellie McCoy popped out for the second out in the inning.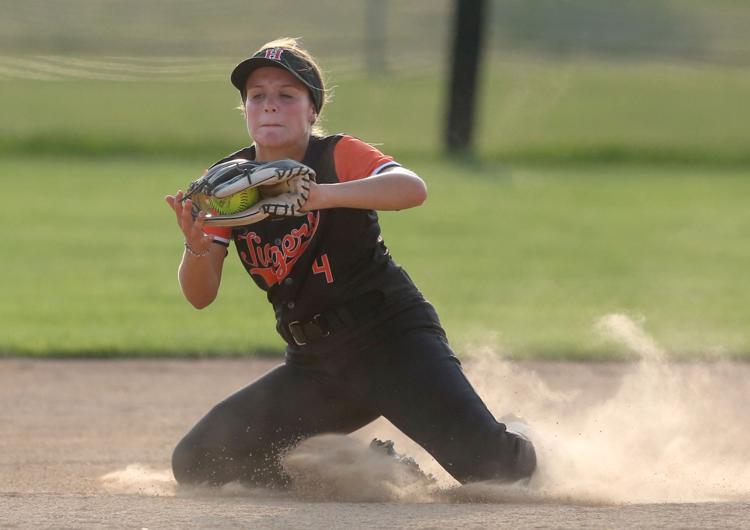 But Tatum Montelongo's 1-0 pitch to Kaelan Schultz found the backstop and allowed Long to scamper home for the winning run.
Five of Hastings' six runs came in the fourth inning. The Tigers strung together five consecutive singles before recording an out. Delaney Mullen's base knock drove in two, while Molina also had an RBI hit. Samantha Schmidt added a sacrifice fly and KK Laux tallied an RBI with a squeeze bunt.
Douglas and Mullen both finished the game with two hits apiece.
In game two, the offense came early and often, as Hastings scored in all four innings. Molina's two-run home run highlighted the four-run first inning, and McCoy launched her fourth home run of the season — HHS has only played eight games thus far. Thursday's homer was a three-run shot which gave Hastings a 7-0 advantage.
Schmidt added an RBI double in the third inning. Hastings made it a 9-0 lead when Long drove in Alex Curtis in the fourth inning, and, in an instance of deja vu, Long ended the game when she scored on a wild pitch.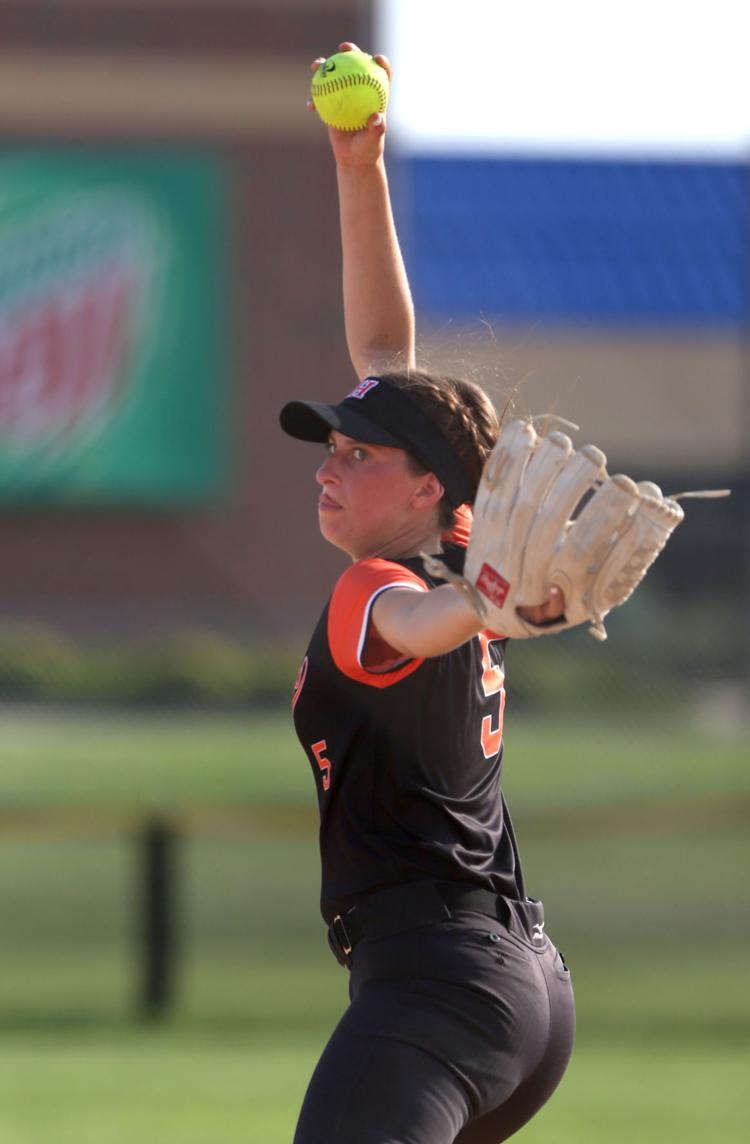 Schmidt tallied three hits in the game while McCoy and Molina each had two hits.
The Tigers have won their last five games and will take their 6-2 record into the weekend, when they'll be challenged by Ralston and last year's Class B state champion Elkhorn, which is ranked No. 3 in Class A this season.
"Ralston historically has been a great softball program and Elkhorn is Class B state champ last year and have a lot of girls back. They moved up to A but they still have () in the circle, who's really tough. It's going to be tough for us, but that's what we need... We're going to be tested a lot. We'll see where we stand here in the next few days moving forward," Theoharis said.
Game one
North Platte.....010 004 0 — 5 4 1
Hastings..........000 500 1 — 6 8 4
W — Elle Douglas. L — Tatum Montelongo.
2B — NP, Emily Winkler; H, Delaney Mullen.
Game two
North Platte......000 0 — 0 2 2
Hastings...........432 2 — 10 13 1
W — Elle Douglas. L — Tatum Montelongo.
2B — H, Samantha Schmidt.
HR — H, Faith Molina, Ellie McCoy.