Dave Stewart was grateful that the Nebraska Arts Council went to so much effort to give the arts community in the state a pat on the back.
The 81-year-old Hastings artist received his Outstanding Artist award from Meagan Dion, public art & artist programs specialist, on Saturday afternoon. Nik Svendsen recorded Dion's presentation outside of The Kensington in downtown Hastings, where Stewart lives.
The award is a vase created by Ned Day, who lives in Valentine and teaches at the Sinte Gleska School on the Rosebud Indian reservation in South Dakota.
The base was created by Todd McCollister, whose business is called Long Grain Furniture in Omaha.
Stewart's remarks will be included in a video of all 12 Governor's Arts Awards recipients for a digital ceremony on Oct. 29.
After retiring from plumbing, and while working as janitor in the Hastings College Art Department, Stewart began making sculptures in 1988.
The Outstanding Artist award is given to an individual artist practicing in any discipline whose work or career has made a significant contribution to their art form and to the state of Nebraska.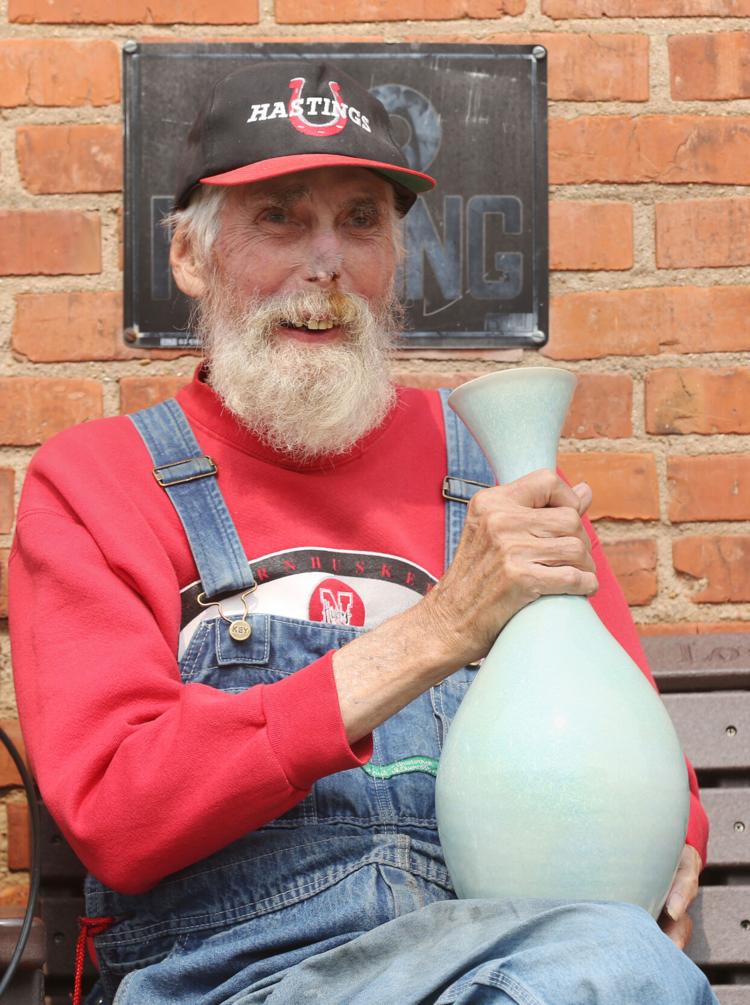 Stewart's fellow Outstanding Artist award recipient, Herb Mignery, who is a former Hastings resident but who now resides in Loveland, Colorado, is the only one of the award recipients to be receiving his or her award in the mail.
Jerome Dubas, who lives in Hastings and is an HC art adjunct faculty member working in ceramics, received a Governor's Arts Award for excellence in arts education for his work at Grand Island Public Schools.
The Nebraska Arts Council postponed the Governor's Arts Awards, originally scheduled for March 27 at the Nebraska State Capitol in Lincoln.
"That's really the main reason why we decided to do this," Dion said in an interview after the presentation. "We wanted to be able to honor all of the recipients this year."
She said she enjoyed being able to connect with the recipients and see the personal display of the award.
"I'm really enjoying talking with the people who are recipients, and people like Turner McGehee who helped me figure out how to get in contact with Dave and all of that," she said.
McGehee, a professor of visual arts at Hastings College, was part of a committee to nominate Stewart that also included Audrey Kauders (former director of the Museum of Nebraska Art in Kearney), Robert Duncan (art collector and president of Duncan Aviation in Lincoln) and photographer Roger Bruhn.
"I think it was a pretty persuasive committee," McGehee said.
He was one of a handful of people on hand Saturday afternoon to see Stewart receive the award.
For McGehee, it was important to recognize Stewart — someone McGehee said would not call attention to himself.
"I think Dave's one of the greatest artists in the world," he said. "He's not the kind of guy who is ever going to make himself famous, but a lot of us who admire his work feel that way. This award is for the top artist of the year in Nebraska, and I felt that he was that for a long, long time. He's had a long life of productive art making. I just think it's time for him to be recognized in a way he deserves."
McGehee also appreciated the Nebraska Arts Council's commitment to the award recipients.
"I think it's pretty inventive," he said. "The last I heard they just had to call off the ceremony at the capitol. I was looking forward to that. I wanted to see Dave get his award there in the capitol building. But we're improvising a lot these days, aren't we?"
He called the biennial award presentation one of the most important art events of the year in Nebraska.
"They're knocking themselves out with this," he said. "I think it shows how important it is that they are treating this with important emphasis."
In receiving his award, Stewart gave credit to his former employer.
"I take my hat off to Hastings College who taught me everything I know about this business," he said, taking off an actual Hastings College hat he was wearing.
He also said the award proves one doesn't have to go far to be an artist.
"You don't have to go to Paris to be an artist," he said. "You can come to Nebraska."